Chin Bobs Are About To Be Everywhere For Fall 2023 - How To Rock The Hair Trend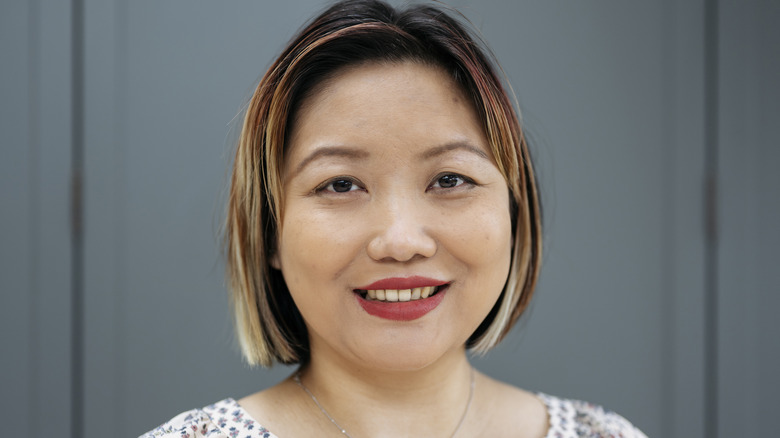 Johnnygreig/Getty Images
All the trendy lob haircuts provide the perfect in-between length for people who want to go shorter with their tresses but aren't comfortable committing to full-on short hair. However, many haircut enthusiasts might agree that the lob doesn't provide as striking an effect as a full-on classic bob. After all, is shoulder-length hair genuinely a "long bob," or is it just medium-length hair with a fun name? While the longer variations are convenient, we can't think of anything chicer than the beloved chin-length bob.
"The chin skimming bob is the bob of the fall... Unlike lobs or shoulder-hitting cuts of the past, this bob is unapologetically... well... a bob... This style can work on all lengths and textures, whether your hair is bone straight or very curly/coily. It's all about getting that blunt, jaw skimming chop," Clayton Hawkins, a Dove stylist partner, told Byrdie. Thus, there's no excuse not to try the chin-length bob in fall 2023 if you don't already have one and want a fresh haircut.
Side parts make the bobs appear even more chic
The Y2K side part is back in 2023, and we can't wait to see many chin-length bobs in this finally-trendy-again haircut. Chin-length bobs in deep parts give off supermodel vibes, letting a bit of hair mysteriously fall in front of one eye without taking away from one's facial features. This gives the individual an effortlessly bold look while helping them look taller, as this haircut and style always appear light and breezy.
Chin-length bobs frame the face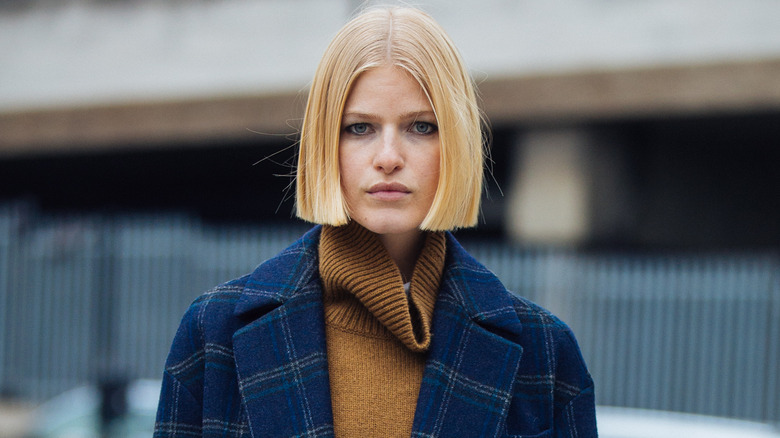 Melodie Jeng/Getty Images
Why go through all the effort of getting and maintaining layers to frame your face when the chin-length blunt bob instantly frames your visage for you? While trying to figure out the right layered look for your face can be stressful and time-consuming to maintain, the short, chin-length bob frames your features, as it ends at the bottom of your face, saving you from unnecessary — and extra — length.
Highlights can add dimension
If you're used to having layers in your longer hair, being nervous about making the switch to a short, blunt chop is understandable, as layers add dimension and help hairstyles appear more dynamic. But layers aren't the only way to get that contrast and depth: If you want to help your chin-length bob appear more unique and dynamic, adding highlights or a money piece will provide an alluring detail with more contrast than layers.
All hair colors work with this haircut
Not only are highlights ideal for adding dimension to a brown, blond, or black chin-length bob, but since it's already such a bold cut, every hair color will also look excellent. Some vivid and unconventional hair colors may look out of place on ultra-long or mid-length hair lengths, but the fun brightness will perfectly complement the already-dauntless chin-length look.
Your hair won't get in the way anymore
All the long-hair babes can relate to the frustration when they're super excited to flaunt a new necklace or top with a fun neckline or pattern only for their hair to get in the way, forcing them to tie it back or up. With the chin-length bob, you can always wear your hair down without it interfering with whatever you choose to wear.