Best Friend Blankets Are The Cozy Trend Going Viral On TikTok
Eclipse_images/Getty Images
If you went through puberty anytime in the last few decades, chances are decent that you owned at least one piece of BFF jewelry. This hallmark of friendship was like a wearable sign declaring your bestie's place in your heart. And whether you still wear that cheap necklace or it's fallen by the wayside, celebrating your close friendships is still crucial. In fact, not having a best friend could impact your mental health. That's why it's so important to recognize and celebrate the loved ones in your life.
Though you may have outgrown your BFF jewelry, that doesn't mean that you can't share meaningful keepsakes. You can even make matching mementos yourselves. If you're ready to get crafty with your number one partner in crime, look no further than TikTok's viral best friend blanket trend.
Like those BFF necklaces, best friend blankets commemorate close friendships with tangible objects — this time, with cuddly throws instead of jewelry. Only, these homemade best friend blankets can be much more meaningful. For one thing, they're personalized, as you get to choose the fabrics yourself. Plus, the DIY nature of best friend blankets means a chance to spend time together — providing the opportunity to create a new core memory in the process.
And of course, there's the inherently comforting nature of a blanket. Even when your bestie can't be there in person, having your blanket nearby lets you tap into the warmth of your friendship. So the next time you're feeling low, you can cuddle your best friend blanket and know you're not alone.
With so much to offer and no sewing required, it's no wonder that these simple, inexpensive mementos have taken off online — and it's easy for anyone to get in on the trend.
How to make best friend blankets
Best friend blankets are a fun, beginner-friendly, and heartfelt way to honor your friendship for years to come. As illustrated in a TikTok video by user @kaci_makelle, making your own best friend blankets couldn't be much simpler. When the video begins, we see two friends at a craft store, where each finds a cozy fabric in a pattern and color of their choice. A store worker cuts two large pieces in each fabric, which the friends take home to start crafting.
Next, it's time to actually make the blankets, using a process that seems nearly foolproof. As the video shows, each bestie should take one piece of their friend's fabric and one piece of their own, layering the two together so all the edges line up. Then, using a pair of scissors, carefully snip matching slits through both layers, moving all around the edges. In the video, they appear to make cuts that are 2-3 inches long, and about 1 inch apart. Finally, it's simply a matter of tying each piece of fringe in a knot with the matching piece of fringe on the other fabric. The result is a matched pair of no-sew blankets that represent each friend's personality in a way that's totally unique to you and your bestie.
You might still be wondering — how much fabric do you need to make these visions come to life? After watching the video, TikTokers took to the comments to exchange recommendations. User @swamp.hibiscus helpfully suggests, "Two yards of each fabric makes like a twin-size blanket." In other words, each of your blankets should only require about one yard of both fabrics to create a priceless keepsake.
Other crafts perfect for bonding with your bestie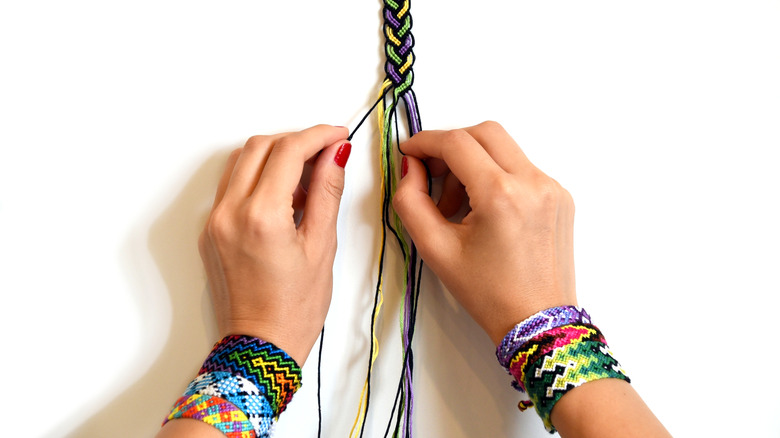 Tanya_Terekhina/Shutterstock
Best friend blankets may be trendy and adorable, but they're not the only way to immortalize your friendship with the power of DIY. If blankets aren't your speed — or maybe, if you've made your best friend blankets already — there are still plenty of other BFF crafts you can use to flex your creative muscles together during your next hangout or movie night.
For craft novices, consider starting with something easy like decorating smooth rocks. Using paint pens, you can doodle sweet pictures, inside jokes, or personal messages for your BFF to keep. These stones make cute paperweights, look great in planters, or can be added to shadow boxes with other mementos from your friendship.
Embellishing and exchanging picture frames — which can then be filled with a shot of you together — is another great BFF craft, especially since there are so many ways to go about it. Stick to paint or grab your hot glue gun and add extra personality to your frames with anything from buttons, pompoms, and sequins to ticket stubs from events you both attended.
And whether or not you're a Swiftie, you can bring back a classic by tapping into the Eras-inspired friendship bracelet trend. Braided or beaded, these nostalgic bracelets are a time-honored way to keep all your besties close to your heart.