Eras Tour Friendship Bracelets Are Starting A Larger Nostalgic, Sentimental Jewelry Trend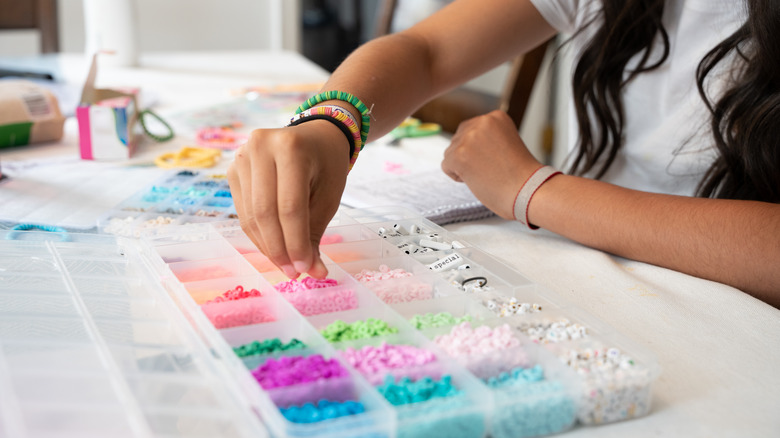 Joey Ingelhart/Getty Images
Taylor Swift sang, "Make the friendship bracelets, take the moment and taste it," and Swifties took that as a challenge. If you've been on TikTok in the past few months, you've definitely encountered the Swift-inspired jewelry that's taking over wrists around the world. Inspired by the lyrics from her latest "Midnights" album, Taylor Swift fans flooded craft stores and created friendship-style bead bracelets that play on song titles and inside jokes from the fandom. 
Those lucky enough to attend a stop on the tour go as far as to trade bracelets with each other. And, if you want to have the most coveted bracelets in the stadium, you can get inspiration from the "Eras Tour Friendship Bracelets" topic on TikTok — and become one of the nearly billion views on those videos. Even celebrities are getting in on the fun, with fans sneaking into VIP seating to gift them bracelets. One tweeted in all caps, "Just gave Nicole Kidman a friendship bracelet." 
For a while, spotting a beaded bracelet seemed like a surefire way to identify a Swiftie. Now, however, the nostalgic return to the sleepover arts and crafts has inspired others to rock the look. Bottom line? If you find yourself gravitating toward colorful, bead-riddled pieces lately ... You're Not On Your Own, Kid. As we get into our feelings, there are more ways than ever to get sentimental and shout out your besties with your bling. 
Get crafty with beading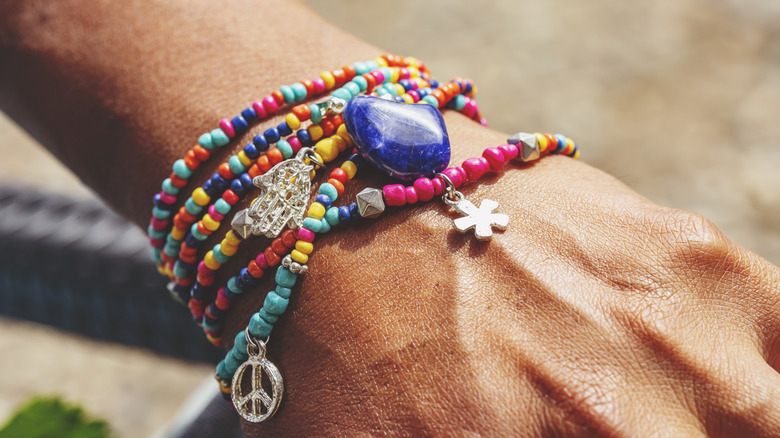 Madkruben/Getty Images
To embrace the true Swiftie style, you'll need to head to your favorite craft store to get clear, elastic string and colorful beads. Between uniquely shaped charms and letter boxes, the possible bracelet combinations are endless. Simply lay out your desired pattern, cut your string to length, and fill the loop up with a one-of-a-kind layout that brings you joy, elevates your outfit, and reminds you of your favorite friendships. There's truly nothing more nostalgic than whimsical beaded jewelry. 
Combine style and symbolism through knots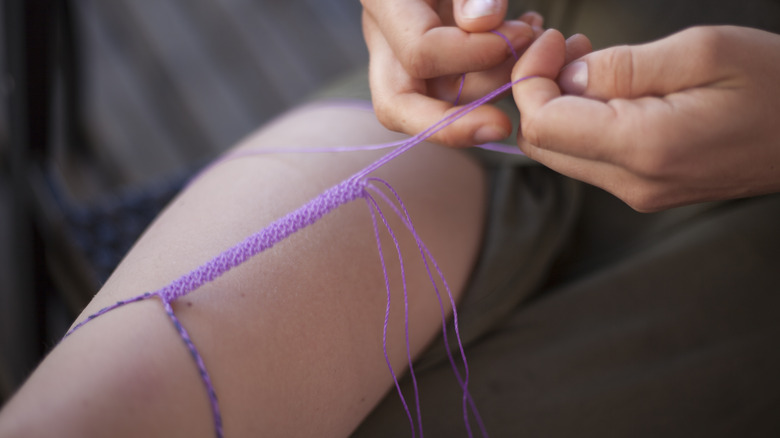 Moha El-jaw/Getty Images
Macramé bracelets, a form of friendship jewelry that is composed of knotted yarn, are another beautiful way to symbolize a relationship. The art form is credited to Native Americans, and its enduring popularity has led to many simple tutorials and patterns being uploaded online. You can choose the color and thickness of your bracelet to match with any outfit, and with each knot, you'll prove the strength and stability that comes with strong friendships. 
Stay casual with subtle sets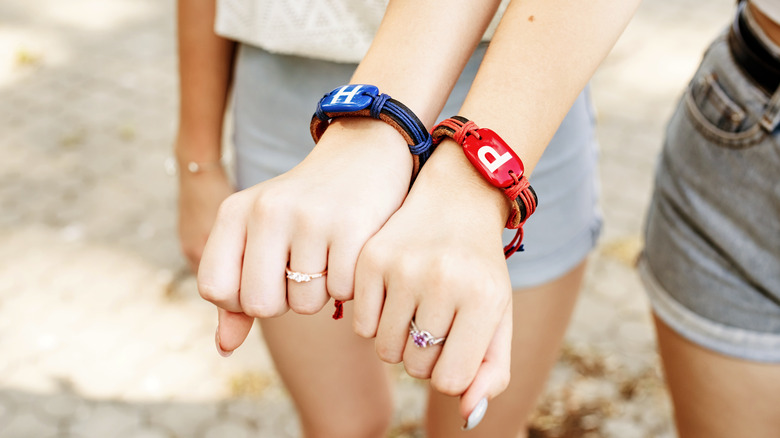 Ilona Shorokhova/Getty Images
We've all seen friendship bracelet pairs that each have half of a heart. If you'd like to sport a matching piece with your BFF, there are plenty of subtle sets you can purchase or create for a grown-up version of the childhood classic. Invest in charms to become the sun to your bestie's moon, the key to their lock, or the peanut butter to their jelly! You can even don coordinating BFF necklaces – a grown-up twist on bestie pairings. 
Trade matching looks for personalized ones instead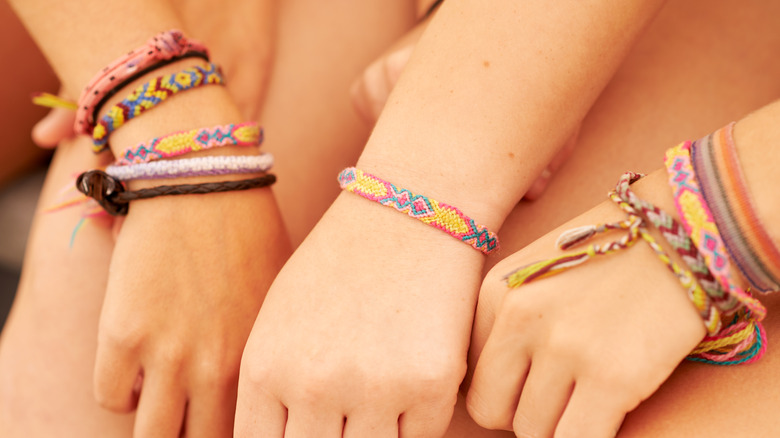 Jeffbergen/Getty Images
Maybe you and your friends aren't the matchy-matchy types ... after all, opposites attract! If you're not interested in twinning, opt for personalized gifts instead. Creating or picking out a bracelet that is perfectly suited to your friends' tastes is a testament to how well you know them. Whether you tap into an inside joke or their tried and true aesthetic, a personal bracelet will remind them of your friendship every time they put it on. 
Add charms to your favorite pieces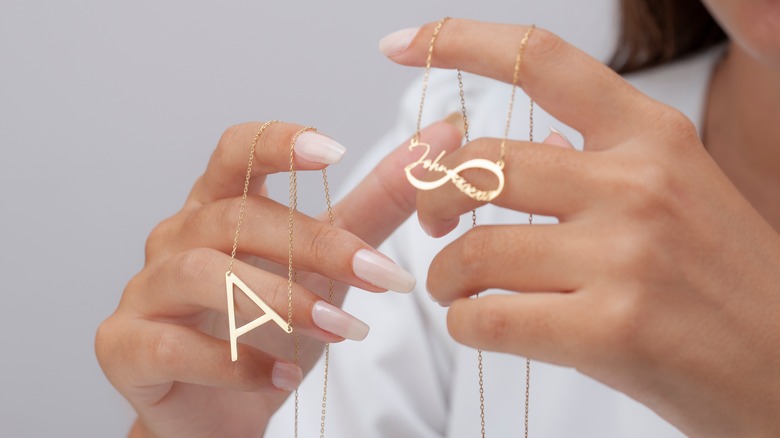 1jewelry/Shutterstock
You can add a hint of friendship to existing pieces. If you have a necklace or bracelet that you already sport on a daily basis, adding a friendship charm to the chain can make a beloved piece feel even more special. As a bonus, charms are typically more affordable than an entirely new piece of jewelry, so you can easily splurge and match with your whole friend group. 
Show your commitment with permanent jewelry
If you want to take "best friends forever" to a whole new level, you and your bestie can invest in permanent jewelry. This emerging trend involves jewelers welding the end of a bracelet securely around your wrist. Once it's applied, there's no reusable clasp or wiggle room to slide it on and off. These dainty pieces, designed to match any outfit and weather any storm, serve as constant reminders of your commitment to your friends or romantic partners — or your absolutely undying love for Taylor Swift.