Kate Middleton's Curtain Bangs Are The Only Hair Inspo You'll Need This Fall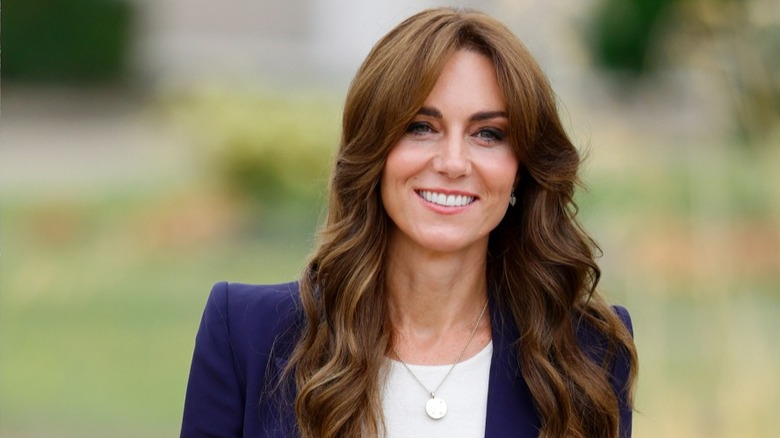 Max Mumby/indigo
If there's one thing about the royal family, it's their flair for style. However, we rarely see royals wearing the latest fashion and beauty trends. That is, until the Princess of Wales, Kate Middleton, was spotted wearing the must-have hair of the fall season – curtain bangs. The curtain bang hairstyle and its variations have always been stylish for autumn. Recently, the shaggier version of the curtain bangs has become more popular, with many celebrities sporting the edgier look.
In her most recent appearances, the future queen consort rocked curtain bangs as part of her new look, making her even more chic. While the curtain bangs aren't an out-of-the-box style, they're certainly not the norm for the royal. By setting her usual hairstyles aside, Middleton is using the curtain bangs as a face-framing look that accentuates her natural beauty. Middleton's newest hairdo is a definite contender for must-have hair of the season for those wanting a switch-up and looking for bangs that best suit their face.
Kate Middleton's new hair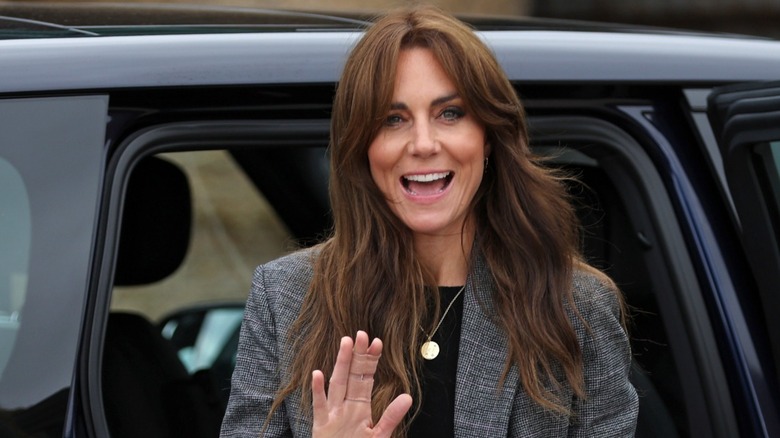 Cameron Smith/Getty Images
Regarding Kate Middleton's beauty and fashion routine, it seems as if everything she wears winds up becoming a trend. In this case, it might be the royal that's following the latest hair craze. In a recent engagement, Kate Middleton rocked newly cut curtain bangs and her signature bouncy curls. It could be that her latest cut was a spur-of-the-moment decision, as one day, she was still wearing her traditional cut, and the next, she reemerged with her trendy new look. According to Page Six, the hairstylist behind her new hair may be Richard Ware Salon, reportedly the royal's favorite.
Along with her curtain bangs, Kate Middleton also wore bouncy, voluminous curls. Middleton was also rocking darker hair compared to her summer style, marking the royal's official start of the fall season. While these subtle changes might not seem very drastic, it's rare to see royals following beauty trends. The last time Kate Middleton was spotted wearing a trendier hairstyle was in 2015 when she rocked fresh new bangs.
How to get the look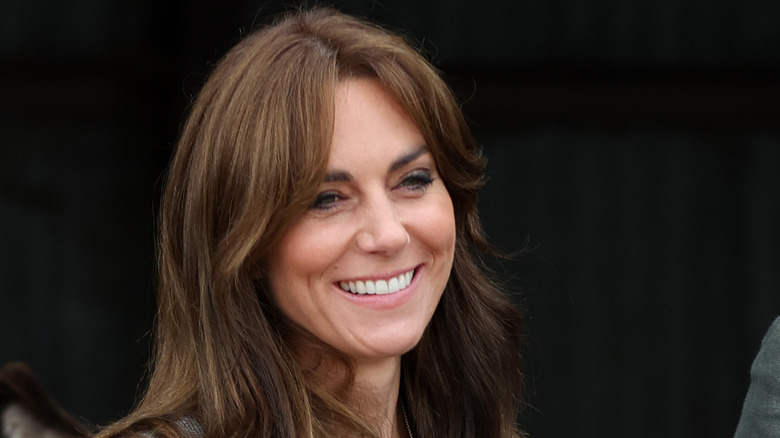 Cameron Smith/Getty Images
Getting Kate Middleton's look is not difficult. Head to the salon and ask your hairstylist for short, face-framing pieces while keeping your hair long and wavy in the back. These small changes will yield significant results for those looking to add volume to the roots. Getting curtain bangs is fairly simple for anyone as this easy-to-style haircut can work for most people.
The benefit of curtain bangs is the face-framing pieces that highlight your features. Instead of hiding them behind a fringe, you can sport curtain bangs as a chic alternative to full bangs. For those looking to add more texture and style to their hair but don't want the extra commitment that comes with straight bangs, curtain bangs are an excellent alternative that still add movement and style to your look. If curtain bangs are good enough for the future queen consort, they can certainly work for us.