Inspo To Add A Playful Spin To Your Next Lavender Manicure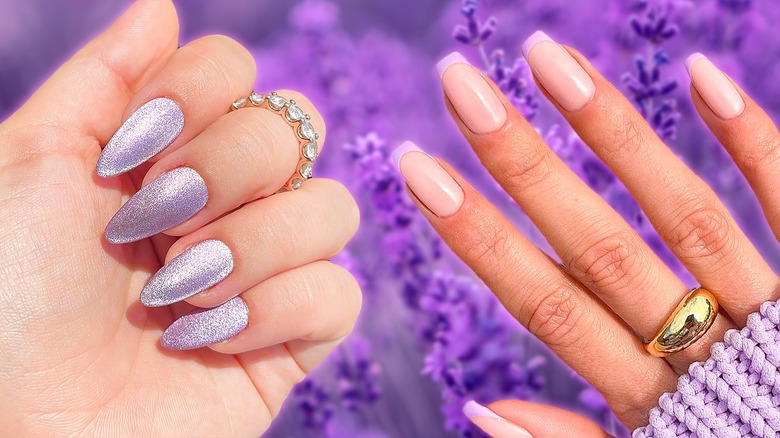 Static Media/Shutterstock
If you like to try out the latest nail trends, then you may have already embraced pretty purple manicures. You may have also tried out different kinds of purple to adorn your nails. While there is certainly a wide range of shades that you might absolutely adore — from a dark eggplant hue to a light periwinkle — the current favorite of celebrities like Sofia Richie Grainge is a lovely lavender tone.
As for why it's such a big deal among fashionable famous figures, it has to do with the color itself as well as what it offers to pretty much everyone. Celebrity manicurist Alyx Lippiatt explained to Grazia, "Lavender nails find the sweet spot between a deeper purple and a lighter lilac. Essentially, it mimics the color of the lavender flower. They're popular because they work so well with all skin tones, plus they're a great way to have fun with color without opting for anything more dramatic like neon nails."
Granted, you could always opt for a simple lavender manicure that sticks with a single, solid color. On the other hand, you might be more interested in ways to add a playful spin to the next nail art you want to attempt (or have a pro tackle). Fortunately, we happen to know quite a few twists that you can take to make your lavender manicure both eye-catching and more than just a little enviable.
Multitone lavender manicure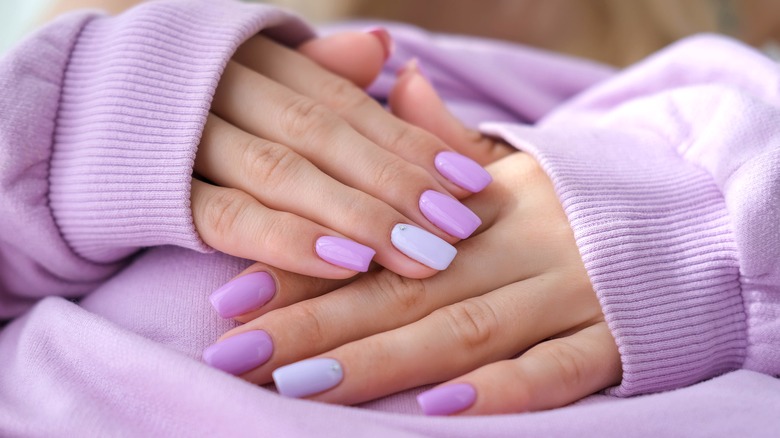 smile23/Shutterstock
Lavender is such a fabulous color that you might want to use more than one shade. You could use a classic lavender hue on one hand and one that has a hint of pink on the other hand. Don't have multiple lavender polishes? Grab a white polish and mix one drop of lavender polish to make a custom shade. Next, take the white polish and add two drops of lavender. Keep doing this process to complete the multitone look.
A floral touch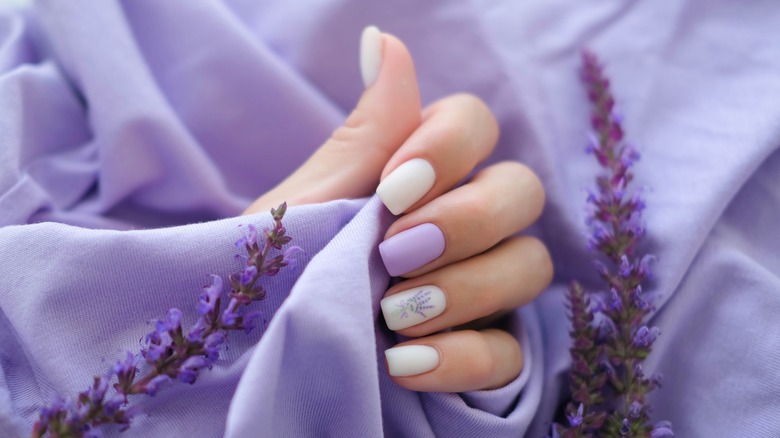 smile23/Shutterstock
The color lavender is not only gorgeous but so is the plant that gives it its name. That's why you can enhance your manicure with a small illustration of lavender flowers. To make this pretty image stand out as much as possible, you may want to do it on white polish and leave the lavender color for the floral image. If you just want to add the illustration to one or two nails, then you could paint the others lavender to bring out the purple in the nail art.
Glitter ombré lavender manicure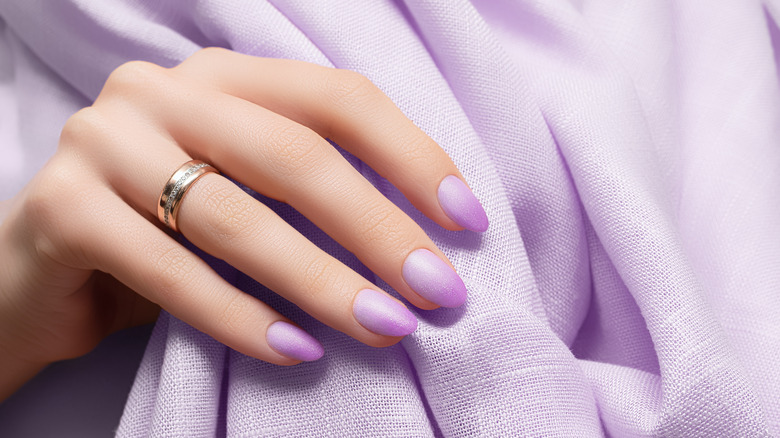 Dev_Maryna/Shutterstock
You may already love clothes and hairstyles that use a gradient effect. If that's the case, you might also have a soft spot for manicures that transition from one color to another. When it comes to lavender nail art, you could opt to have the shades move from a lighter shade of lavender to one that is deeper and darker. You could also have it transition from white, pink, or even blue to light purple. Top it off with a glittery finish to truly take the finished product up a notch.
Speckled egg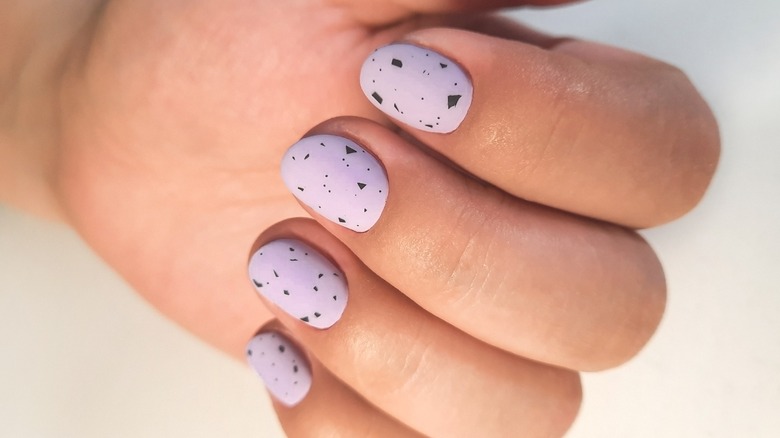 0leJohny/Shutterstock
Speckled egg manicures aren't necessarily meant to look like actual eggs. Instead, they're supposed to remind you of the tiny treats you might like to indulge in around Easter. The basic design relies on one base color and tiny flecks of a second shade that tends to be much lighter or darker. For your lavender manicure, you can start with the light purple shade and then use black flecks or ones that are navy blue, forest green, or a darker purple. Or mix things up by using white, pink, or bright yellow flecks.
Line art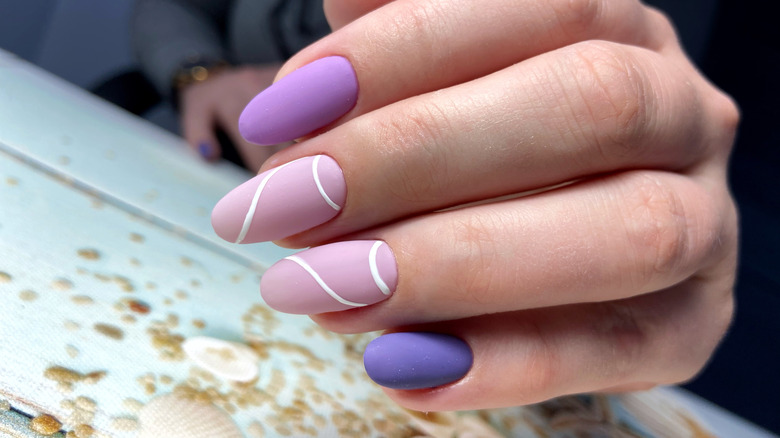 Tigra09/Shutterstock
Line art may be simple, but it's also a fabulous way to put an easy yet eye-catching twist on your manicure. Pick up your favorite color of lavender nail polish and use it as the base for your design. Then, use a bright white or striking black to draw on lines. You might want to try stripes, curves, and arches. You could also opt for hollow circles, spirals, or a mix of everything together. You could also switch up the base shade with lighter or darker lavender, as well as different colors of lines.
Give your lavender mani a geometric edge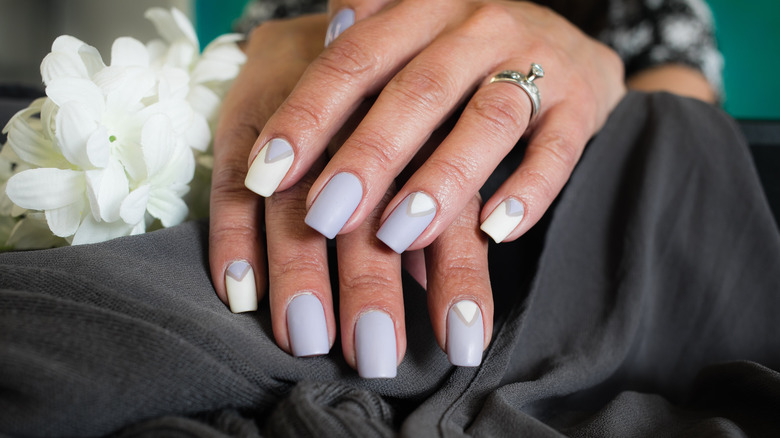 Christina Radcliffe/Getty Images
Add sharp angles to your manicure by using arrows to accent your lavender polish. Again, choose a light purple shade you adore and a second color like white, black, or whatever happens to catch your eye. Be sure to use lavender polish as the primary color (this means it should cover a larger part of your nails). Use the second shade to draw arrows at the base of each nail (or just a few, if you prefer). Leave a clear line between the two shades for even more definition.
Go all out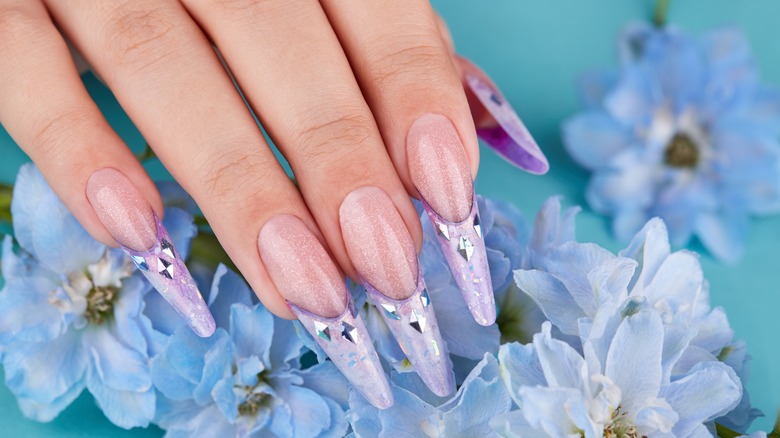 natkinzu/Shutterstock
Lavender may be a relatively soft color; however, you can make it a little hardcore by creating an all-out manicure — think super-long stiletto nails that are ever-so-slightly curved at each end. Use light lavender glitter as a base color and a darker lavender for lines to follow the larger curve of the nail. Add some iridescent or chrome flecks on the long tips to accentuate their length. Don't forget to pop on a few diamond-shaped faux jewels to finish things off in an oh-so-fabulous way.