What Is Japanese Hair Straightening? Here's What You Need To Know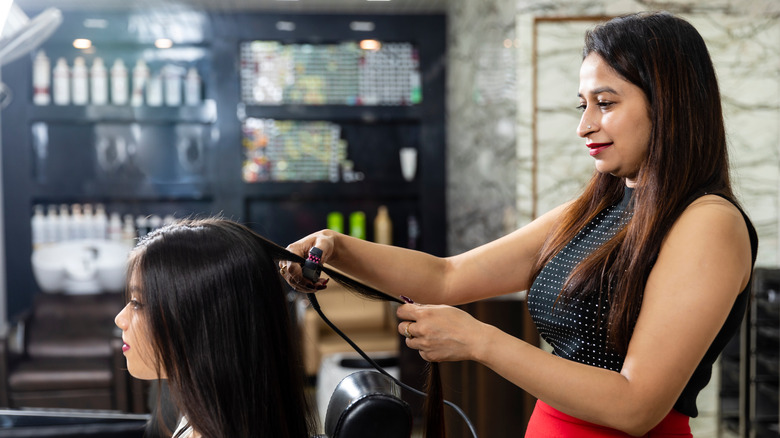 Bhaven Jani/Shutterstock
The pursuit of perfectly smooth, straight hair has been ongoing since the beginning of civilization. Ancient Egyptians used hot iron plates to straighten their hair, but it was a risky method that often resulted in burns to the face and hands. Nowadays, hair straighteners have become much more user-friendly. In 2001, the popular company GHD released its first straightening iron, and those with frizzy hair rejoiced.
More semi-permanent options for silky hair have emerged over the years. Keratin treatments, which became available in the Y2K era, give people smooth, straight hair for weeks, although they can sometimes go wrong. Japanese hair expert Yuko Yamashita created a different straightening system in the 1990s, which eventually made its way to the United States at the end of the decade. It still remains a popular straightening choice, but if you're thinking about getting the treatment done, make sure you know the ins and outs of Japanese hair straightening before you make your appointment.
Japanese hair straightening is a long process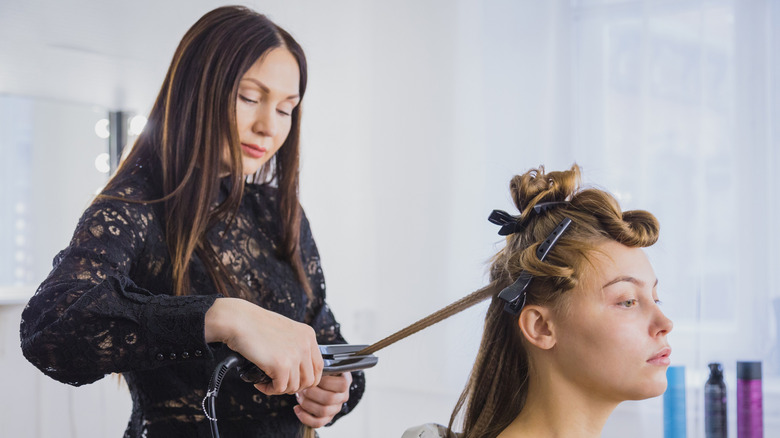 Happy_finch/Getty Images
Japanese hair straightening is a unique treatment that has yet to be replicated. As described by Healthline, a chemical solution is applied to break down the bonds of the hair for 20 minutes, then rinsed off. The hair is then blow-dried and straightened in small sections with a flat iron. Afterward, another solution is applied to neutralize the hair in order to restore the broken bonds, and then rinsed off again, followed by a second blast with a hairdryer and straightening iron.
Because of the many steps, Japanese hair straightening can take up to five hours — with times increasing if your hair is super curly or thick, so be prepared to carve out a big chunk of your day. It's also a pricey treatment, and salons charge anywhere from $250 and up. It's best to do a consultation with a hairstylist first before going in. They can determine if your hair is healthy enough and tell you how much the final price will be for you. The good news is that Japanese hair straightening is permanent. Once your hair is treated, it won't need a touch-up until your roots grow out. That means no frizz or curling of your strands even when they're wet. However, like with any chemical hair treatment, there are some risks involved.
Possible cons to Japanese hair straightening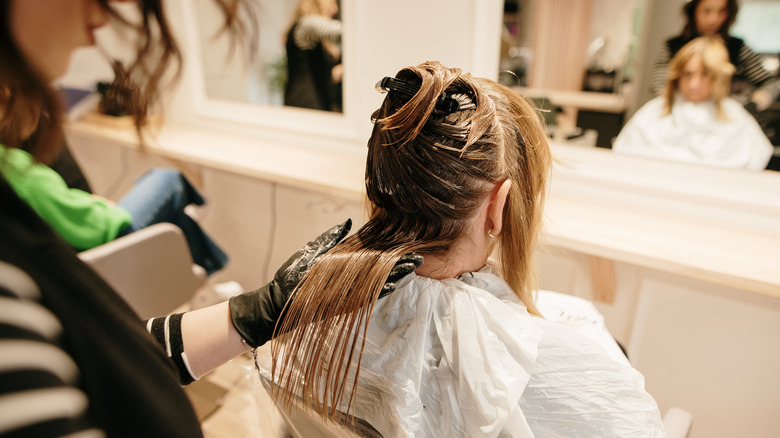 Marioguti/Getty Images
When you treat your hair with a chemical solution, there are naturally some adverse effects. Although Japanese hair straightening doesn't use formaldehyde like Brazilian blowouts, the process can still be damaging to your hair. "Since there are chemicals involved in this style, if done wrong, there can be permanent damage— especially if working on dyed hair, previously damaged hair, or just an incompatible hair type," salon director Jerome Lordet told Real Simple. "To avoid these results, I strongly recommend doing a test strand and doing your research on going to the right stylist. If you get the treatment continually, it can break weak or broken hair over the years," Lordet advised.
As previously mentioned, because Japanese hair straightening is permanent, your hair will be super sleek with no need to go back to the salon, at least until your roots grow out. If your natural hair is super curly, the top part of your crown will be frizzy while the rest of your strands will be straight, so you may have to smooth it out with a straightening iron suited for your hair type until you go in for a touch-up. There's also no reversing this straightening treatment, which means if you're thinking of getting it done, make sure you're fully committed.