We Tried Kate Middleton's Favorite Hairspray & It Reigned Supreme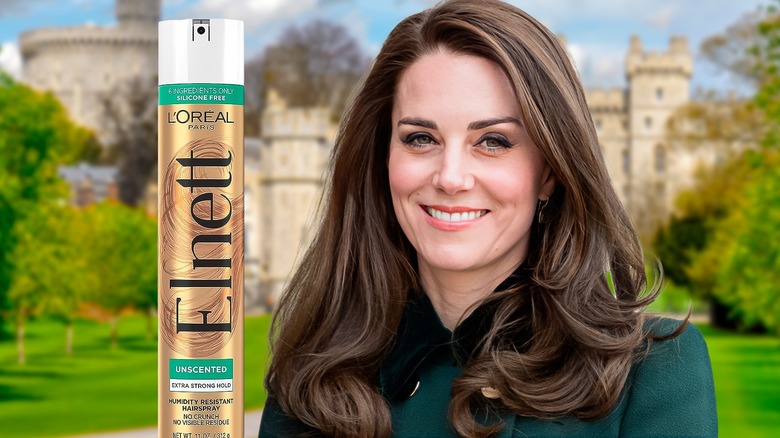 Static Media/Shutterstock/Getty
We may receive a commission on purchases made from links.
There's a reason Kate Middleton is beloved around the world — she simply exudes elegance and charm, with her hair always looking perfectly coiffed. Known for her rich, brunette strands, the Princess of Wales never has a single hair out of place, whether she's rocking a chignon or a wavy blowout. Of course, it doesn't hurt to have a go-to hairstylist on standby. According to the Daily Mail, Amanda Cook Tucker, a stylist who's worked with the princess, once shared a snap of the products she's used on the royal. Included in the arsenal was L'Oréal's Elnett hairspray, which comes as no surprise. The formula is loved by hairstylists and celebrities alike, including Jennifer Lopez, who revealed to Today that she keeps a travel-sized canister of it in her purse.
Of course, we couldn't wait to try the Elnett hairspray on ourselves to see how it would hold up, so we got ourselves a can, which currently retails for $12.34 on Amazon and $14.99 at Ulta. We tested it on two different hairstyles, and we must admit that we were royally impressed.
Our updo stayed up for the most part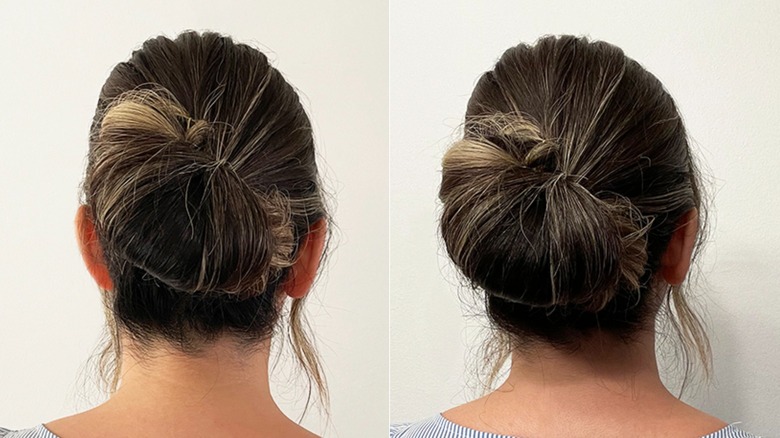 Jessica Choi/Static Media
Updos are notoriously difficult to maintain, especially if you're going for an elegant chignon that isn't overly styled. We tried this easy 'do that we thought Kate Middleton would approve of (and it was also the easiest to do on ourselves). We first secured our hair in a ponytail and made a little loop on the last go-around. Then, we took the long end of the pony and pulled it through the opening, securing the ends with bobby pins. Taking the big bun, we pulled one side up and used more pins to anchor the hair down. Finally, we doused our head with a generous amount of L'Oréal's Elnett hairspray.
It wasn't easy going about our day trying not to disturb the hairstyle and as you can see, it remained mostly secure. The bun did fall a bit, and there were some flyaways but we think the hairspray did a pretty good job of maintaining the updo. Of course, if we had Middleton's hairstylist on standby for touch-ups, our hair would still look perfectly coiffed at the end of the day.
Our waves looked even better hours later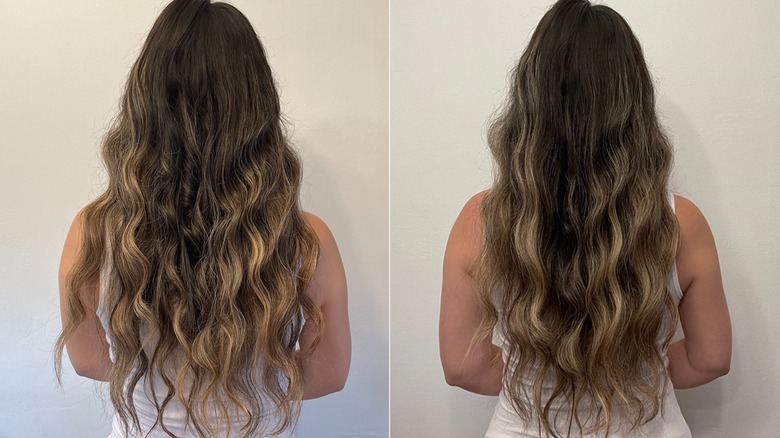 Jessica Choi/Static Media
One of Kate Middleton's oft-worn hairstyles is a big, bouncy blowout, and while she doesn't usually prefer beachy waves, we decided to test out L'Oréal's Elnett hairspray on tighter spirals. Since our hair is on the frizzy side and the air has been humid as of late, we spritzed our hair with a heat-protectant spray and smoothed our hair with a straightening iron. Working in sections, we then used a small-barreled curling iron to make natural-looking curls throughout our hair. Making sure to smooth out any strays with a paddle brush, we gave our hair a good spray with the Elnett and used our fingers to arrange the curls so that they fell naturally.
Hours later, the curls loosened up some, but we ultimately think our hair looked better in the after pic. The waves looked softer and had a more natural flow to them. We were particularly impressed with how our strands remained frizz-free, which we attribute to the hairspray. What we loved about Elnett is that it held our hairstyle without making our hair overly hard or crunchy. It does leave your hair feeling just a bit stiff, but that's what hairspray's for, right? Overall, it did a fantastic job keeping us well-coiffed, and it's no wonder this hairspray is Middleton's fave.