KAWS Nails: The TikTok Trend That Will Make Your Manicure Stand Out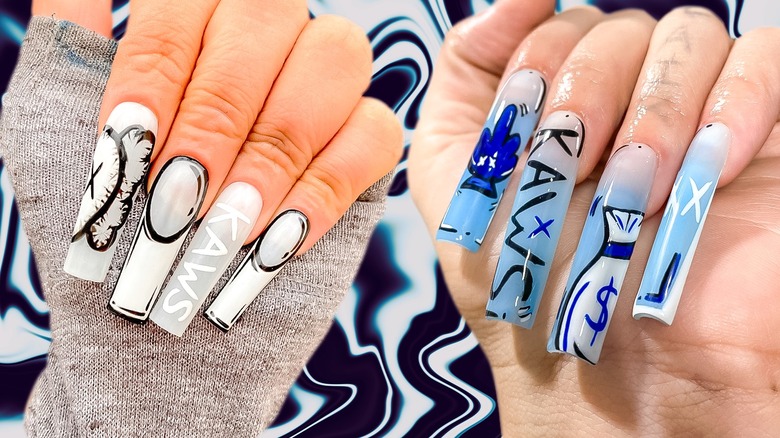 Static Media / Shutterstock
If you love trendy nail art, you might also adore manicures that are inspired by famous artists and their well-known work. Beyond that, you may be intrigued by the idea of boasting a KAWS-inspired manicure. A trend that has blown up on TikTok, the look is all about nailing the artist's signature style.
KAWS, whose real name is Brian Donnelly, previously worked as a background painter for cartoons like "Daria and Doug" and Disney's "101 Dalmatians." He also happened to be a street artist and eventually found fame within the greater art world with his toys, such as his Companion figure. Even if you don't follow the latest art trends, you still may have seen his (perhaps somewhat unexpected) balloon in the 2012 Macy's Thanksgiving Day Parade. The following year, he was responsible for giving MTV's Moonman a modern makeover. Or, there's the fact that members of the wildly popular K-pop band BTS collect his creations. These days, he's an influential presence on social media, with well over 4 million followers on Instagram. All of these could be where and how some style-savvy people spotted his work and decided to turn it into stellar nail art.
Featuring KAWS' instantly recognizable characters, striking color combinations, and creative details, his art is an ideal choice for an eye-catching manicure. Frankly, this is the kind of nail art you won't be able to resist showing off. You simply need to decide which KAWS-inspired nail design to try first.
KAWS nails embrace pop art with an edge
While KAWS' art has been featured in more realms than you might have realized — from graffiti on the streets to official collaborations with major brands — it all features his popular signature style. This also applies to nail art that imitates his creations. Think along the lines of pop art nails that boast an enviably edgy vibe.
For KAWS nail art, this means bold lines, cartoon-like shapes, and funky accents. That might include a long, flat-tipped manicure that opts for pretty pink tones, black lines, chunky shading, and an itty-bitty BFF figure that has crossed-out eyes and a texture that's meant to look like a fuzzy exterior. Or, you might be intrigued by something with a matte finish that uses black, white, and gray shades to recreate KAWS characters. Of course, some looks go in the opposite direction and incorporate glittery touches and pearly accents into the artist's designs.
Every version that you'll come across stays true to KAWS' style, using various elements that make it impossible to mistake who inspired each look. At the same time, there are seemingly endless ways to mix things up to find KAWS-like nail art that's unique, irresistible, and just right for you.
How to create your own KAWS-inspired nail art
If you head to a nail artist who follows popular trends, they may already know about KAWS nails. They also might be able to suggest a few styles that will pique your art-loving interest. However, if you want to get some ideas ahead of time, you may want to come up with a few potential details before you head into your next appointment. The same goes for anyone attempting to do their own KAWS-inspired manicure. It's best to know exactly what you want to do before you dive in.
Usually done by replicating teeny-tiny versions of KAWS pieces by painting them on, stamps and stencils can also be used to capture the right shapes and details. As for the specifics, consider opting for an image of a Companion figure or one of the artist's quirky takes on popular characters from pop culture like Elmo or Spongebob. Don't forget about a few X marks, which he tends to use to cross out the eyes of his creations and possibly the text of the artist's signature.
If you're not exactly artistic and don't have the time or budget to have your nails professionally done, then you can still enjoy KAWS-ish nails. Simply purchase Nail Holiday stickers and charms that feature mini versions of the artist's work. After snapping up a few of your favorites, pop them on, and get ready to flash your KAWS nails to your surely impressed friends.