How To Recreate Farrah Fawcett's Iconic '70s Blowout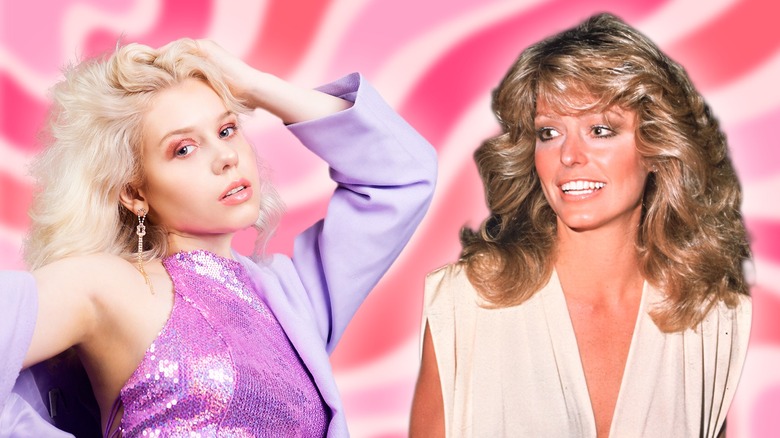 Static Media / Shutterstock / Getty
We may receive a commission on purchases made from links.
Retro '70s-era shag haircuts have certainly made a comeback, and it appears that the TikTok fashionistas have reintroduced another groovy trend: the Farrah Fawcett blowout. The feathered Farrah hairstyle proves too iconic to remain in the past, and Gen Zers are having fun recreating the "Charlie's Angels" star's signature curls. The trick to pulling off this glamorous blowout is forming voluminous curls that are soft yet larger than life.
One of the reasons for the Farrah blowout's popularity is its ability to flatter various face shapes. It complements your features without distracting or pulling too much focus away. At the same time, this dynamic hairstyle makes use of layered flicks to frame your face. In this regard, the Farrah blowout best suits full hair with layers. "This look will look more accurate if you have some sort of longer fringe or layers," celebrity hairstylist Matthew Collins shares with InStyle. "If your hair is all one length with no layers, it will be hard to get this look to sit right."
The classic Farrah Fawcett blowout requires the use of foam rollers, but curling irons and round brushes give it a modern twist that makes it easier than ever to style. Foam rollers are still crucial for this tutorial, and there is a learning curve involved, but the end product is worth the struggle. Follow these styling tips to rock the Farrah 'do.
Blow-dry and brush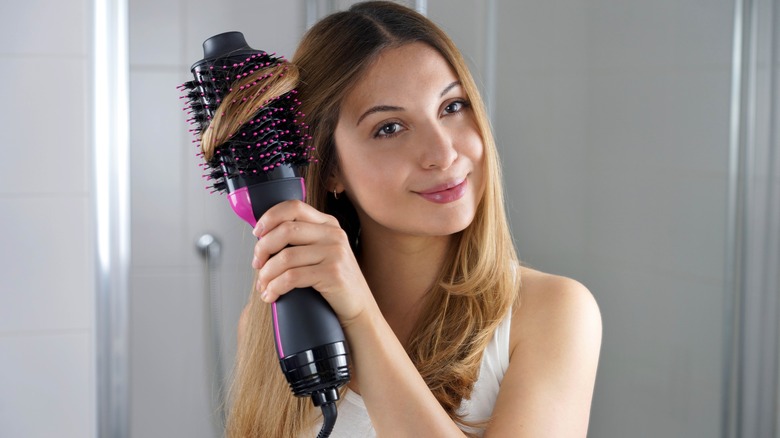 Zigres/Shutterstock
Before you go in with a hair dryer or hot air brush, comb through your hair with a heat protectant and coat all your strands. After allowing a moment for your heat protectant to work its magic, section your hair in several layers. The Revlon Hot Air Brush will create the perfect fluffy blowout, and it's the easiest tool to use for this tutorial. However, a round brush and hair dryer will also work well. To style, blow dry away from your face in small sections. For the top and back sections of your hair, brush upward and away for volume. Brush toward and away from your face for your bangs to create a pronounced flick.
Those with wavy or curly hair will want to ensure the hair is straightened out before or while styling for this blowout. "If you have very curly or coily hair, use full power full heat to work your hair smooth," Matthew Collins recommends to InStyle. Curly girls may also find it easier to use a flat iron rather than a hot air brush, as seen in Yvonne Abedi's TikTok tutorial.
If you prefer to take the heat-free route, skip the blow dryer and go straight to the next step. Similarly, feel free to use a curling iron if that's all you have on hand. The same rule applies here — curl away from your face and style in sections to enhance layers.
Apply hair rollers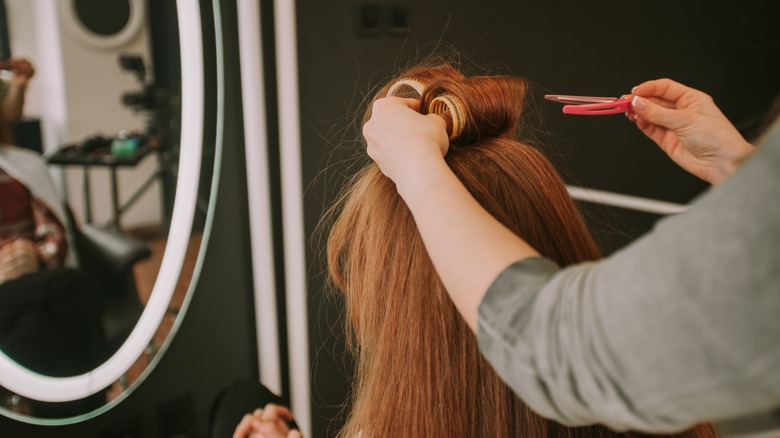 Gorgev/Shutterstock
Next, use a foam roller as you go along for each section of your hair while rolling your hair in the same direction as your curl —away from the face. Pin each hair section with a clip at the root to prevent the curl from unraveling. Here's a foam roller tip: make sure you have enough. There's nothing more frustrating than realizing half an hour into styling that you've run out of rollers or clips. Generally, those with denser hair will require more foam rollers, so keep an extra set close by in case you need more.
As for how long the rollers should be left in, TikToker Korina Wray recommends keeping them in for as long as you can, but anywhere between 20 minutes to an hour will work. You can leave them in overnight, but prepare to wake up with a sore scalp. When the time is up, gently remove the rollers and apply a generous amount of hairspray. Wait for the curls to set, and apply hair oil to tame frizz.
At this point, the decision to brush out your hair depends on how well your hair holds a curl. The best way to tell is to wait several minutes to an hour to see how your hair falls. To enhance the feathery look, brush in the direction of the curl or flip your hair over for a volume boost. Give your roots a gentle shake, and you'll have the perfect '70s-inspired blowout.