Your Guide To Viral Korean Toner Pads & Their Skincare Benefits
We may receive a commission on purchases made from links.
If you happened to be a teen or a pre-teen in the '90s or early 2000s, you probably remember the burning, stinging, redness, dryness, and harsh alcohol smell often associated with Stridex acne pads. The brand has since gone alcohol-free, but the trauma associated with applying skincare products using pre-moistened pads remains for many survivors of the era. While it may be difficult to imagine giving another pad a chance, the Korean toner pads trending on TikTok right now may be worth taking the plunge.
This is because Korean toner pads offer a much different experience. These pads' ingredients are gentle enough that you can leave them on your face for a few minutes — just like mini-sheet masks — to soak up all their benefits. If you've been searching for a product that can boost the efficacy of your facial cleansing, tone your skin, and help hydrate your face all in one step, this might be the perfect skincare trend for you to try. 
Chemical and physical exfoliation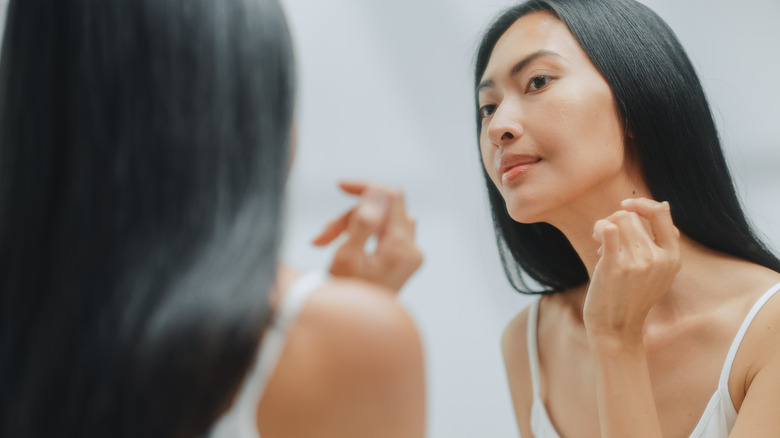 Gorodenkoff/Getty Images
Depending on the specific formula you choose, Korean toner pads typically offer gentle chemical exfoliants like polyhydroxy acids (PHAs). Since PHAs don't penetrate as deeply into the skin as traditional acids used for exfoliation, they're less likely to cause irritation than other exfoliating chemicals, according to Healthline. These PHAs whisk away dead skin cells and increase the rate of cell turnover to clear the way for newer, plumper skin.
Toner pads are also slightly textured, which means that they can provide gentle physical exfoliation, too. Simply rubbing the pads against your skin as intended for cleansing and toning is enough to help scrub away dead skin cells and break up excess sebum. Combining chemical and physical exfoliation in their gentlest forms allows you to enjoy all the benefits without risking the irritation that can come with strong chemical exfoliants — and the micro-tears that can be caused by aggressive physical exfoliation methods, according to Derma-E. 
Deep hydration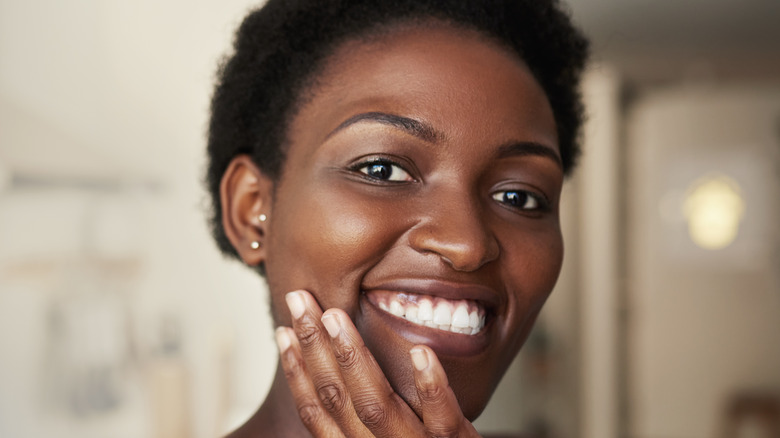 Laylabird/Getty Images
Unlike the skincare pads of the past, Korean toner pads offer ingredients that hydrate as they tone. If your skin is dry, look for pads that include ingredients like glacial or alba bark water for gentle hydration that won't clog pores. To achieve the best results, toning pads should ideally be used once you've cleansed your face but before you break out your serums. This will allow the pad's hydrating ingredients to be sealed into your skin and absorbed throughout the day.
If your skin is oily, you may wish to skip pads that offer hydration as their primary benefit and opt for one that targets oil control or blemishes instead. The customizable nature of Korean toner pads allows you to select one or more pads that are formulated for your skin type and its unique set of skincare challenges. If you happen to have combination skin, this might even look like using multiple pads on different areas at the same time. 
Mix and match
Those with combination skin often face the challenge of finding skincare products that address very different skin types residing on the same face. Applying a moisturizing mask or product? Get ready for an oily T-zone. Trying out a toner or acne treatment? Prepare for dry, itchy cheeks. This is the type of scenario that can be avoided by creating your own targeted combination of Korean toner pads.
If your T-zone is persistently oily but your cheeks and chin tend to become dry, you can apply a tea-tree oil-based pad to the oil-challenged area. According to Healthline, tea tree oil can combat oil, inflammation, and acne. Then, Dermstore recommends trying a glacial water pad to the dry areas for gentle hydration. If the drier areas of your face are starting to show signs of aging, you have the option of applying a blemish-focused pad to your oily spots and an anti-aging collagen pad to your cheeks and undereye area. If your skin tends to change through your menstrual cycle, you can change up your pad combination to support those changes. 
Mess-free convenience
If you happen to live in a home where you have easy access to on-demand warm water, supplies like cotton pads or washcloths, and space to store skincare products, it can be easy to inadvertently take those privileges for granted. For those who face challenges like limited access to water, mess-free, pre-moistened products like Korean toner pads are a godsend. Whether you find yourself sharing a sink with several roommates or family members or even struggle with being unhoused, pads can provide you access to self-care in the form of skincare.
The convenience of a ready-to-use skincare pad can also make skincare an option for people who have disorder and struggle with sensory overload around water. It can also be beneficial for those who find time management a problem in the morning, and those who are just too busy to be tied to a sink, per MedicalNewsToday. If skincare has felt too overwhelming for you in the past, consider trying a toner pad. While using a pad after cleansing is ideal, using pads alone is far better than not caring for your skin at all. 
Korean toner pads to try
The brand of Korean toner pads that's taken over TikTok is called Mediheal. It offers five varieties that target different skincare challenges: Watermide Toner Pads, Vitamide Brightening Pads, Teatree Trouble Pads, Phyto-Enzyme Peeling Pads, and Collagen Ampoule Pads. Each variety comes in a 100-pack that includes a pair of tweezers for easy separation and removal. However, these aren't the only Korean toner pads on the market.
If exploring the road less traveled is more your style, consider trying a less viral Korean brand. Ji Woo Gae offers facial and body toning pads that come in multiple formulas designed to target acne, dark spots, dry flakiness, or excess oil. While the price point is slightly lower than Mediheal's, it's important to note there are only 60 pads per container. Whether you're always up for trying the latest viral skincare trend or you've been searching for a more accessible version of skincare, Korean toner pads might be the perfect customizable next step for your evolving skincare routine.