Kaia Gerber's Favorite Highlighter Is Worth The Splurge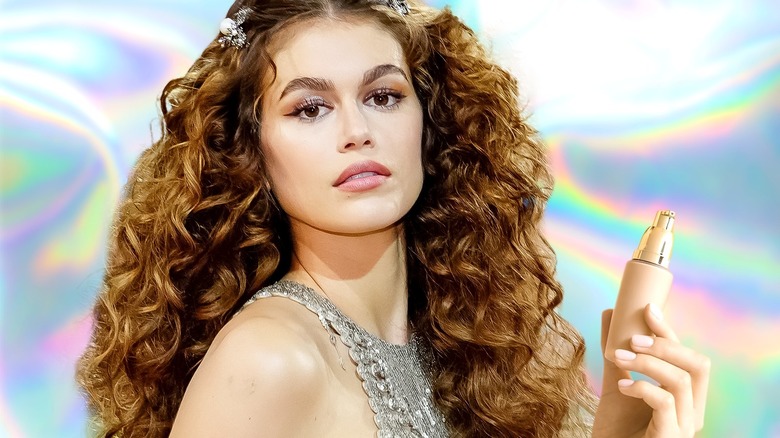 Static Media / Shutterstock / Getty
Looking effortlessly beautiful is high on everyone's agenda. In fact, the people to take the cue from are models and celebrities like Kaia Gerber. After all, they have the best teams advising them on what products work and which don't, and often only endorse a product after having tried and tested it on themselves for a certain period of time. That being said, many are likely excited to learn about Gerber's favorite highlighter recently: YSL Beauty's Touche Éclat Highlighter Pen. The price may be steep, but there is reason to believe it is definitely worth the splurge.
As Gerber told Byrdie in an interview, "It's the perfect pick-me-up if you're feeling tired. It adds light to all the right parts of your face. It's definitely my go-to." Having said that, she also asserts that she thinks it is particularly useful around the fall season when you want your skin to look flawless while keeping the work involved minimal.
The brightening product has a very lightweight and moisturizing formula with a liquid consistency, quite unlike other highlighters on the market, which is likely one of the reasons she enjoys it.
Why Kaia Gerber loves the Touche Éclat Highlighter Pen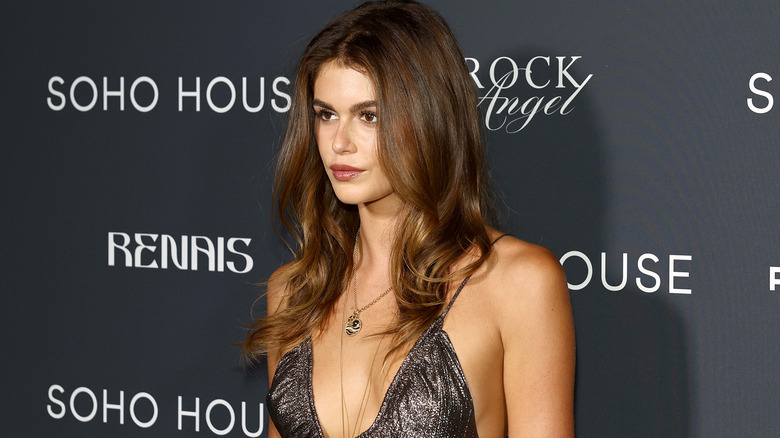 Arturo Holmes/Getty Images
In an interview with InStyle, Kaia Gerber shared advice taken from her mother, '90s supermodel Cindy Crawford on beauty. She said, "Two of the biggest pieces of advice my mom gave me was to never touch my eyebrows and to lean into more natural looks. Because of that, I feel the best when I am wearing less and embracing and loving my natural beauty." With this minimalist aesthetic in mind, this YSL product is perfect for Gerber's needs. It is feather-light on the skin, can blend easily and seamlessly into the skin, does the job of both concealing and highlighting the face, and never looks overdone.
The Touche Éclat Highlighter Pen is meant to brighten, smooth, and perfect the complexion with a natural, glowy finish in an instant and without the excessive look of shimmer or glitter. It consists of light-infused pigments, which are the reason for its natural-looking ethereal glow. The ingenious product can also be used as a makeup mistake corrector, as it can fix mascara smudges, eyeshadow fallout, or lipstick that has fallen outside the lines.
As Gerber tells InStyle, "It has this really pretty, dewy finish and is also very long-lasting."
More of Kaia Gerber's makeup secrets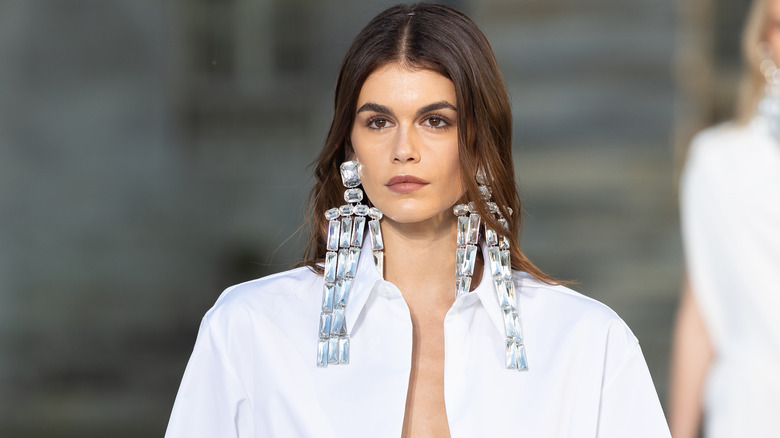 Marc Piasecki/Getty Images
If you are convinced of the merits of investing in Kaia Gerber's favorite highlighter, which helps her look like a million bucks without tons of makeup, you may be interested in knowing the rest of her makeup routine too. Speaking about her fall-winter makeup routine, Gerber tells InStyle, "I don't wear a ton of makeup, but I definitely feel like in the winter I do a red lip or a darker eye. I like to play around with things, especially depending on where I am."
Gerber also enjoys multitasking with her beauty products, as that is another way she can keep her routine minimal and easy to follow. She, therefore, enjoys using the same product for her blush and lipstick. Sometimes she even uses it on the eyes for a quick dash of eyeshadow on the lids. She says, "I use my lip color for everything. I put it on my cheeks or on my eyes and nose — I love the kind of sun-kissed look and when all the shades kind of match."
We agree with her on this last trick, and in case you are looking for inspiration, here is why monochrome coral makeup is an easy look to pull off.