Why Your Hairstylist Wants You To Stop Trauma Dumping On Them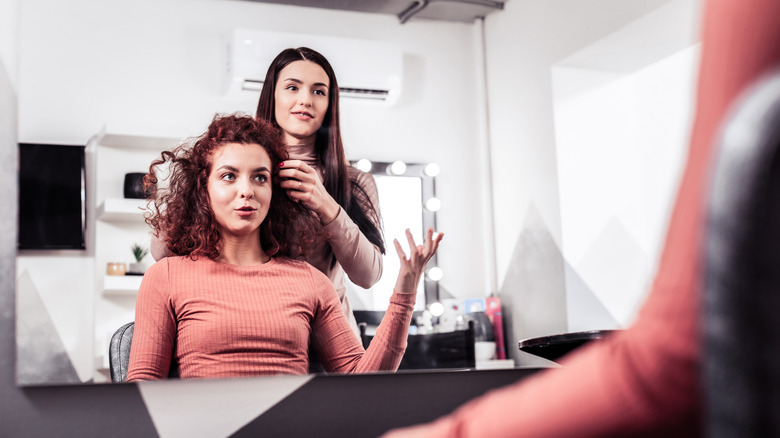 YAKOBCHUK VIACHESLAV/Shutterstock
Trauma dumping: We've all done it. Whether unloading capital-T trauma or smaller, everyday stress, it can feel good to voice our inner worries to a listening ear. However, trauma dumping is more than just venting. While venting can be constructive, "[t]rauma dumping refers to the oversharing of difficult emotions and thoughts with others," psychologist Dr. Kia-Rai Prewitt explained to Cleveland Clinic. "It is not a clinical term used by mental health providers, but people who engage in 'trauma dumping' often share traumatic events or stressful situations with others during inappropriate times."
Advertisement
For many of us, one of those inappropriate times might be at the hair salon. A StyleSeat survey revealed that one in three Americans views their hairstylist as a therapist. Additionally, 2 in 5 respondents admitted to discussing personal topics with their hairstylist that they wouldn't discuss with loved ones.
Treating hairdressers as stand-in therapists sort of makes sense, according to Dr. Seth Meyers, a clinical psychologist and relationship expert. Dr. Meyers wrote on Psychology Today that trauma dumping at the salon comes naturally because of the lack of direct eye contact (which can feel threatening), the low-pressure relationship between stylists and their clients, and the friendly vibes many stylists emanate. Nevertheless, even if trauma dumping feels good for you, it likely doesn't feel so good for your hairdresser.
Advertisement
Trauma dumping could traumatize your stylist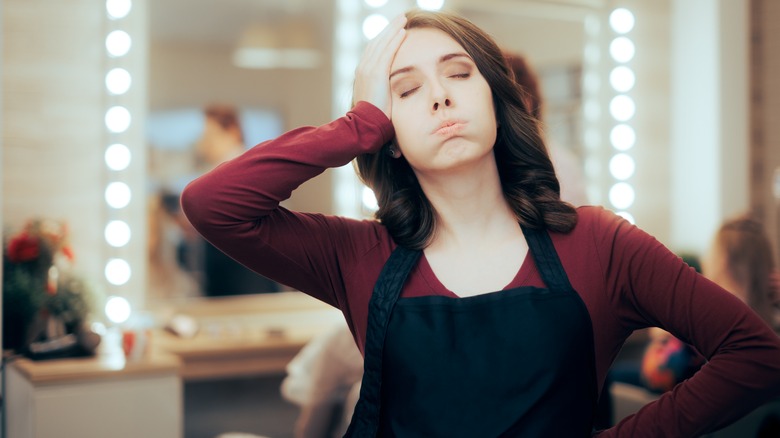 Nicoleta Ionescu/Shutterstock
When you're in the salon chair, it can be easy to forget that your hairstylist is a human too, and the personal info you share can impact them even after they hang up their apron for the day. "The person on the receiving end of these thoughts and emotions often feels overwhelmed and helpless because they aren't sure how to respond or may not be given an opportunity to respond," Dr. Kia-Rai Prewitt told Cleveland Clinic. As a result, they may experience heightened stress or anxiety after listening to you unload.
Advertisement
This can sometimes lead to vicarious trauma, which, according to Good Therapy, is when someone becomes traumatized after witnessing or learning of someone else's traumatic experience. Stylists who are exposed to clients' personal problems may struggle with vicarious trauma in the same way a counselor or emergency room worker might. But since they're often not trained to respond and cope with these challenges, they may suffer in silence. That might be why 65% of hairdressers deal with anxiety, burnout, and depression, per L'Oréal Professionnel Paris.
What to do instead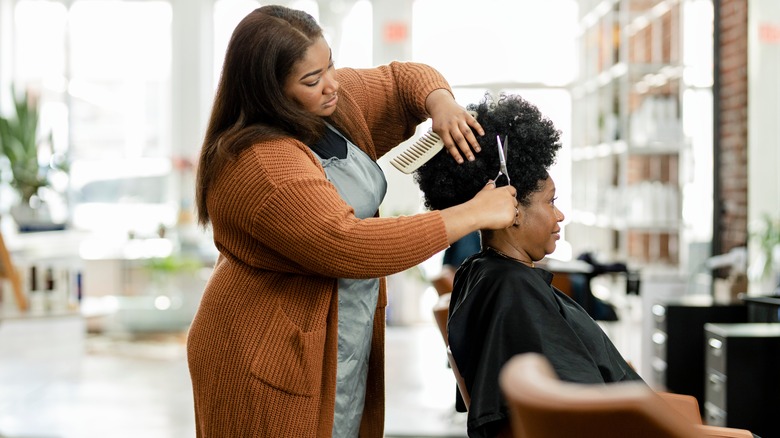 Rawpixel.com/Shutterstock
There's no need to feel ashamed of past trauma dumping. After all, oversharing is practically a part of salon culture, and there's nothing wrong with wanting to express yourself to someone. With that said, it's time to course-correct now for the sake of your stylist's mental health — and your own. First, know that you might not have to stop the intimate salon chats altogether, but you should at least ask before you divulge. Think of it like giving a trigger warning: You can tell your stylist you'd like to talk about a relationship issue, friendship breakup, or other personal problem and then ask for their permission before getting into the details.
Advertisement
Whether your stylist is okay with you unloading or not, it's also a smart idea to reflect regularly on your own — not only when you go for a monthly color touch-up or your seasonal trim. Journaling or even audio journaling (where you record yourself verbalizing what's on your mind) are good places to start.
Of course, nothing replaces support from another person. PsychCentral suggests talking to a friend, provided you've gotten their consent first. If difficult feelings or traumatic memories continue to linger, consider therapy. After all, a therapist's role not only makes space for trauma dumping but also helps you cope and make sense of your experiences. The downside: A new haircut, unfortunately, isn't part of the package.
Advertisement