Try Hair Contouring To Enhance Your Facial Features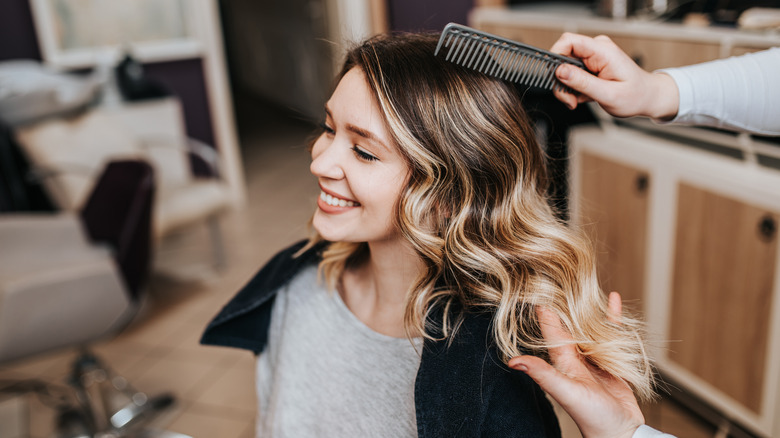 hedgehog94/Shutterstock
Contouring has been an important part of our makeup routines for years, allowing us to enhance our natural attributes. This technique involves using bronzer and highlighter to define our facial features. However, mastering contouring can be difficult and time-consuming. If you're short on time or prefer a simpler approach, traditional contouring with makeup may not be the best option. Fortunately, there is a new contouring technique that requires no makeup and doesn't add any extra time to your daily schedule.
Hair contouring is a coloring technique used by professionals to achieve the same effect as makeup contouring. It highlights the high points of your face and sets off your features using hair color. "Hair contouring can be a transformative and confidence-boosting hair color technique when done by a skilled professional," said celebrity hairstylist Jason Tavares to Byrdie when asked about the new trend. If you're looking for an effortless way to always have a contoured face, consider enhancing your features with hair contouring.
What is hair contouring and how does it work?
Hair contouring is a method of hair coloring and cutting that is based on your face shape. In an interview with Vogue India, Pranav, the style director at Jean-Claude Biguine Salons India, said the method "works on the principle of defining and framing the face by using precise placements of color to create the illusion of light and shadow." The cut of your hair also plays a vital role in accentuating your natural face shape. Your stylist may suggest shaping with layers or bangs to achieve the desired hair contouring effect.
The hair contouring method is tailored to each individual, as the stylist will determine your face shape and cut and color the hair to enhance your best qualities. Based on your face shape, hair texture, and skin tone, the stylist will determine the ideal approach to contour your features using hair color. Options such as balayage, babylights, or full highlights may be suggested. By strategically using lighter tones in specific areas and darker tones in others, certain characteristics can be enhanced while creating shadows in other areas.
Hair contouring based on face shape
Hair contouring methods, like makeup contouring, will vary depending on the individual's face shape. Each person has specific features they want to emphasize and others they want to add depth to. However, there are general rules for contouring with hair based on specific face shapes.
For rounder face shapes, the traditional "money piece" hair color technique highlights the strands around the face. This also emphasizes the high points of the face. The darker ends of the hair below the face create a shadow effect, providing depth to the contoured areas. "The softer contrast between hair color and skin tone lifts and brightens the face," celebrity hairstylist and European creative director for Evo hair Tom Smith told Glamour.
For those with a square face shape, the goal is often to soften the features. Instead of contouring around the top of the face, focus on contouring the ends to shape the perimeter of the face. Individuals with a longer, heart-shaped face may want to create the illusion of a fuller chin and a smaller forehead for a general contour effect. This can be achieved by adding scattered light balayage throughout the lower half of the hair.