The 5 Very Best Curl Creams For Every Hair Type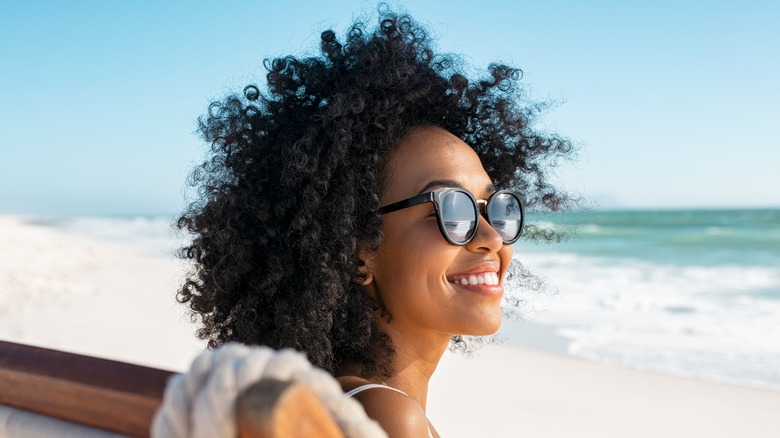 Rido/Shutterstock
We may receive a commission on purchases made from links.
Getting perfectly curly and bouncy hair is no easy task. Depending on your hair type and texture, getting the right twist and weight on your curls takes a lot of work. Typically, your hair type will determine how your routine should go. Usually, those with thin hair will want products that add volume, while those with thick hair will want products that add the proper shine and movement to their locks. Curl cream is one of the most essential products in your hair care routine to help you achieve the perfect curl. This product helps style the hair and create flawless, almost manicured tresses.
Curl cream is one of those products curly-haired people can use to keep their ringlets moisturized and hydrated. As lovely as it would be to pick up any ole product and have it work for your hair, finding ones that work with your specific hair type and goals is vital if you want to have hair that you love. Thankfully, a curl cream is available for each hair type that will keep your tresses looking and feeling like you just left the salon.
How we selected products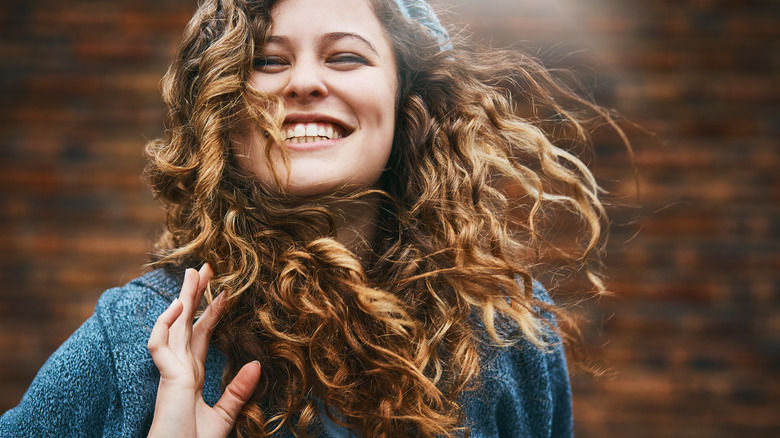 Rapideye/Getty Images
As you do with any other product you use on your body, face, or hair, you should research before choosing your next purchase. To gather a list of essential curl creams for your specific hair type, we've considered factors like firsthand user reviews and market popularity, as well as how these products achieve specific hair goals. While several of the most popular curl creams on the market might work for some, other factors can get rid of some of that extra noise which may influence your decision-making process.
Picking out the suitable curl cream for you will also depend on your budget. However, getting salon-like hair doesn't have to come with a hefty price. Thankfully, there are products for your hair type that are both affordable and high-quality. Of all the available options, these choices are among the best and have plenty of evidence to support their hair claims. These curl creams hydrate and moisturize your hair, while allowing you to create almost any look you want. Instead of choosing between your concerns, these creams cover the bases and are the perfect additions to your curly hair routine.
Best overall curl cream: OUAI Curl Crème
If you're just getting started with curl cream, it can be overwhelming to have so many options. Those just figuring out their hair type and needs should begin with ​​OUAI's Curl Crème. Lightweight but with significant hold, OUAI's product is the perfect starting point to learn more about your curl's needs. With a current rating of 4.8 and many fans on TikTok, OUAI's curl crème is a fan favorite, regardless of hair type.
Purchase the Curl Crème at OUAI for $32.
Best budget-friendly curl cream: OGX Argan Oil of Morocco Curling Perfection Curl-Defining Cream
Getting perfectly curled hair shouldn't break the bank. Thankfully, many products don't cost over $20. One of these budget products, OGX Argan Oil of Morocco Curling Perfection Curl-Defining Cream, may be inexpensive but it's anything but cheap. The quality is high, and it's among one of the favorites of curly-haired users. With an outstanding 4.4 rating at over 20,000 reviews on Amazon, almost everyone seems to have tried OGX's curling cream and loved it. Although it might not be a standout product for everyone, it gets the job done.
Purchase the Argan Oil of Morocco Curling Perfection Cream at OGX Beauty for $7.97.
Best curl cream for thin hair: Not Your Mother's Curl Talk Defining Cream
Finding the right hair product for thin hair can be tough. Anything with too much moisture can be heavy, but you still want something that has a significant hold on your curls and lasts all day. Getting the right balance between these two factors is challenging but is found in Not Your Mother's Curl Talk Defining Cream. One reviewer explained, "I love that this is a lighter curl defining cream. It doesn't weigh my hair down like other I have tried." Not Your Mother's curl cream is nothing short of a lightweight product that still works.
Purchase the Curl Talk Defining Cream at Not Your Mother's for $8.99.
Best curl cream for thick hair: Verb Curl Cream
Known for its high-quality hair products, Verb creates another great product in this curl cream. Verb's Curl Cream is a lightweight product that adds bounce to thick curly hair without making it too greasy. It's easy to apply too much product when styling thick hair, creating a slick mess. Verb's product handles this problem perfectly and offers a middle ground of penetrating thick hair but still staying lightweight enough for a shiny, healthy look. With 4.7 stars out of over 1,000 reviews, Verb's Curl Cream is the perfect understated product for those with thick hair.
Purchase the Curl Cream at Verb for $20.
Best curl cream for damaged hair: Shea Moisture Coconut & Hibiscus Curl Enhancing Smoothie
With a 4.6 rating of over 15,000 reviews on Amazon, Shea Moisuture's Curl Enhancing Smoothie has many fans. This curl cream is perfect for those with damaged hair from color or chemical treatments. "This product helped immensely in gaining back my curls after chemical and heat damage. This was part of my everyday routine and my curls came back quickly," explained one reviewer. While hailed as a miracle product, this curl cream is better for those with tighter curls, as it can be heavy on fine curls due to its thick consistency.
Purchase the Coconut and Hibiscus Curl Enhancing Smoothie at Shea Moisture for $13.99.