The 10 Best Skin Tints To Enhance Your Look Without Heavy Coverage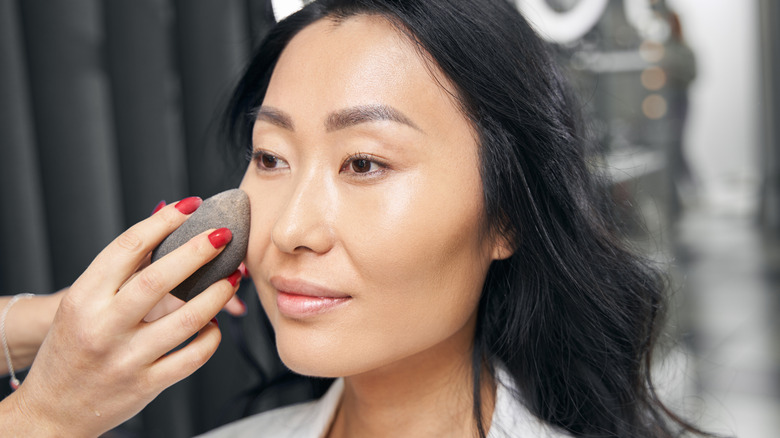 Svitlana Hulko/Getty Images
We may receive a commission on purchases made from links.
Skin tints fall somewhere in between a radiant foundation and tinted moisturizer. Unlike the latter, "skin tints have very sheer coverage," celebrity makeup artist Kenneth Soh tells Byrdie. "It's designed to give the skin the barest veil of color so it feels like you're not wearing anything." Beauty fans everywhere are stepping back from full glam to embrace minimal makeup, as shown by the uptick in trends such as the clean girl aesthetic and the no-makeup makeup look, which has elevated skin tint to a makeup bag staple.
There are several reasons you might prefer a skin tint over a standard foundation. For one, most skin tints contain skin-soothing ingredients that help keep your skin moisturized and glowy. This also makes skin tints a perfect makeup product for dry skin types. Skin tints also feature lighter formulations that feel less heavy on the face, which not only appeals to those with sensitive skin but also reduces the chance of clogging your pores and causing breakouts.
Another reason people love a sheer skin tint is the freedom to face the world with makeup that enhances your natural looks. That said, finding a skin tint that works for you sometimes feels like never-ending attempts of trial and error. Instead of you wasting time spending hours on research, we've done all the heavy lifting by selecting the best skin tints for major skin concerns and preferences.
How we selected products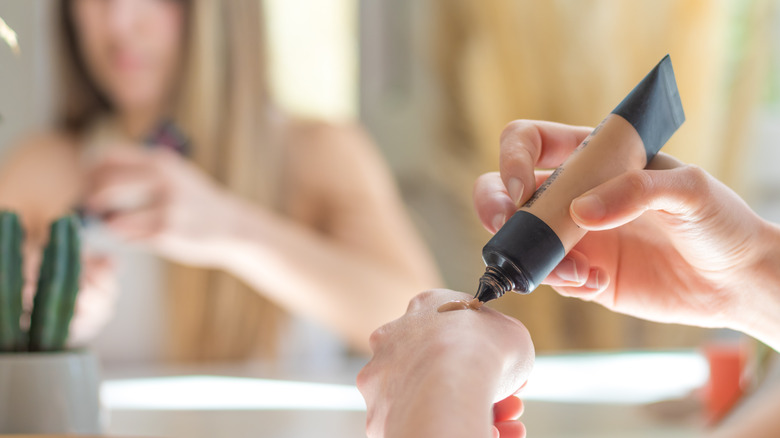 Pablo Vivaracho Hernandez/Getty Images
To find the skin tints that make up the crème de la crème, we narrowed down the selection by following the criteria that mark a quality candidate. For instance, an effective skin tint should possess a barely-there feel with a sheer — almost translucent — finish. A high-quality skin tint will also give the skin a dewy look, so it should contain hydrating ingredients that support your skin without feeling greasy or tacky. To hone in on the best tint options, we also weighed each product based on buyer ratings, reviews, efficacy, and potential skincare benefits.
The dilemma with finding the right skin tint lies with the fact that skin tints alone will not provide enough coverage to conceal blemishes, uneven skin tone, or dark spots. Instead, a sheer tint is designed to complement your natural skin. However, you can still pull off minimal makeup by layering a lightweight skin tint with a medium coverage concealer or color corrector, so it's still possible to sport a weightless makeup feel. In this regard, sheer tints make a versatile foundation alternative that suits a number of skincare concerns, budgets, and preferences.
Best overall: Morphe 2 Hint Hint Skin Tint
With over 2,000 reviews on Ulta, Morphe 2's Hint Hint Skin Tint surpasses all other contenders for the title of top skin tint. The Hint Hint Skin Tint offers a vegan formula that lasts up to 16 hours so that you don't have to worry about reapplying throughout the day. The simple, non-comedogenic formulation also makes this a safe option for dry, sensitive, and acne-prone skin. Additionally, this skin tint is perfect for devotees of minimal makeup thanks to the clean ingredients and affordable price.
However, reviewers warn about the discrepancy between how each shade appears in the bottle compared to how it blends with the skin. To avoid a color mismatch, experiment with the 20 available shades to find the right match for your skin tone.
Purchase the Morphe 2 Hint Hint Skin Tint at Ulta for $18.
Best skin tint with SPF: Ilia Super Serum Skin Tint SPF 40
Many people who use sheer tints prefer to avoid layering too many products on their faces on a daily basis. Ilia's Super Serum Tint is a great option in this case, as it functions as a hydrating serum, lightweight foundation, and sunscreen all in one. The Ilia skin tint has earned the "clean beauty" label at Sephora and contains hydrating ingredients such as hyaluronic acid, squalene, and shea butter. This tint also offers a sun protection factor of 40, which is stronger than most skin tints you'll find on the shelf. It's easy to understand why the #iliaskintint tag on TikTok boasts over 23 million views.
Purchase the Ilia Serum Skin Tint with SPF 40 at Sephora for $48.
Best budget skin tint: L'Oréal Paris True Match Nude Hyaluronic Tinted Serum
If you're on the hunt for a hydrating skin tint that won't put a strain on your wallet, look no further than L'Oréal Paris' underrated True Match Tinted Serum. With an impressive rating of 4.5 stars and over 12,000 customer reviews on Amazon, you don't want to sleep on the True Match skin tint.
Many people are, understandably, hesitant about trying drugstore products, as they assume they underperform in comparison to popular Sephora or Ulta brands. However, this skin tint contains hyaluronic acid to plump the skin. It's also paraben- and fragrance-free, so it pairs well with sensitive skin. One reviewer even goes as far as to say, "This has seriously replaced my high-end foundations."
Purchase the L'Oréal Paris True Match Nude Hyaluronic Tinted Serum on Amazon for $14.99.
Best skin tint for buildable coverage: Fenty Beauty Eaze Drop Blurring Skin Tint
Fenty Beauty products rarely disappoint, and the Eaze Drop Blurring Skin Tint proves no exception. This skin tint is a great option if you're looking for a product with a flexible shade range and lightweight coverage. Fenty's skin tint provides a slightly higher amount of coverage compared to some other skin tints, and you can layer it for additional coverage.
According to reviews, this product offers the possibility of increased coverage, yet still leaves a radiant finish that both looks and feels weightless. A Sephora reviewer writes, "Looks like my skin, but better. As a skin tint, still is able to cover unevenness in skin tone without being too much."
Purchase the Fenty Beauty Eeze Drop Blurring Skin Tint at Sephora for $35.
Best skin tint for oily or acne-prone skin: bareMinerals Complexion Rescue Matte Tinted Moisturizer
This one is for the oily-skin babes out there. Sheer tints are known for creating a dewy finish that can exacerbate the greasy appearance of combination or oily skin types. Enter bareMinerals Natural Matte Tinted Moisturizer. This tinted moisturizer not only quenches the skin — thanks to the hyaluronic acid — but also features an oil-free formulation that makes it perfect for oily and acne-prone skin. It also contains marine botanicals that help balance excess sebum production, which can contribute to breakouts.
The new bareMinerals tinted moisturizer is a great option for those looking for lightweight coverage while struggling with oiliness, as it mattifies to reduce greasy skin without drying it out, as shown in Magdaline Janet's TikTok review. To tempt you even further, it even contains SPF.
Purchase the bareMinerals Complexion Rescue with SPF 30 at Sephora for $37.
Best splurge-worthy skin tint: Chanel Les Beiges Water-Fresh Tint
If you're in the mood to indulge in some bougie beauty, take a look at the Chanel Les Beiges Water-Fresh Tint. At $70 per bottle, this luxurious skin tint may very well break the bank. According to reviews, however, it is worth every cent. "If you're looking for a very subtle wash of coverage, then this is for you," gushes beauty influencer Shira, who has over 80,000 followers on TikTok. This unique skin tint contains eight hours of hydrating and pigmented micro-droplets that quickly dissolve to give your skin a gorgeous glow. Every brush of this skin tint is designed to pamper and hydrate.
Purchase the Chanel Les Beiges Water-Fresh Tint at Ulta for $70.
Best skin tint with an ultra-sheer finish: Glossier Perfecting Skin Tint
For those who prefer an extremely sheer finish, you won't find anything lighter than Glossier's Perfect Skin Tint. The Glossier skin tint provides a luminous veil of coverage that complements your skin's natural textures and tones. This product is known for its subtle application and dewy finish, though TikToker Pamyla demonstrates its potential for buildability. Do you prefer makeup that allows your natural freckles to shine through? This is the tint for you. Are you hoping to reduce the appearance of blemishes or dark spots? Well, simply apply a second layer. Yes, you heard it here, folks: It can do both.
Purchase the Glossier Perfecting Skin Tint at Sephora for $26.
Best skin tint with skincare-focused ingredients: Summer Fridays Sheer Skin Tint
The Summer Fridays Sheer Tint is the popular skincare brand's first foray into the makeup world, and the results are just as you'd expect. The Summer Fridays Sheer Skin Tint has a lightweight formula that contains hyaluronic acid and glycerin. This super team of hydrating ingredients is backed by rich emollients, such as squalene, vitamin E, and avocado oil to help your skin retain moisture. One beauty blogger reviewed this product and proclaimed "I'm getting rid of my foundation for good" as part of her title.
Purchase the Summer Fridays Sheer Tint at Sephora for $42.
Best skin tint for dry skin: Hourglass Illusion Hyaluronic Skin Tint
Skin tints are hydrating and lightweight alternatives to foundation, but that doesn't mean they're all great for all skin types. For instance, folks with dry skin will enjoy a skin tint with more hydration to help keep the skin refreshed while still providing some light coverage. The Illusion Hyaluronic Skin Tint is perfect for dry skin thanks to its hyaluronic acid, which helps moisturize the skin. 
Reviewers love the formula, too, with one writing on the brand's site, "Hands down the best skin tint I've ever had...Lightweight and dewy, yet buildable coverage." A reliable product, those with dry skin can also create dewy, beautiful looks.
Purchase the Illusion Hyaluronic Skin Tint at Hourglass Cosmetics for $56.
Best blurring skin tint: Ami Colé Skin-Enhancing Tint
Even though skin tints are typically sheer in coverage because they're so lightweight, you can still expect some coverage from them. For those who want a light skin tint to help conceal so-called imperfections, Ami Colé's Skin-Enhancing Tint is the ideal solution. Thanks in part to its blurring effect, this skin tint has earned a 4.8-star rating from its reviewers. Apart from its formula, this skin tint is made with clean ingredients like pumpkin and hibiscus flower extract, making it a solid choice for your skin — especially for lovers of natural beauty products.
"This is by far my favorite skin tint. It's heads and tails above all the others I've tried..." one pleased reviewer wrote on the brand's site. With many more reviews like this, this skin tint might just become your next go-to.
Purchase the Skin-Enhancing Tint at Ami Colé for $32.