The 7 Best Press-On Nail Kits You Can Buy For An Anywhere Manicure
We may receive a commission on purchases made from links.
The world of beauty can sometimes feel like a permanent state of more is more when it comes to keeping up with what's trendy or expected. While simple makeup and nail polish were once all one needed to be considered glamorous, times have most definitely changed. Today, it's difficult to not aspire to emulate your favorite influencers who wouldn't be caught dead without their eyelash extensions, microbladed brows, and acrylic nails.
Fortunately, there are more attainable ways to follow the trend of supplementing your every feature. One of the easiest and most attainable options is swapping expensive and time-consuming acrylic salon nails with at-home press-on nail kits. These kits allow you to keep your nails looking stylish for a fraction of the price and without spending hours in a salon. The only difficult part of the process is choosing the right kit out of the hundreds on the market. That's where we come in with our curated list of the best kits you can buy — because, well, you deserve it. 
How we selected products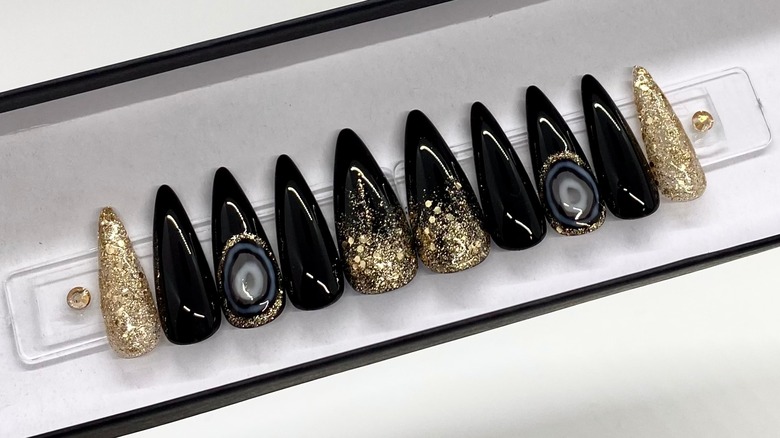 Klizh92/Shutterstock
The more normalized wearing nail enhancement on an everyday basis becomes, the more companies recognize the financial potential in selling press-on nail kits. This has resulted in an overwhelming number of choices when seeking out the right product for you, whether in a store or online. Before you know it, you're either giving up and spending way more money at the salon, sticking with your natural nail look, or settling for a product that isn't ideal for you.
Instead of stressing yourself out, let us do the research for you. We've sorted through all the options and compared product descriptions, ingredients, price points, and consumer reviews to develop a categorized list of the best press-on nail kits on the market. If you've been considering switching from salon manicures to DIY nails, this is the perfect time to find the right press-on with which to start your journey. 
Best overall press-on nail kit: Glamnetic Ma Damn
Glamnetic — best known for its bestselling magnetic false eyelashes — also sells high-quality press-on nail kits. The brand's press-ons are long-lasting (some reviewers claim they last even longer than the product description's claim of two weeks), reusable, affordable, and salon-quality. The style we've chosen, ironically named Ma Damn, is a classic French manicure in a short almond shape. The kit includes 24 nails in 12 sizes, nail glue, a nail file, a cuticle stick, and an alcohol pad for prep. As one verified buyer expressed, it's "the perfect French manicure."
Purchase the Ma Damn press-on nail kit at Glamnetic for $14.99 
Best budget-friendly press-on nail kit: KISS imPRESS Color Frosting
KISS is a trusted nail brand that has been around for decades and rules drugstore beauty aisles. If you ever tried press-on nails when you were a kid or a teen, there's a good chance they were made by KISS. Fortunately, press-ons have greatly improved over the past two decades and are now more natural-looking and come in a wide variety of shapes, lengths, and sizes. 
Cut to today, and KISS's basic imPRESS Color kit includes a solid frost white shade called Frosting that can complement any outfit. This economical kit is a #1 bestseller on Amazon and requires no glue application thanks to a peel-off adhesive tab on each nail. "They are gorgeous and shiny and I get so many compliments," one Amazon reviewer shared. "I love this brand as I dont want to fuss with glue or adding tabs, the peel and press is so easy for me."
Purchase the KISS imPRESS Color Frosting on Amazon for $5.59
Best long-wear press-on nail kit: Chillhouse Chill Tips French Twist
Chillhouse offers a wide array of gel-like, salon-quality, and reusable press-on nail kits that are said by the brand to last up to three weeks, though some reviewers say theirs have lasted an entire month. The kit comes with a buffer and file, nail glue, 24 nails of various shapes and sizes, and a cuticle stick. French Twist is a traditional, rounded French tip with a neutral base, but the brand also produces tons of kits that feature bright colors and unique nail art if that's more your style. 
Purchase the French Twist press-on nail kit at Chillhouse for $16.
Best environmentally friendly press-on nail kit: Olive & June Classic French Press-Ons
If you're a conscious consumer who worries about the impact of temporary nails on the environment, Olive & June is the brand for you. The Instant Mani kit contains 42 press-on nails in 21 sizes made from 94% post-consumer recycled materials along with a nail-safe glue, a buffer and file, a cuticle stick, and a nail prep pad — all for just $10. The brand's Classic French press-ons are just that — a classic French manicure that will enhance any look without stressing you out about your carbon footprint.  
"The olive and june press ons are always amazing, and this french tip is no exception," one reviewer raved on the brand's website. "[T]hey stay a long time, look classy, and always get compliments."
Purchase the Classic French Press-Ons at Olive & June for $10.
Best waterproof press-on nail kit: Static Nails Reusable Pop-On Manicure Modern French Round Diamond Effect
Static Nails' Reusable Pop-on Manicure press-on nail kit is the priciest kit on this list; however, its features might be worth the few extra dollars. These press-ons are fully shapeable, customizable, and waterproof — plus, they last up to 18 days per use and can be reapplied up to six times. Talk about bang for your buck! The Modern French Round Diamond Effect kit provides a beautiful French manicure with a delicate band of silver metallic just beneath the tip, offering you subtle and stunning glam at your fingertips.
Purchase the Reusable Pop-On Manicure Modern French Round Diamond Effect at Static Nails for $20
Best salon lookalike press-on nail kit: OPI XPRESS/ON
It's no surprise that nail salon giant OPI has gotten in on the press-on nail kit game. The brand's XPRESS/ON line offers reusable press-ons that last up to two weeks per application. The brand also makes its nails and packaging with up to 94% post-consumer recycled materials, rivaling Olive & June. The most impressive feature of these press-ons, though, is their gel-like consistency that mimics a salon manicure. French Press is a classic French manicure with a translucent pink base, but the brand offers myriad other colors, too.
"I absolutely love these nails! They feel like i got them done professionally," one Ulta reviewer shared. "They are strong, last for days, and look beautiful! They are [t]he perfect length too.
Purchase the French Press press-on kit at Ulta for $13.99
Best gentle press-on nails kit: Dashing Diva Magic Press
If you're new to applying nails at home and worried about damaging your nail beds with harsh adhesives, Dashing Diva's Magic Press kits are for you. Each kit includes 30 press-on gel nails in 12 sizes with a pre-applied safe and gentle adhesive tab, plus a nail file, cuticle stick, and prep pad. The waterproof nails only last for about a week, but those with apprehension about nail glue might want to make that trade for peace of mind. 
Homecoming is a neutral, medium-length, and rounded French look, but the brand offers many bolder colors and patterns as well. "These are my go[-to] nails for every day. The[y] are timeless and classy," one happy reviewer wrote on the brand's site.
Purchase the Magic Press Homecoming at Dashing Diva for $9.