We Tried Rare Beauty's Blush & Glow Set & Its Soft Pinch Liquid Formula Is Pigment Perfect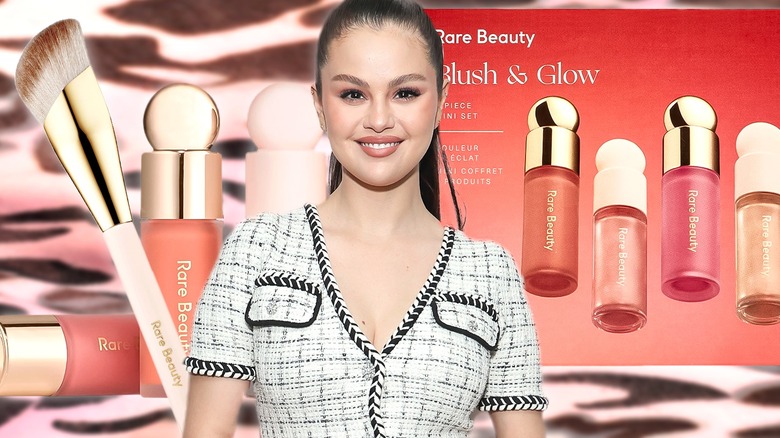 Static Media / Shutterstock / Getty
We may receive a commission on purchases made from links.
Selena Gomez launched Rare Beauty in September 2020, and the brand has consistently generated hype online since. This is, in part, because Gomez debuted a full line of makeup at launch, including foundation, lip colors, and the ever-popular Soft Pinch Liquid Blush, which comes in several shades and finishes. Her cream blush is one of her personal faves, too, with the "Lose You to Love Me" singer telling Harper's Bazaar, "[When] I say this is pigmented, I mean it! I love that you can pick a dewy or matte version and that it lasts all day." Gomez is known for her natural glow, so if we can emulate it, we definitely want to.
The Soft Pinch Liquid Blush line currently boasts a whopping 13 shades, and blush lovers can purchase a mini-set containing two blushes and two bottles of her Positive Light Liquid Luminizer highlighter at Sephora for $34. This set is perfect for those who want to try out several shades but don't want to commit to a full bottle of each. Two of the colors, Wisdom and Virtue, have a matte finish, while Magnetize and Transcend have a soft shimmer. We couldn't wait to finally give the brand's liquid blush a try, and just as we expected, it definitely lived up to the hype.
Wisdom and Virtue blended like a dream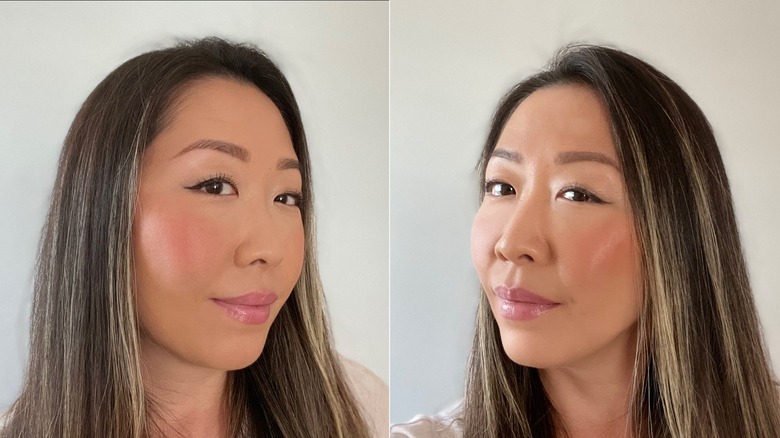 Jessica Choi/Static Media
We tried the Rare Beauty Soft Pinch Liquid Blush in Wisdom (left) and Virtue (right) first because they're both matte formulas. Though matte, they're anything but dry-looking. The formula is creamy and blends effortlessly. When Selena Gomez said they were highly pigmented, she wasn't joking! You really only need one or two dots on your cheeks, as they blend out beautifully. The small bottles in the mini-set are 0.11 fl.oz., which doesn't sound like a lot, but with such a strong pigment, these will last a long time.
For Wisdom — a dusky rose shade — we placed two dots on the apples of our cheeks and then blended upward with our fingers. We found that it gave us a nice, healthy flush without looking overly pigmented. The formula is buildable, so you can add another layer if you want more color. Then, Virtue is a burnt terracotta shade that almost looks like a bronzer. Because this was a darker color, we used a beauty sponge to blend the blush in, using a patting motion. It gave our skin a glow that lasted a while, so those with dry skin shouldn't be concerned with the matte formula looking too flat. If you want even more shimmer, the other two products in the set have you covered.
Transcend and Magnetize gave us an ethereal sheen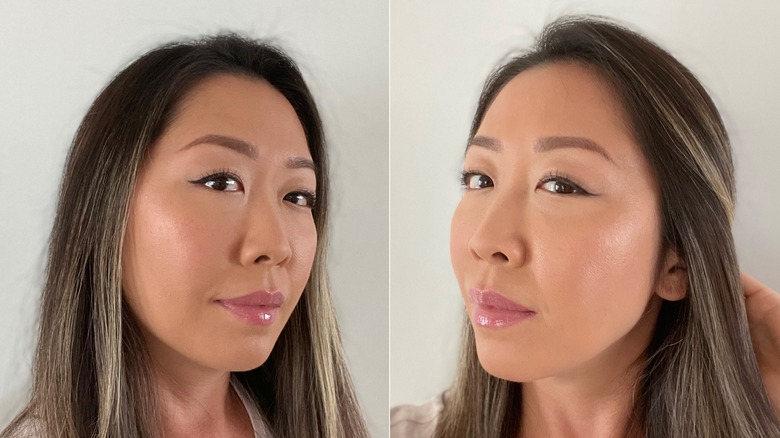 Jessica Choi/Static Media
We love the positive, uplifting names Selena Gomez gives her Rare Beauty products, and the soft-shimmer shades Transcend and Magnetize made us feel as good inside as they made us look on the outside. To depict the shades accurately, we took off the previous colors and re-applied our foundation. Transcend (left) is a gorgeous, rosy gold, while Magnetize (right) is a pure, light gold.
The shimmer shades in this collection aren't as highly pigmented, so we did have to apply quite a few dots, but they do offer a very beautiful sheen. They can be layered over other Rare Beauty liquid blushes or worn alone for a subtle glow. They're perfect for applying right on top of your cheeks, as well as on your browbones, the tip of your nose, and other high points of your face. The tiny doe-foot applicator makes precise application easy and you barely have to blend this formula. 
Ultimately, if we could only choose the blushes or the highlighters from this bundle, we'd select the blushes. But if you're itching to try both of them, run and get this mini-set before it's off the shelves so you can test them all for yourself. After all, the heart wants what it wants!