The Selena Gomez-Approved Makeup Hacks That Give You A Natural Glow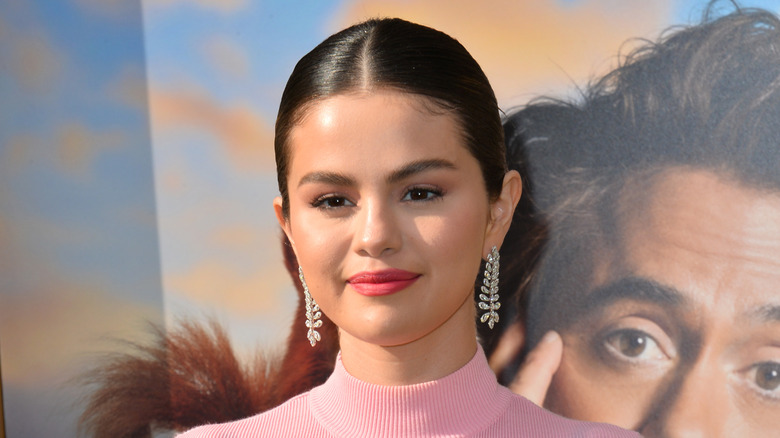 Featureflash Photo Agency/Shutterstock
We may receive a commission on purchases made from links.
Selena Gomez's Rare Beauty makeup line is a favorite among beauty gurus. With a wide range of products in multiple shades, Gomez has curated a collection that has something for everyone. From highly pigmented liquid blushes to buttery bronzing sticks and creamy, soft eyeshadows, Rare Beauty has it all. 
While there have been many makeup trends lately, such as latte makeup and cold girl makeup, we love a gorgeous natural glowy look, especially on warmer days. Gomez has shared her own tips for achieving the best glowy makeup depending on the time of year. "In spring, my go-to products are the Warm Wishes Effortless Bronzer Stick in Happy Sol and Soft Pinch Liquid Blush in Bliss for adding warmth and color," she told Byrdie.
Using bronzer to highlight high points on the face can give you a snatched look and an extra glow. Adding your favorite cool-toned blush is perfect for bringing color to your overall appearance. "I tend to use more nude, pink, and coral tones on my lips and cheeks for the warmer months," Gomez continued, expanding her focus into the summer. However, she has also learned a few hacks from TikTok that involve using her bronzer and blush to achieve the ultimate glowy look.
Add bronzer to your eyelids
On days when you don't want to do a full glam makeup look, a natural glowy look can still make you feel put together. Plus, if the weather is warmer than you're used to, you'll want to use fewer products on your skin. One great way to achieve the natural glowy look is with bronzer. Gomez places dots along the highest points of her face with her Warm Wishes Effortless Bronzer Stick. She's also followed a few hacks she learned from TikTok to take her glow to the next level. "I love adding bronzer to my eyelids and using it as an eyeshadow because it looks so natural," stated Gomez.
To follow her hack, add a couple of dots to your eyelids with your favorite bronzer and buff it with an eyeshadow brush. Or, when you're done putting bronzer on your cheeks and forehead, swipe the excess product over your eyelids to avoid applying too much. A little goes a long way, especially with highly pigmented products. Using the excess product off your brush gives you more control over how much you put on. You can always add more if you want the color to be more prominent on your eyelids.
Mix your blush with highlighter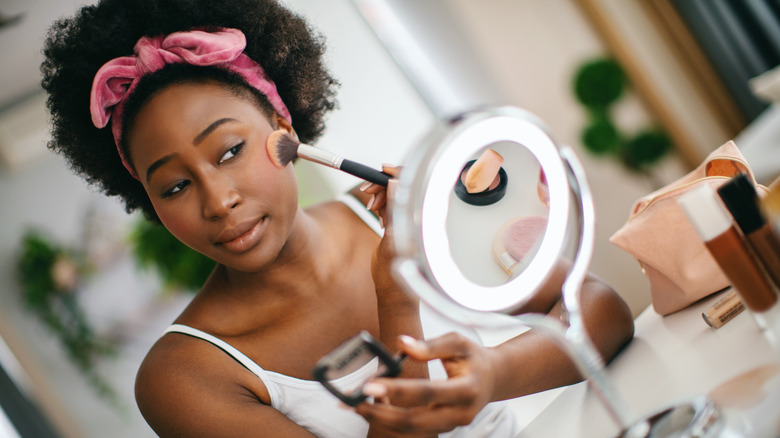 Aja Koska/Getty Images
Achieving a glowy look can be done in many ways, but using bronzer, blush, and highlighter is essential for stunning results. Gomez suggested using blush and highlighter together on your cheeks. "One of my favorite ways to use the liquid blush is to blend it with the Positive Light Liquid Luminizer to create a glowy blush," she explained to Byrdie. You can try different methods for your blush and highlighter combination, but Gomez explained that she adds "one or two small dots of blush on my cheeks with one or two small dots of luminizer and blend together."
Find what works best for you. For instance, apply your blush first, then your highlighter. If you use powder blushes, mix them with a powder highlighter. Rare Beauty offers the Positive Light Silky Touch Highlighter that works effortlessly over any type of blush, and it's highly pigmented, so you'll be glowing from every angle. On the other hand, follow the bronzing hack with your blushes by applying the excess on your eyelids for a pop of color or along your forehead and temples. Your glowy makeup will make it look like you were kissed by the sun.