The Easy Hack For Applying Bronzer That Creates A Perfectly Natural Glow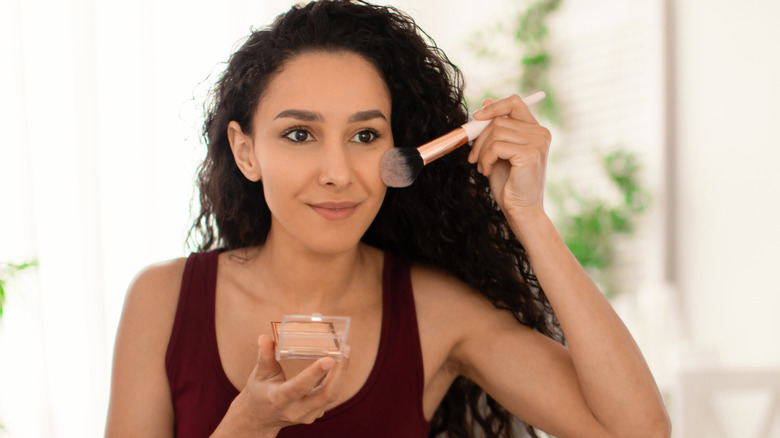 Prostock-studio/Getty Images
When it comes to creating a natural, Jennifer Lopez-inspired glow, it is all about having the right tools in your beauty arsenal. The key to pulling off that sun-kissed look is to balance warmth, color, and shine. With these elements in mind, your bronzer can become one of the most important items in your makeup routine. And, of course, you can't create a warm, natural glow without reaching for a product that was specifically designed to add both warmth and glow.
Advertisement
No matter what bronzer formula you go with, applying it correctly is just as important. While there are several bronzer brushes and sponges out there, your fingers are some of the best tools you have; they give you precision and the right amount of subtlety. 
Although many of us are accustomed to using brushes when applying makeup, the end result you can get from using your fingers is well worth the try!
Getting a natural finish using bronzer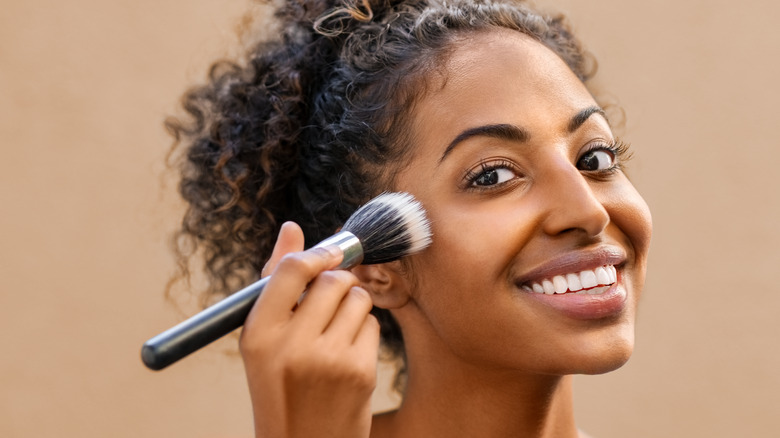 Ground Picture/Shutterstock
Using your fingers is an underrated and subtle way of applying bronzer to get natural definition and extra warmth. As New York-based makeup artist Marsha Page explains to Rose Inc., "The warmth of the fingers tends to make the product easier to apply and move about the skin." While this is mostly true with cream bronzers, any formula can work perfectly if you're using your fingers. Because the heat from your fingers will help warm up the product, it becomes easier to diffuse it into the skin, making it less obvious you're rocking bronzer, which is the whole point.
Advertisement
While it may seem challenging at first to apply bronzer using your fingers alone, it's easier than you think. When working with a powdered bronzer, use circular motions to blend the product into the desired areas. With liquid-based bronzers, follow the same technique. Just dot it onto the places where you want some extra warmth. Again using a circular motion, rub the bronzer until it blends completely into your skin. For a more sculpted look, add it to where you want to add extra definition to and create a hollow appearance. If you want a sun-kissed glow, add bronzer all over the face with a soft swipe for that beautiful color and warmth.
Not only will using your fingers as a makeup tool help to create that lit-from-within appearance, but it will also lower your chances of a streaky finish.
Advertisement
How to choose the right bronzer for you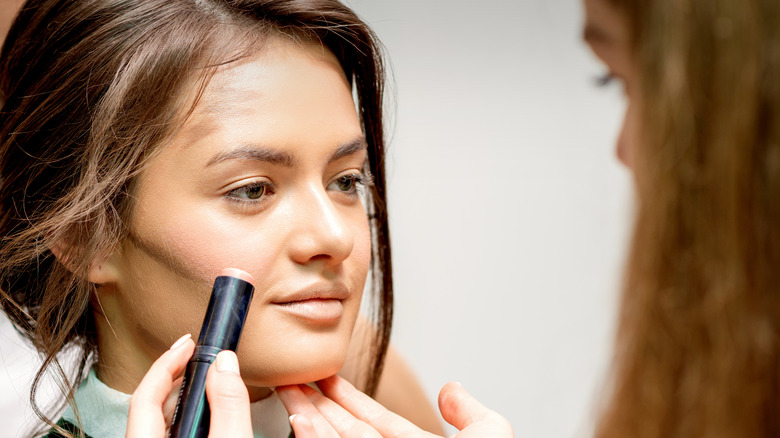 Okskukuruza/Getty Images
Before you start dotting and dabbing, make sure you're using the right bronzer for you.
Understanding your skin's undertone, which can be determined by simply looking at the color of your veins, is also crucial. Green veins indicate a warm undertone, whereas blue and colorless veins signal cool and neutral undertones. If you are cool, opt for bronzers with blue, red, or pink tones, according to MasterClass. Those with a warm undertone should stick with golden, peach, or yellow-tinted shades. If you have a neutral undertone, you can use any bronzer shade!
Advertisement
Like many makeup products, bronzers come in creams, liquids, and powders. If your skin is on the dry side, liquid bronzer is ideal for giving off the appearance of better-hydrated skin. The downside, though, is that they require more effort during the blending stage, so if you're a beginner, tread lightly and practice a lot! Powdered bronzers are great for oily skin types since they help to mattify those areas where the product is applied. Cream-based bronzers are universal and can easily be used on any skin type. Regardless of your chosen formula, your fingers are still your best bet at achieving a natural glow.
Follow up by adding a little shine to the high points of your cheekbones, which will only further accentuate the areas you sculpted using bronzer.
Advertisement