The 7 Best Fragrance-Free Shampoos & Conditioners For Even The Most Sensitive Scalp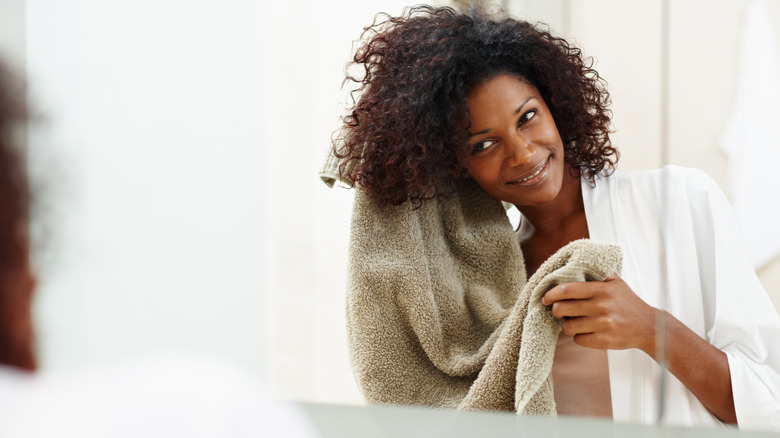 Globalstock/Getty Images
We may receive a commission on purchases made from links.
Whether you love a good pre-poo routine or detangle with your co-wash, every wash day has two non-negotiables: shampoo and conditioner. Where your shampoo lifts dirt and oils, effectively cleaning your hair and scalp, your conditioner does the much-needed job of detangling and smoothing your hair strands. All of this sounds great, especially if you wear protective styles for weeks at a time, but if you have a sensitive scalp, wash day can get a little trickier than usual.
Sometimes, your shampoo and conditioner can contain ingredients that could irritate your scalp — one of them is fragrance. Fragrance, especially synthetic, has been found to trigger allergies, cause inflammation, and irritate or sensitize the scalp even more, making your wash day less than perfect (per WOW Skin Science, Science Daily). Thankfully, some shampoos and conditioners are formulated with no fragrance, making them suitable for even the most sensitive scalps.
To take the trial and error out of your wash day and keep guesswork at a minimum, we've rounded up the best shampoos and conditioners designed for sensitive scalps. So whether you're in the market for a clarifying shampoo for your fine hair or have thick hair and an itchy scalp, here are the best ones you can try.
How we selected the products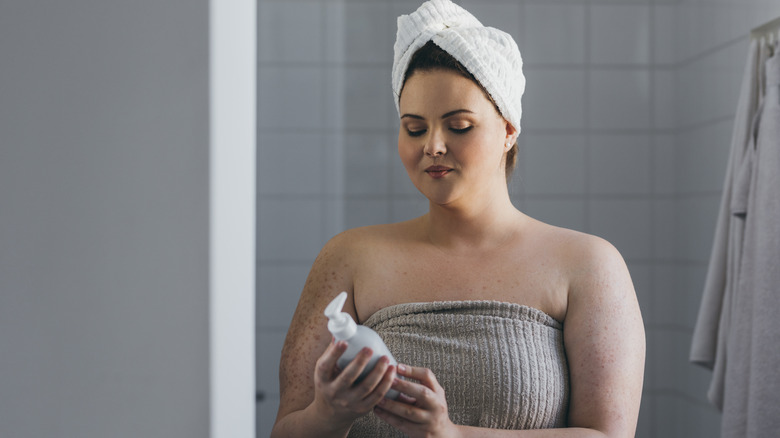 Freshsplash/Getty Images
We understand that with a sensitive scalp, there's little to no room for trial and error without the risk of irritation. So, to choose the best shampoos and conditioners in the fragrance-free section, we looked at a couple of factors for each product.
First, we scoured the internet for trusted reviews from experts, whether it was a trichologist-approved clarifying shampoo or a dermatologist-tested color-safe conditioner. We looked through the ingredient list of the shampoos and conditioners for their upsides and downsides, from whether they are cruelty-free to if they contain other irritating ingredients besides fragrance. We also pored through their benefits, from the hair textures they work best on to how gentle and effective they are on hypersensitive scalps.
Lastly, we sought reviews from trusted creators and verified reviewers, noting the consensus with BeautyTok. From calendula-infused shampoos to cleansing conditioners, here are the best buys for your sensitive scalp on the hair care aisle.
Best overall shampoo: Kristin Ess Fragrance-Free Daily Cleansing Shampoo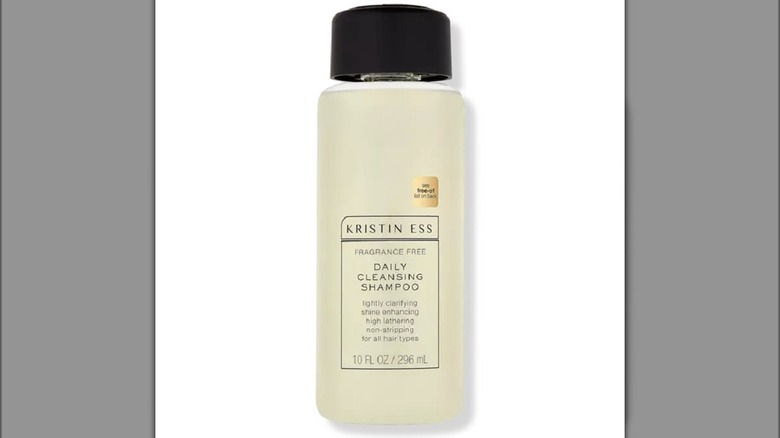 Ulta
With ingredients like coconut oil and panthenol in its formula and its color-safe properties for colored hair, it's no surprise that very few shampoos have ticked all our boxes like the Kristin Ess Daily Cleansing Shampoo. Free of parabens, sulfates, and silicones, this clarifying shampoo restores shine and volume to your hair without stripping your strands dry, and the reviewers agree. Several verified reviewers on the Ulta website have described the shampoo as "lightweight and clean," while some add that their hair has never looked better.
Purchase the Kristin Ess Fragrance-Free Daily Cleansing Shampoo for $13 at Ulta.
Best overall conditioner: Briogeo Be Gentle Be Kind Ultra-Soothing Conditioner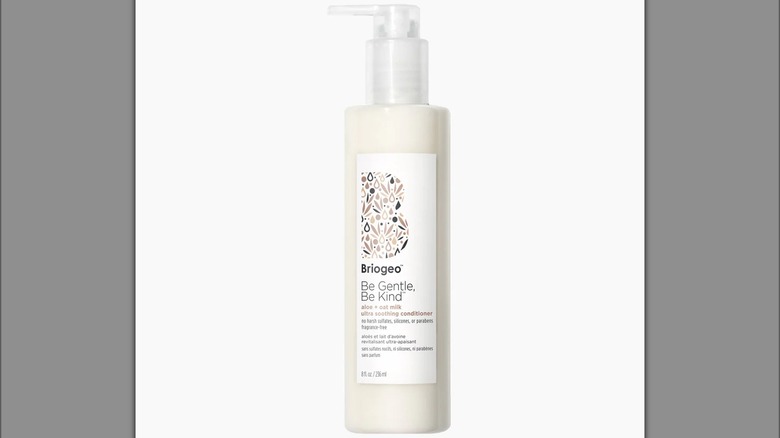 Amazon
While your sensitive scalp might not make you the biggest fan of fragrance, you deserve the most soothing, sensorial experience. Briogeo's Be Gentle Be Kind Aloe and Oat Milk Ultra Soothing Conditioner works for that. The fragrance-free conditioner is also devoid of essential oils and silicones, and has been clinically tested by dermatologists as hypoallergenic.
With 4 out of 5 stars on Amazon, the conditioner promises gentle treatment for every hair and scalp type, even those with eczema or seborrheic dermatitis. One verified customer even wrote, "This product has never made my hands break out. It conditions my fine, straight hair wonderfully. This allows me to be able to have a quality hair product and not put cortisone on my hands afterward. Highly recommended for people with eczema."
Purchase Briogeo Be Gentle Be Kind Aloe + Oat Milk Ultra Soothing Conditioner for $22.71-26.60 on Amazon.
Best budget-friendly shampoo and conditioner: Vanicream Shampoo and Conditioner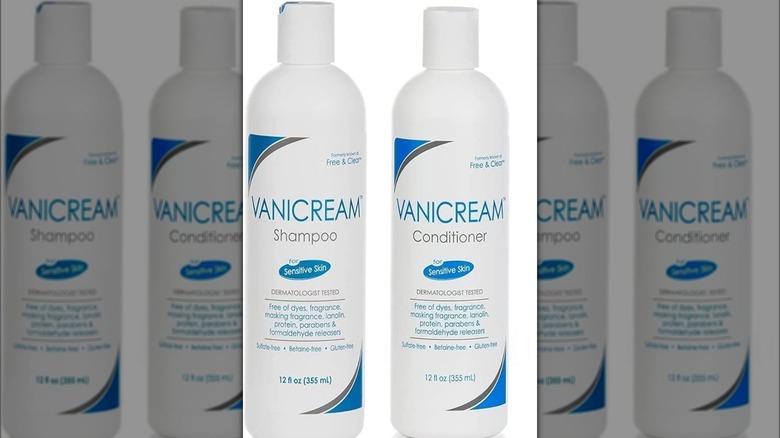 Amazon
More than the aesthetic look of matching bottles on our bathroom shelf, we love it when both products actually work. And so is the case with Vanicream's shampoo and conditioner set. Formerly known as Free & Clear, Vanicream's approach to sensitive scalps is as simple as possible: a fuss-free formulation that gets the job done. Apart from eliminating buildup and detangling even the thickest of hair, the shampoo and conditioner are also great for oily scalps. So, if you've been looking for a cleansing shampoo to deal with oily buildup, Vanicream is the one, and reviewers concur.
Where some users describe the formula as non-stripping, one took to the brand's website to write, "I have always had allergies to shampoos. This is the very first one I ever had that didn't make me itch at night. I am a half-century old, and finally I have a shampoo for life!" With 4.7 stars from over 2,000 ratings on Amazon, this shampoo and conditioner set is our go-to on a budget.
Purchase the Vanicream shampoo and conditioner set for $22.38 at Amazon.
Best splurge: Philip Kingsley No Scent No Colour Gentle Shampoo for Delicate Scalps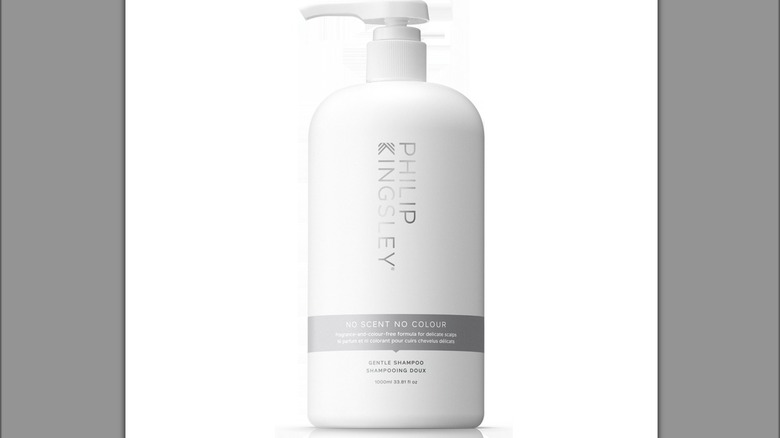 Amazon
While we adore a good drugstore buy, sometimes wash day can also be a way to treat ourselves, especially with a good splurge on shampoo. Inspired by his wife's cancer diagnosis and her need for a shampoo that was gentle, Philip Kingsley developed a hypoallergenic and vegan-friendly shampoo formulated with glycerides for hydration that works excellently on sensitive and irritated scalps.
With 4 out of 5 stars in ratings on Amazon, this hypoallergenic shampoo has been praised by several reviewers for its ability to cleanse without stripping or causing allergic reactions. One reviewer named it the best shampoo ever, stating, "I have many allergies and hypersensitivities to products due to autoimmune issues. I've been using the no scent, no color for over four years. I absolutely love it!" While it's definitely on the pricier side, the reviews do not lie when they say it is worth it.
Purchase Philip Kingsley No Scent No Colour Gentle Shampoo for $34 at Philip Kingsley.
Best multipurpose: The Honest Company 2-in-1 Baby Fragrance-Free Cleansing Shampoo + Body Wash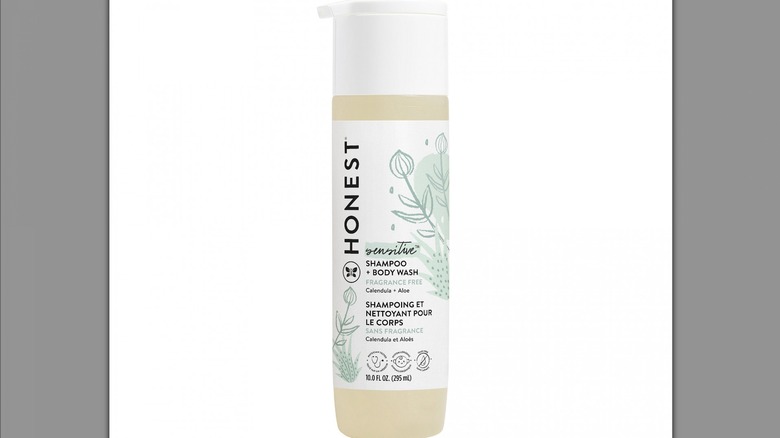 The Honest Company
From environmentally friendly diapers to sensory nighttime kits, The Honest Company knows a thing or two about making hypoallergenic essentials, and it's the same with their 2-in-1 shampoo and body wash. Gentle enough to be used as a cleanser for babies, this fragrance-free shampoo is formulated for the most sensitive scalps. Formulated with calendula and aloe extract, the shampoo and body wash hybrid boasts a 4.7-star rating from over 6,000 reviews on Amazon at the time of writing and is also available in scented options.
Purchase The Honest Company 2-in-1 Fragrance-free Cleansing Shampoo + Body Wash (Sensitive) for $10.42 on Amazon.
Best co-wash: Bouclème Fragrance-free Curl Cleanser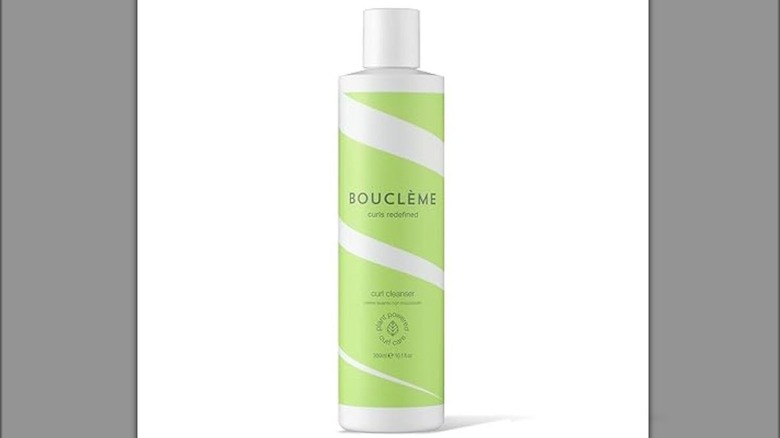 Bouclème
When it comes to cleaning your hair, co-washes hit the sweet spot between a shampoo and a conditioner. But for those with sensitive scalps, finding a gentle yet effective fragrance-free co-wash can be difficult. Thankfully, Bouclème's Curl Cleanser is a great option for when you want the deep-cleaning properties of shampoo but also want soft, detangled, conditioned hair.
Bouclème Fragrance-free Curl Cleanser is formulated with mild cleansers and is loved among its users. One reviewer on the brand website wrote, "After using it for 4 consecutive wash days, I've noticed my hair has become softer, shinier, and overall healthier. My curl pattern also improved. I am sensitive to fragrance, which has little to no scent — just fresh and clean."
Purchase the Bouclème Fragrance-free Curl Cleanser for $25 at Bouclème.
Best for colored hair: Paula's Choice All Over Hair & Body Shampoo, Phillip Adam Unscented Conditioner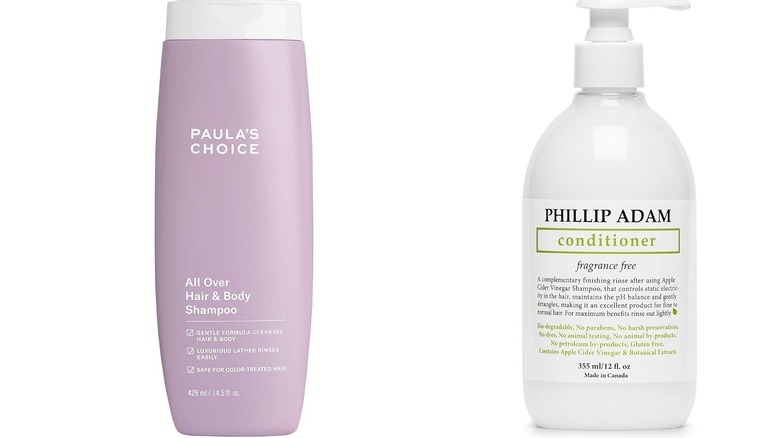 Amazon
You might know Paula's Choice for their skin-saving TikTok-famous exfoliants, but their All Over Hair & Body Shampoo deserves some shine, too. Formulated with soy protein and panthenol, the shampoo is effective enough to lift dirt and oils from your hair but gentle enough to be used on your skin. And with a stellar rating of 4.4 stars across nearly 300 reviews on Amazon, its users are clearly in awe of its color-safe properties, too, making it suitable for all hair types.
But now that you've got your shampoo for colored hair, it's time to complete the routine with a conditioner. With 4.5 stars on Amazon, the Phillip Adam Apple Cider Vinegar Conditioner is our go-to for color-safe detangling.
Purchase Paula's Choice All-Over Hair & Body Shampoo for $20.90 and Phillip Adam Apple Cider Vinegar Conditioner for $16.19 on Amazon.