TikTok Is Obsessed With Combining Vaseline And Mascara, But What Does It Do?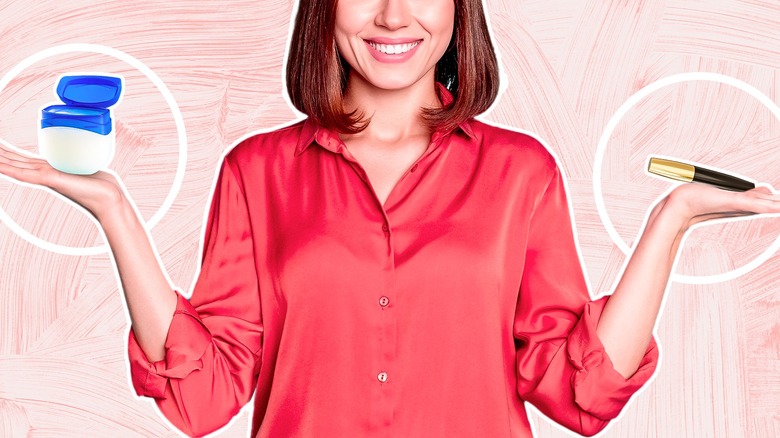 Static Media/Shutterstock
We can always count on TikTok to bring new mascara hacks that will up your eye makeup game. Some of the many mascara-improving ideas we see on the app are genuinely helpful, while others seem more like common sense — and others are just a bit too outrageous. That said, how do you feel about the trend of adding Vaseline to your mascara application process?
Advertisement
Yes, TikTokers are incorporating petroleum jelly into their eye makeup routines. For instance, TikToker @ivonnd posted a video putting Vaseline on her lashes, curling them, and then adding the mascara for long, curled, and shiny lashes. The TikToker claims that the Vaseline helps those glamorous-looking results stay. If you're internally debating whether you should try this hack, you should know that while Vaseline can help your lashes look shinier and fuller, this hack does come with some risks and may not be the most comfortable technique to use all the time. Still, Vaseline can ultimately provide hydrating and primer-like effects to your lashes.
Vaseline hydrates and primes your lashes, giving them shine
Anyone who researches the Vaseline-before-mascara hack on TikTok will see that the combination of the two products typically leads to shinier results than you'd get by only using mascara (unless you opt to add glitter mascara specifically, but that's a completely different trend). TikTok user @s.solxya shared a video flaunting her long, shiny lashes that she achieved with the Vaseline-mascara hack, noting that she didn't even curl her lashes for those results.
Advertisement
Moreover, dermatologist Azadeh Shirazi posted a duet video explaining more specifically how and why the Vaseline and mascara combination hack works via text, as another TikToker demonstrated the hack. "Vaseline creates a barrier that prevents water loss — keeps the hair bonds in place once it's curled," the dermatologist explained. "Vaseline is safe to use around the eyes. Hydrates your skin overnight." So, instead of spending the extra money on an eyelash primer or overnight lash serum, you may want to reach for Vaseline, which you might already have, instead!
This hack comes with some risks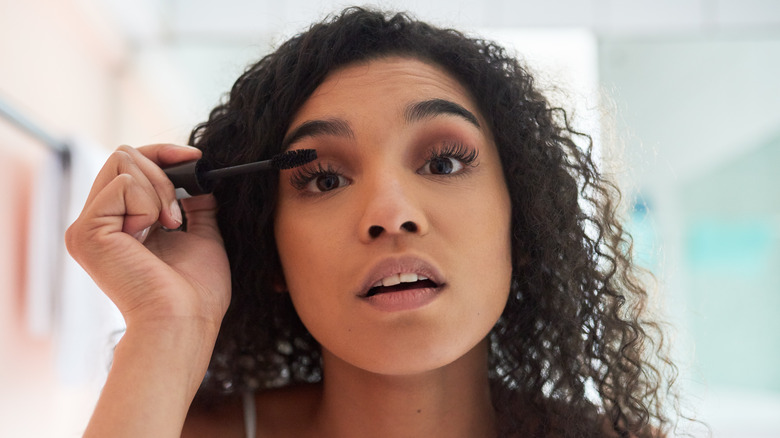 Peopleimages/Getty Images
Like any other TikTok beauty hack, using Vaseline with your mascara provides beautiful benefits but may have some downsides to consider. "Applying mascara to lashes coated with Vaseline or Aquaphor could cause transfer to your eyes throughout the day, causing either a makeup mishap or even eye irritation... Instead, think of this as the petroleum jelly is taking the place of mascara in your makeup routine for a much more natural, 'clean girl' look," Saffron Hughes, the resident makeup artist at FalseEyelashes, told My Imperfect Life. As such, it might be a good idea to start with just Vaseline on your lashes and see how they react to it before adding mascara on top of it.
Advertisement
Texture may also be an issue for some. "The reason people like to use it on their lashes is because it coats them, which makes them appear shiny... However, it can be goopy and cause the lashes to be weighed down," Ashley Brissette, the ophthalmologist who founded eyelid cleanser brand Daily Practice, told PopSugar. So, while your lashes can look smoother when coated in Vaseline, they might not feel so great — information that most TikTokers tend to leave out of their videos of the hack. 
Ultimately, before trying the trend, you should ask yourself if the shiny look is worth your lashes feeling heavy and covered in an uncomfortable and potentially messy texture — and always be careful when applying! 
Advertisement