The 'Jawline Rule' Will Change The Way You Do Your Hair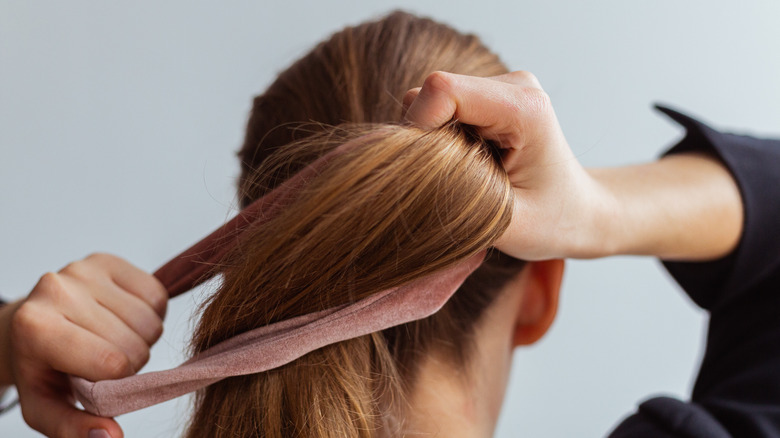 Jan Cieplik/Shutterstock
The perfect power ponytail is one of our all-time favorite hairstyles. After all, how could anyone not appreciate a bouncy ponytail that highlights their facial features, keeping their tresses out of their face while also providing a fun line of voluminous hair behind their head? But whether your locks are straight, wavy, or curly, we all know it can be difficult to nail a sleek ponytail look. From bumps to hair falling out of the ponytail holder to confusion regarding how high or low to secure it, crafting the best ponytail for your face and head can be challenging.
Luckily for anyone who struggles to determine where to put their ponytail, the jawline rule will help prevent you from making your ponytail look too high or low for your face. The idea is to use your jawline as the guideline and then style the ponytail so that it conforms to your jaw's natural line, rather than going against the shape of your jaw. For instance, YouTuber @mypawfectfamily posted a video demonstrating that where she ties the ponytail significantly affects her appearance. The ponytail that most closely followed her jawline looked better than the low or super-high pony looks.
Follow your jawline for your best ponytail
The jawline rule makes perfect sense, as everyone has a different face shape and jawline. So, no one ponytail position looks best on everyone. Instead, each individual should wear the ponytail that best fits their unique jawline, tailoring the hairstyle to fit their head and face structure. That's why the jawline rule is so perfect. "For someone who is not accustomed to pulling their hair back/up, this trick is a great starting point for creating the perfect ponytail. Following the jawline should bring your pony slightly above the occipital bone — that positioning is ideal for a softer more playful look," Mahogany Grace, an experienced hairstylist, told PureWow.
While this hack is ideal for anyone with long hair, you should check to make sure that your tresses have enough length for the hack before attempting if you have medium-length or shorter locks. Everyone is different, so there isn't a single answer in terms of how long your hair has to be to style a ponytail. It also depends on how low or high your ponytail sits. Shorter hair may work for a low ponytail but won't be long enough for one that sits at the crown. If your hair is too short but you're determined to follow the jawline rule, hair extensions are a helpful option.
More tips for perfecting your ponytail
As previously mentioned, the jawline rule is an excellent starting point for styling the ideal ponytail. But if you want to commit to rocking the best ponytail you can create, there are some more tips to remember — in addition to the jawline rule. For example, you should only use a reliable hair tie. The type of ponytail holder you use is up to you, whether you prefer a classic slim band, a scrunchie, or a hair tie that matches your hair color. However, you should ensure that the ponytail holder isn't too stretched from past use, torn, or worn out before you put it in your hair. It's beyond frustrating to tie a beautiful hairstyle — only for the hair tie to break or fall out.
Moreover, you shouldn't tie your ponytail too tight or loose. If it feels uncomfortable, trust your gut. You should also remember to brush your hair before you apply the hair tie — not after. Hair-focused TikToker @lindseypwilcox shared a video showing that while brushing an already-finished ponytail can lead to mess-ups, brushing your tresses right before you add the hair tie leads to gorgeous, neat ponytails.