Saffron Scents Are The Spicy Perfume Trend That Will Have You Smelling Expensive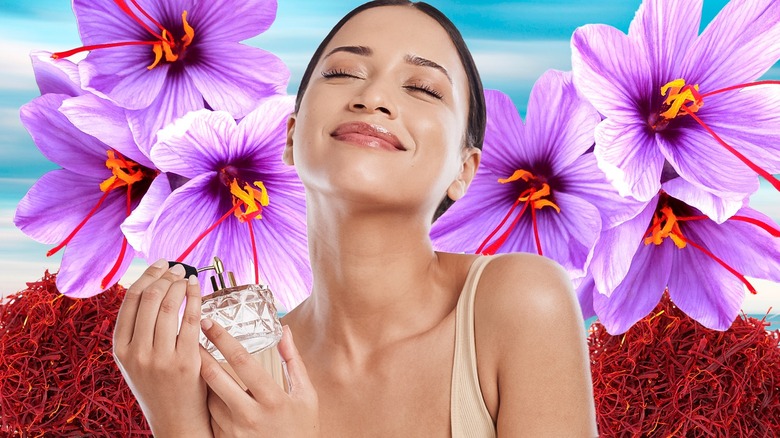 Static Media/Shutterstock
We may receive a commission on purchases made from links.
Spicy scents are a fragrance trend in 2023 — and we can't get enough of those sultry options. If you like spicy-smelling fragrances and are searching for a new perfume to define your personal scent, you should consider saffron-inspired choices. Saffron is a spice harvested from a flowering plant called the "saffron crocus" and is used in cooking, traditional medicine, and, of course, fragrances. 
Advertisement
If you want an ultra-sweet, cutesy-smelling perfume that smells like something a popular high school girl would wear in the early 2000s or a hyper-feminine pop star would bring everywhere in the 2010s, saffron isn't going to give you the vibe you want. But saffron is perfect if you're looking for something more spicy, mature, earthy, and sophisticated. It's no wonder #saffron and #saffronperfumes have amassed over 966 million collective views on TikTok. Who doesn't want to smell expensive? 
In fact, saffron is a famously expensive spice, so the scent will never make you appear cheap. "So much manual labor goes into making the saffron spice. This is why saffron is the most expensive spice in the world," Tahmina Ghaffer, the founder of spice company Moonflowers Co., told Martha Stewart. The spice is so luxurious that "Cleopatra was said to bathe in saffron-infused mare's milk before seeing a suitor," Ghaffer added. If you're ready to take some inspiration from Cleopatra and unleash your glamorously sexy side, we recommend experimenting with saffron scents.
Advertisement
Saffron smells sophisticated -- just ask Doja Cat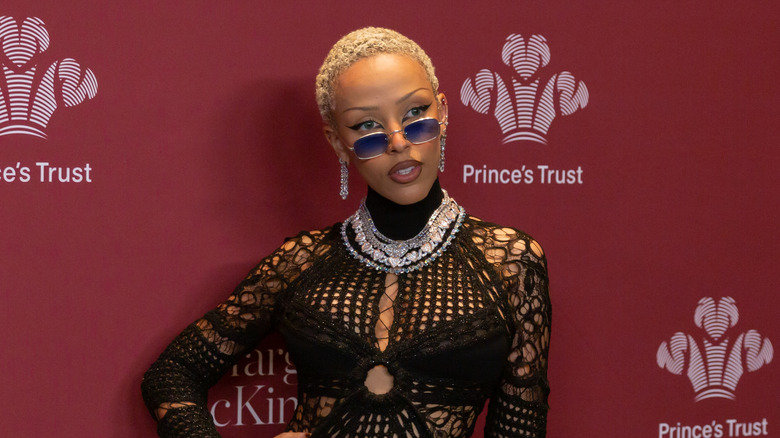 Joy Malone/Getty Images
Some light, candy-like scents seem super youthful, exuding dainty, adorably playful energy. Saffron is not one of those scents. Instead, wearing saffron will make you seem like the most sophisticated person in the room, with knowledge beyond your years, a taste for luxury, and money to spend.
Advertisement
"Generally speaking, it is classed as a 'spicy' note. It is haylike, bitter, sweet, leathery with an earthy base note," an in-house Perfumer for Pairfum London wrote on Quora. "It can also be described as refined and soft." Therefore, we can't picture a group of girls in a pink bedroom giggling as they spray saffron perfume — we imagine an intelligent, provocative woman carefully applying a bit on her neck as she walks into a luxurious lounge or high-fashion event.
If you need more reason to try saffron scents, you should know that the one and only Doja Cat even enjoys these sultry smells. "I love Black Saffron Eau de Parfum by Byredo; it has a musky scent that's really good ... as a kid, I always loved the smell of candy ... but as an adult, I've been trying to get into that world of musky scents, and this fragrance is a great starting point," the singer told Harper's Bazaar. First Cleopatra, now Doja Cat — enough said.
Advertisement
Check out these saffron scents
Wondering where to start on your saffron fragrance journey? We researched some saffron fragrance options for you! As already mentioned, Doja Cat enjoys the Black Saffron Eau de Parfum. You can purchase the celebrity's beloved saffron scent for $205 from Byredo. We think smelling like the stunning singer is worth the splurge, and Byredo describes this perfume as "intense," noting that it's vegan and "genderless."
Advertisement
Another luxurious saffron scent option is the Tom Ford White Suede, available for $295 at Sephora. In addition to the saffron, the product's other primary notes include musk and suede for a mature, no-nonsense, sophisticated smell. The fragrance has 4.5 out of five stars. A happy reviewer even noted that it's excellent to wear in professional settings, writing, "A great perfume to wear for work meetings. My go to perfume from my collection." So, if you typically avoid wearing perfume to work, or all of your typical perfumes feel too youthful, this option is an ideal work-appropriate choice.
Finally, anyone looking for a more affordable option should look into the Dossier Ambery Saffron — inspired by the cult-classic (and pricey) Baccarat rouge 540 — available at Walmart and Dossier for $49. Labeled as a "popular pick" at Walmart, this perfume is vegan and cruelty-free and also features notes of orange blossom and plum for fruit-inspired hints. 
Advertisement