Rich-Girl Gray Is The One Neutral Shade That Makes You Look Even More Expensive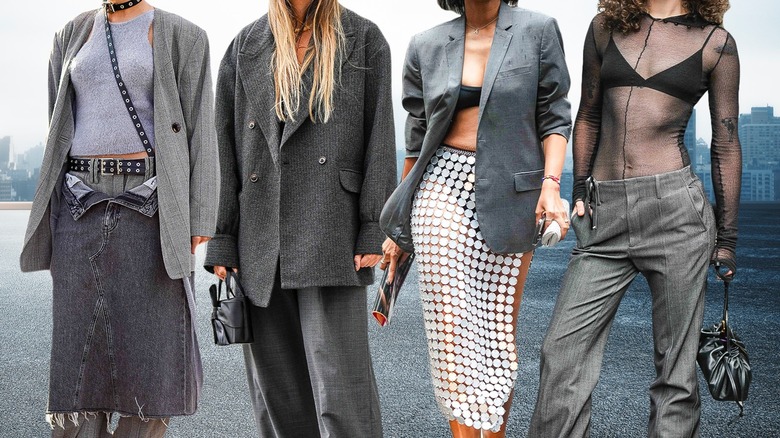 Static Media / Shutterstock / Getty
Getting the quiet luxury look without making any mistakes in the process is all about working with simple pieces and minimalist designs to create a timeless wardrobe that'll work day after day. Part of this luxury vibe is using neutral — or otherwise minimal — colors for a cohesive and versatile look. However, just because we aren't embracing vivid hues doesn't mean we can't add luxurious shades to our wardrobes. Succeeding brighter neutral shades like margarine yellow, rich-girl gray is the latest shade to take your closet to the next level.
Rich-girl gray, also known as charcoal gray, is a, well, rich hue that's truly the ideal neutral color, as it plays well with other colors but still creates a large impact and payoff on its own. After all, unlike neutral colors, gray has the advantage of automatically being associated with professional attire. For this reason, you'll usually see gray in workwear pieces like suits and blazers, as they're perfect office attire. Nowadays, though, gray is all about elegance and luxury — not just workwear — which can help elevate your clothes to entirely new levels.
Luxurious dresses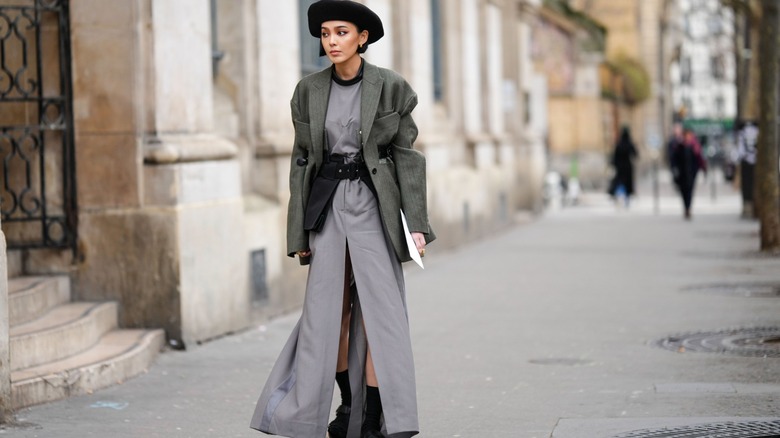 Edward Berthelot/Getty Images
Rich-girl gray is the perfect dress shade if you want to create an expensive-looking feeling (and appearance). From thick maxi knits to tailored mini dresses, there are plenty of ways to add this hue to your attire. Depending on your style preference, you may want a mini hem for a slightly edgier look paired with black knee-high boots. For a chicer option, try a midi dress with kitten heels for a lowkey look.
Elegant tailoring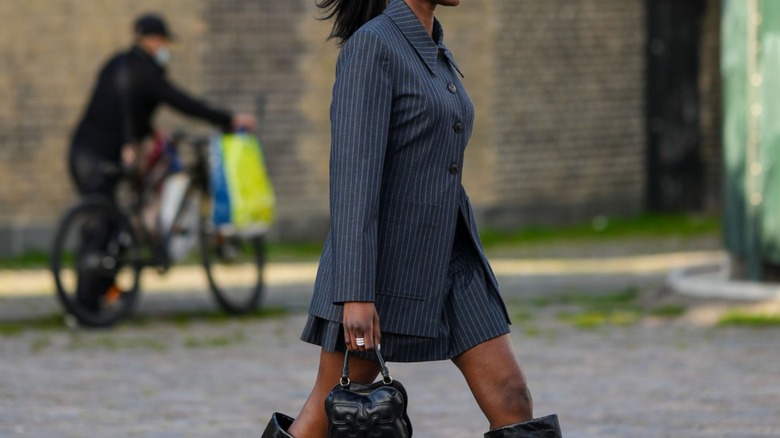 Edward Berthelot/Getty Images
We undoubtedly reach for structured, tailored pieces when we think of quiet luxury and powerful silhouettes, and blazers and trousers are two of the most polished pieces you can utilize to create expensive-looking ensembles. Dark gray blazers and pants are versatile pieces that can easily pair with brighter hues or other neutral shades to help dress up your outfits no matter what's in your closet.
Power suits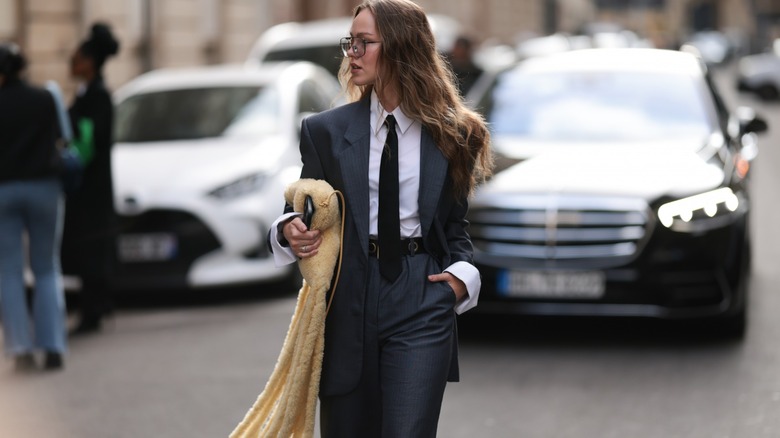 Jeremy Moeller/Getty Images
When it comes to tailoring, two-piece suits are some of the easiest ways to get the expensive look without struggling with styling different pieces. With a blazer and skirt or pants set, you can get two out of three of your outfit pieces settled ahead of time. A rich-girl gray is the perfect shade for your suit, as it stands out from the typical black but remains elegant.
Rich-girl sweaters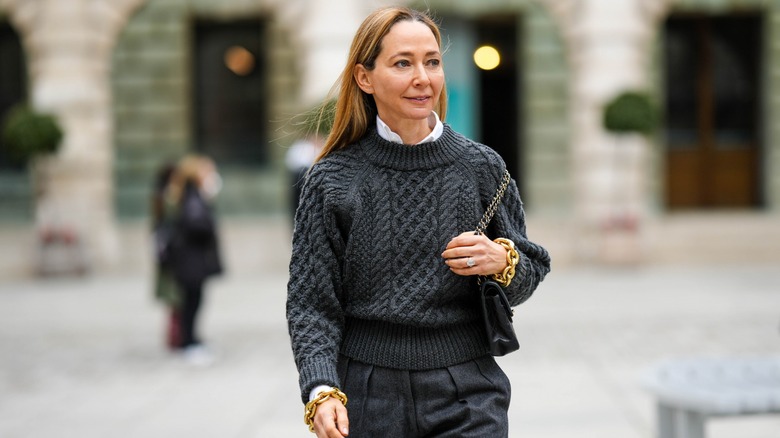 Edward Berthelot/Getty Images
There's no doubt that cable-knit sweaters and textured wool pieces are luxurious. Their weight provides a wealthy appearance, especially when designed in a neutral shade. While creams and beiges are a natural choice, a rich-girl gray will give you even more flair. Furthermore, pair your gray sweaters with light or sky blue for a preppier appearance. Fashion houses like Miu Miu and Prada have used this shade for their sweaters, giving us all the style inspiration needed to pull it off.
Dark gray denim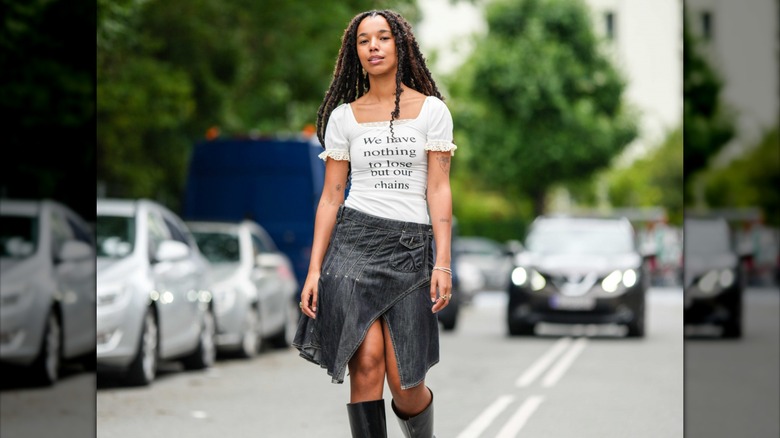 Edward Berthelot/Getty Images
Dark gray jeans are already popular, meaning it's a natural choice for incorporating this hue into your wardrobe. If you're growing tired of your regular blue jeans, these gray alternatives offer a different feel but still provide sophistication. Even your most casual looks can look upscale with a dark gray hue.
Monochrome gray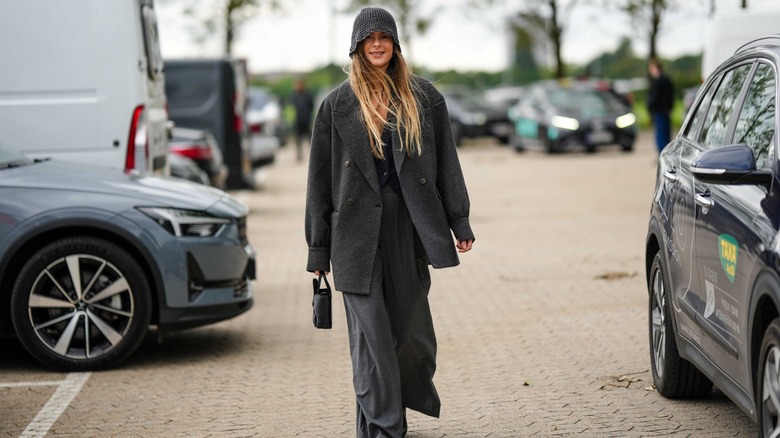 Edward Berthelot/Getty Images
The best way to pull off the rich-girl gray trend is by wearing it from head to toe. Use different tones of gray to embody this look without looking too polished and put-together no matter the season. Using different shades of gray gives you the same cohesive vibe but a more elegant, street-style look.