Replace Your Outdated Latex Dresses With Leather For An Updated Edgy Look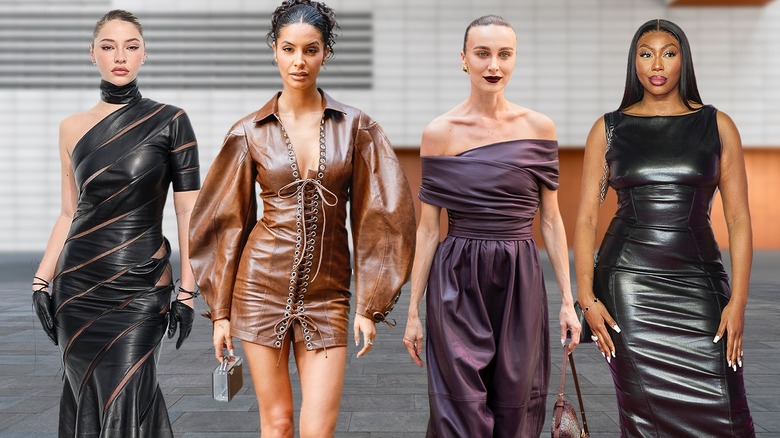 Static Media/Shutterstock/Getty
Latex clothing has long been associated with fetish wear and rock stars, and over time, the look slowly made its way into the high fashion world as the rubber material grew in popularity for 'fits from the red carpet to the runway. Kim Kardashian donned a latex dress by Theirry Mugler for her famous wet look at the 2019 Met Gala while Rachel Weisz wore a bright red caplet in the material for the Academy Awards that same year. "We just thought it was really cool. It feels fancy and couture and sort of old world in a way but yet super modern," Kate Young, Weisz's stylist, told People.
But now that the trend has been worn for a while, it's time to put the shiny look away for a more muted fabric — and we think leather dresses are the perfect alternative, especially for fall and winter when you're switching up your wardrobe. Don't fear — super modern silhouettes from luxury design houses like Givenchy are ensuring that leather can still be a high-end look, too. From form-fitting pieces to longer looks that drape the body, leather dresses can give you just the edgy vibe you're for. 
A long netted black leather dress is perfectly goth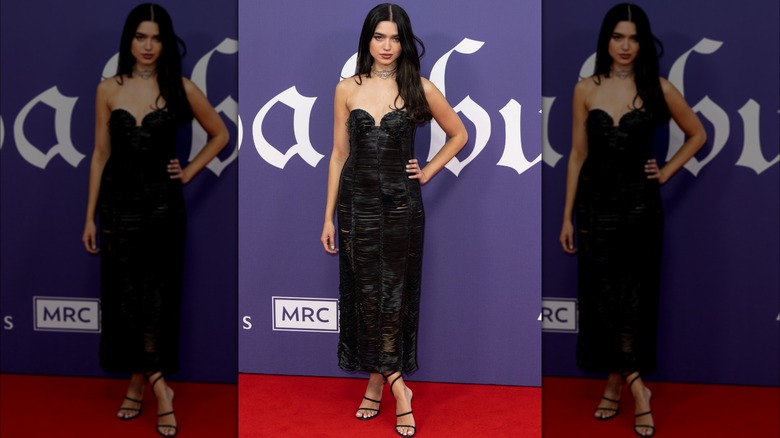 Jeff Spicer/Getty Images
The '90s aesthetic has been lingering on for quite a while and you can channel your inner goth in a strapless dress with netted detailing that's sexy and stylish at the same time. A silver choker necklace is the perfect accessory from that era, along with strappy heels. The long length keeps your leather dress from looking not-too-sultry while the peekaboo effect gives it an edgy feel.
Elevate your wardrobe with a white leather dress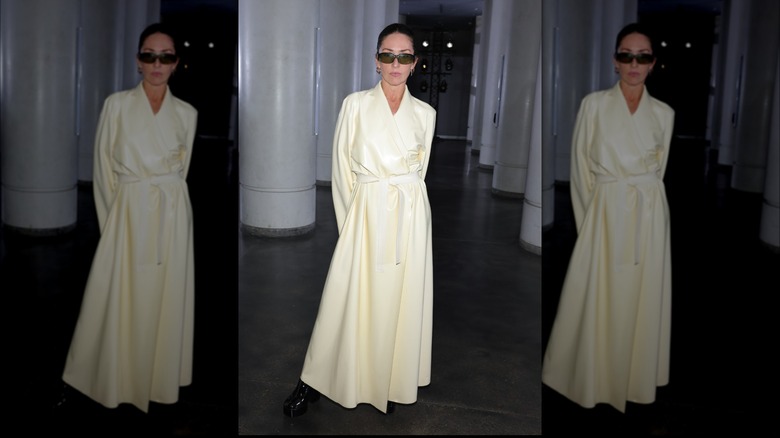 Pierre Suu/Getty Images
Surprise everyone by wearing an elegant leather dress in white. This unusual shade is sure to turn heads, and you can opt for even more dramatic cuts, like a kimono-style frock. With such a statement piece, you'll hardly need any accessories. Simple gold hoop earrings and black patent leather boots take this look to futuristic heights.
A camel-colored leather dress is a timeless staple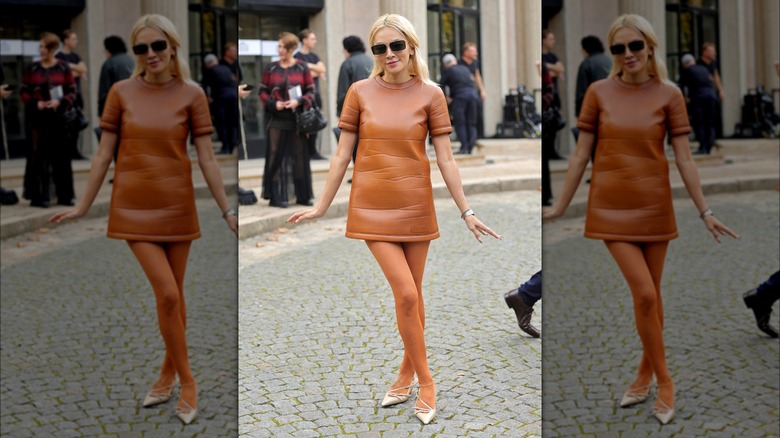 Jacopo Raule/Getty Images
Camel-colored leather is a great staple piece you should have in your wardrobe. Whether it's a pair of knee-high boots or a darling brown, '70s-inspired dress, you'll be sure to wear it for years. Many leather clothing pieces have a lining inside to prevent sweating, but a slip underneath your dress will ensure you stay stick-free. 
Be a biker babe with a leather-on-leather outfit
Fall and winter are all about layering, so why not do so with your leather pieces? A black leather jacket is another cold-weather staple that looks great over a leather skater dress combined with boots of the same fabric. If you're not into wearing real animal hides, remember, there are plenty of vegan options available.
Matcha colors are super trendy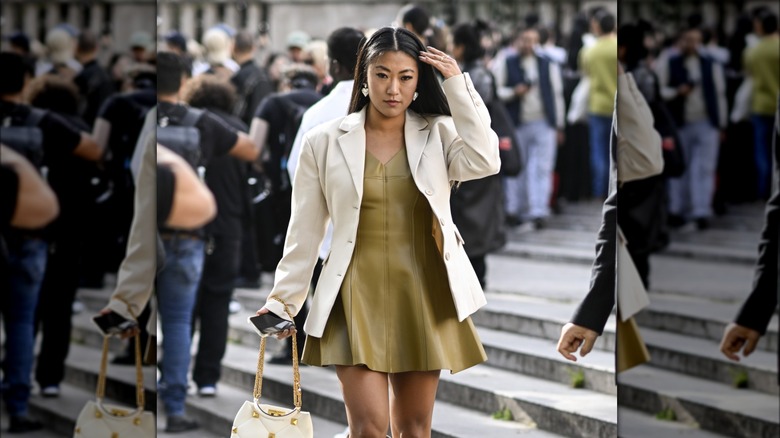 Daniel Zuchnik/Getty Images
Leather is a fun fabric and there are so many colors you can choose from besides the basic black and brown shades you usually see. A matcha-colored minidress is a perfect outfit choice that can be paired with matcha makeup, over which TikTok beauty mavens have been raving. Add a white blazer, a matching purse with gold accents, and voilà, the look is complete. 
Experiment with different silhouettes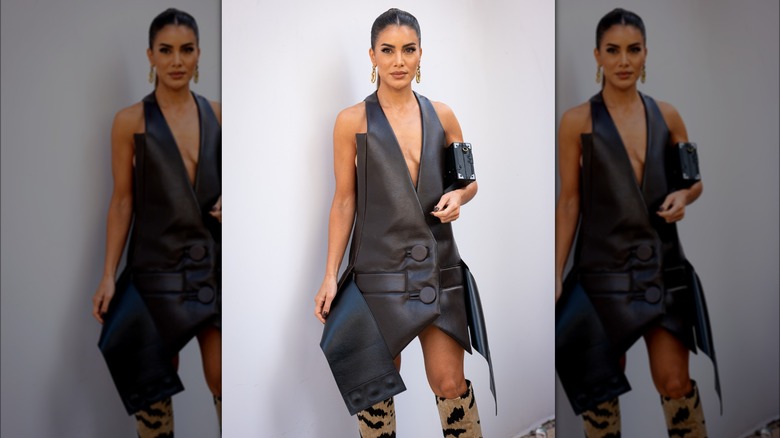 Claudio Lavenia/Getty Images
Leather vests have been worn by bikers around the world, but you can be one of the first to wear a leather vest dress. This look is not for the shy, so be prepared to wear this dress loud and proud. There are many ways you can style the leather vest dress look, like knee-high boots in a fun and surprising print. If you want your dress to be the star of the show, opt for more demure ankle booties or strappy sandals.