Why You Should Never Re-Style Straightened Or Curled Hair With Heat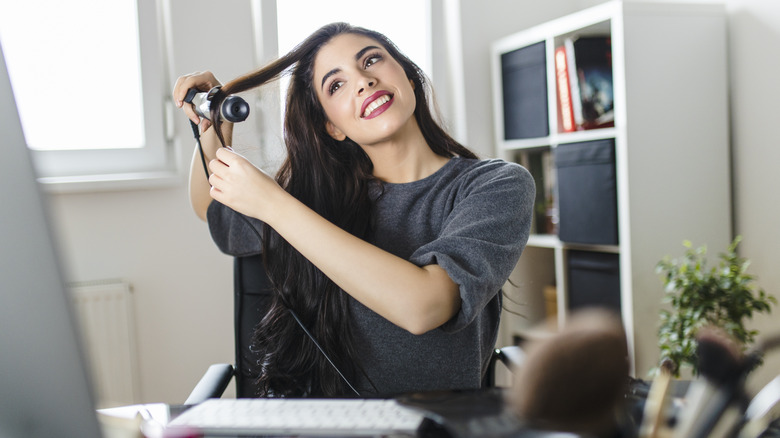 Eleganza/Getty Images
We have all experienced the frustration of styling our hair perfectly, only to have it return to its original state a few days later. If we didn't need to sleep, our hair would always look flawless. However, sleep is essential for survival, so we may restyle our hair with a straightener or curling iron to maintain its fresh appearance. This is often more convenient than starting from scratch by showering, especially on non-wash days. However, applying additional heat to already-styled hair can cause further damage (via Healthline).
It can be challenging to give up using hot tools and embrace natural, unstyled hair every day. While hair care products can only control frizz somewhat, hot tools help keep each strand in place. However, it is advisable to minimize the frequency of hot tool usage. "Too much heat on the hair causes breakage—constantly heating and cooling will weaken the hair, leading it to break," FEKKAI brand stylist partner Chad Wood explained to Well+Good.  Instead of subjecting your hair to additional heat, allow it time to recover and consider using heatless styling products between wash days.
Added heat damages the hair bonds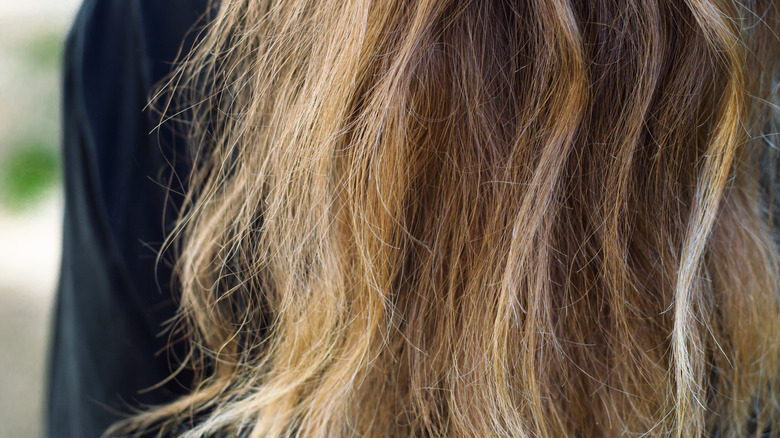 Mikhail Naumov/Getty Images
Hot tools can weaken the hair bonds even with infrequent use, so restyling the hair with heat causes additional damage. A study conducted by the National Library of Medicine found that applying hot tools, such as a flat iron, to hair that had never been styled with heat resulted in the loss of vital proteins and damage to the hair cuticle. Therefore, using hot tools multiple times a week could further harm your hair. While applying a heat protectant before using a flat or curling iron can minimize heat damage by shielding the strands, it only offers limited protection. Constantly subjecting your hair to heat can also make it harder to repair overall.
Each hot tool has a different heat setting that allows it to reach a specific temperature of up to 450 degrees Fahrenheit. Although using the highest temperature may seem like it speeds up the styling process, it is detrimental to our hair. "Using a higher heat setting and moving slowly with your passes can increase your risk of drying out your hair," Sebastian Professional international artist Anthony Cole shared with The Zoe Report. It is best to use low heat settings and move slowly over the hair. For fine and curly hair, never exceed 275 degrees Fahrenheit when using hot tools. For wavy or curly hair that's coarse, do not exceed 400 degrees Fahrenheit.
Ways to refresh your hair without heat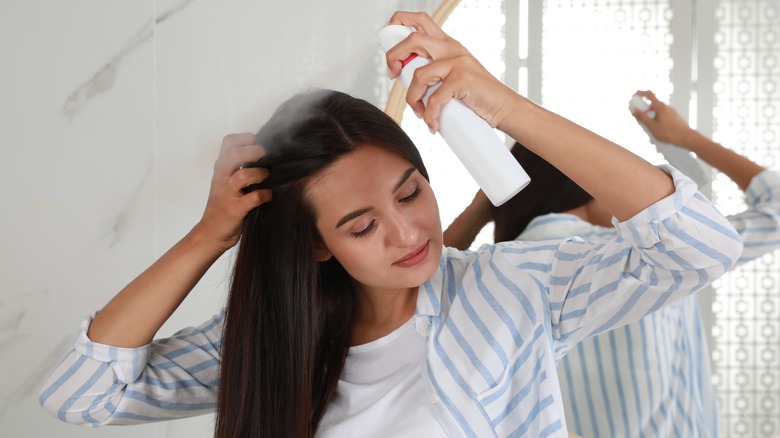 New Africa/Shutterstock
It may be challenging at first to resist the temptation of using hot styling tools for a quick hair touch-up, but refraining from heat is essential for maintaining healthier hair. There are several alternatives to revive your hair without using heat. For instance, applying argan oil as a leave-in conditioner can gradually repair hair damage due to its high vitamin E content. "Vitamin E—which argan oil is high in—helps keep your follicles free from damage all while helping to prevent splitting and breakage," celebrity hairstylist Andrew Fitzsimons told Byrdie. However, it is important to apply the oil only to the ends of your hair to avoid making the roots appear greasy. To refresh the upper half of your hair, you can use dry shampoo, which effectively absorbs oil and extends the lifespan of your hairstyle without washing or using heat.
On the other hand, if you enjoy curling your hair, it is advisable to avoid curling irons on non-wash days. Instead, opt for a heatless curling rod. Before going to bed, apply a small amount of your favorite hydrating oil throughout your hair, then wrap sections of your hair around the curling rod, securing them tightly. Leave the rod in place overnight. When you wake up in the morning, you will have fresh, bouncy curls. The heatless curling rod is a great tool for achieving beautiful curls on both wash and non-wash days.