Tricks For Curling Your Eyelashes Without An Eyelash Curler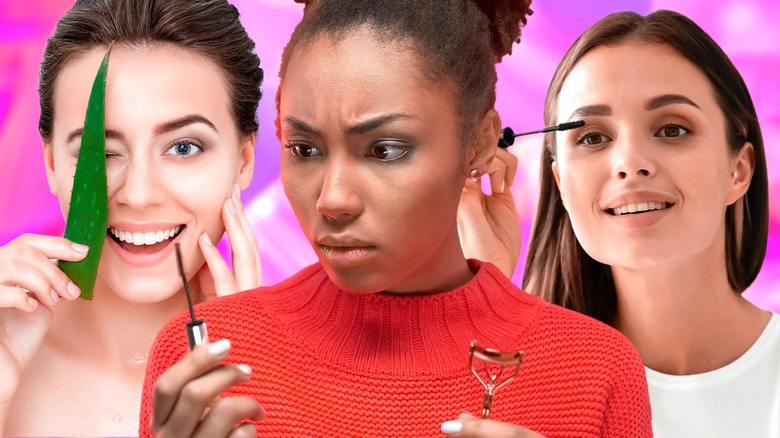 Static Media / Shutterstock
Who doesn't love a pair of long, curvy, and lush eyelashes that coat the eyes and add extra oomph? After all, you could keep your lashes lifted all day with some simple tips. In fact, for some people, the only makeup product worn on a daily basis may be mascara because of how large and beautiful it can make the eyes look. However, not everyone is blessed with naturally curly lashes that can be enhanced with a coat of mascara. Others may be wary of using an eyelash curler, afraid it may poke their eye out. So, does this mean you give up? Of course not! We are here to help you with tips for curling your eyelashes without using an eyelash curler.
While an eyelash curler can be your best bet for achieving a true curl, there are other methods that don't require a curler that can help, such as warm fingers, strategically using mascara, or opting for a spoolie coated in products like aloe vera gel. That said, if you find yourself in a pinch or are just beginning your journey of makeup and want to save time and money by buying fewer makeup-related products, give one of these a try.
Use your hands to your advantage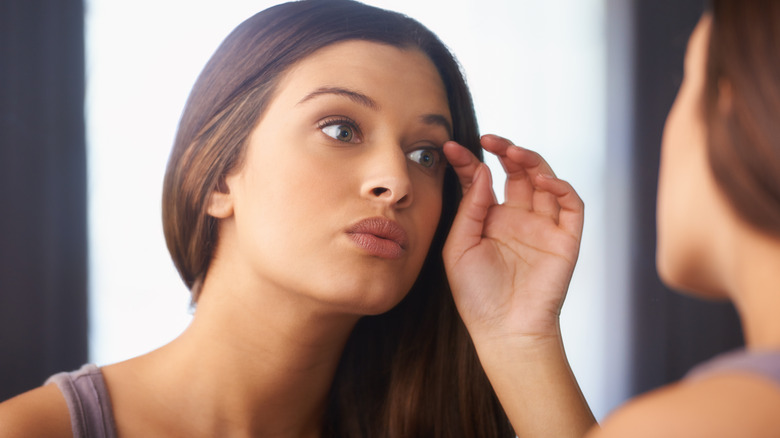 Peopleimages/Getty Images
The best tools humans have access to are the ones given to us by nature. Our hands, especially our fingers, should be utilized before we turn to any mechanical tool, as was likely the case for most people before an eyelash curler was invented.
There are two ways you can use your fingers to curl your lashes. The first method should be employed when you are completely makeup-free and have washed your hands to ensure your eyes aren't exposed to dirt or bacteria. With clean fingers, press your eyelashes upward and hold them in that position for 30 seconds or more. You can follow this up with one or two coats of a curl-holding mascara formula. This will help set the curl in place.
The second method adds heat to the mix as heat helps retain the curl for a longer period of time. You can warm your fingers by rubbing your hands together and immediately applying pressure on the lashes, or you could run your hands under a warm tap of water, pat them dry, and then curl your lashes with your fingers.
Master the art of applying mascara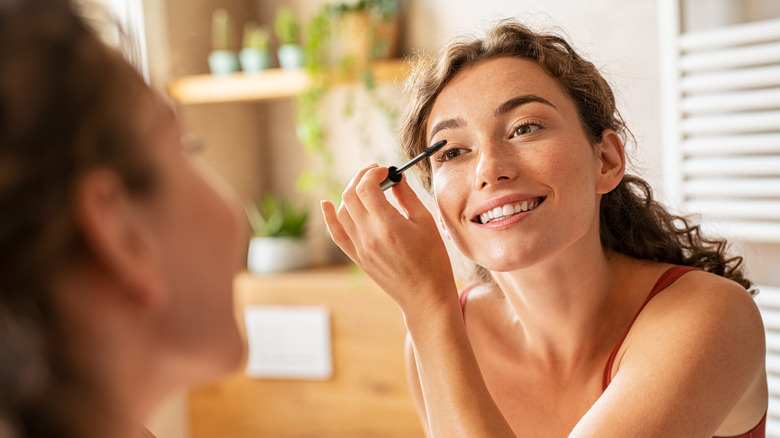 Ground Picture/Shutterstock
If you are comfortable wearing makeup, you can achieve a well-curled eyelash look simply with mascara. The best results can be observed on the basis of the choice of your mascara as well as the technique you use.
"If you're looking for curl, you want a mascara wand that is dense with a lot of bristles. Similar to a round brush for your hair, this mascara brush will grab lashes and gently pull them up as you apply to create a lifted look," makeup artist Jude Andam shares while speaking to mindbodygreen Lifestyle.
For best results, makeup artist Jenny Patinkin emphasizes the correct kind of mascara application, when she tells mindbodygreen Lifestyle, "Building a heavy layer of mascara at the base of your lashes can help give them some lift. Go in with a densely bristled applicator and press and lift into the base of your lashes while making a gentle back-and-forth motion. Don't take too much [product] all the way up to the tips, but do hold your lashes up with the applicator while the base dries, and then repeat once or twice more."
Household tools may provide some help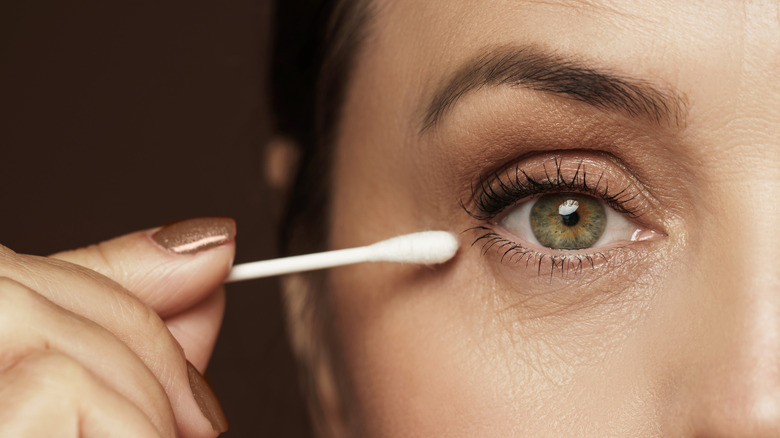 Jun/Getty Images
It can be fun to rummage through one's home and find DIY solutions to problems. So, if you have misplaced your eyelash curler, you could turn to easily available tools at home to replace it.
A humble spoon, for example, can be heated by running it under warm water or applied directly to the eyelashes to curl them. "Place the side of the spoon that curves inward gently behind the lashes. Then press the lashes back against the spoon with your fingers and hold for 30 seconds. Repeat going toward the inner and outer corners," professional makeup artist and founder of Boomer and Beyond Beauty, Elise Marquam-Jahns, shares how you can use a spoon for optimal curling results via Sixty and Me.
A toothbrush could also be used to comb through the lashes in the same way you would while applying mascara. The bristles of the toothbrush would help with the curling effect.
Q-tips or cotton swabs are another popular item for this purpose. You can take the plastic portion of the Q-tip and press the eyelashes down with it to maintain the curl. Alternatively, you could take two Q-tips and hold your lashes between their plastic portions so that they naturally curl upwards.
Use natural ingredients for a natural-looking curl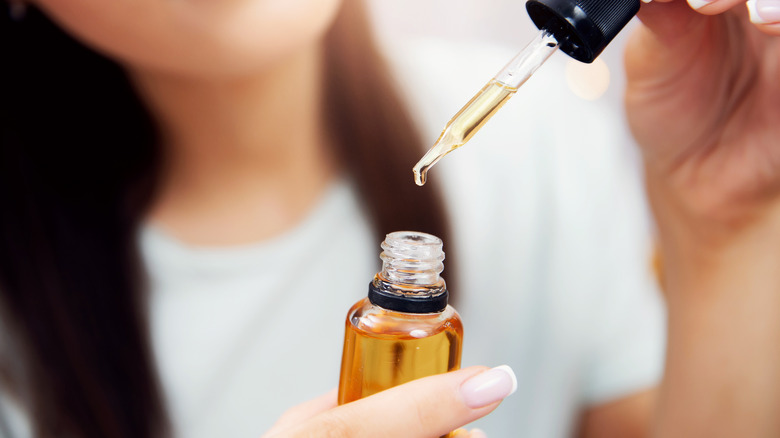 Parilov/Shutterstock
If you are afraid of using these experimental methods that involve using random tools around a sensitive area like your eyes or are concerned about the application of too much heat, we have another natural and safe hack for you.
Just look for aloe vera gel or castor oil that may be lying around your house, and use these to curl your lashes. The best way to apply either of these ingredients is with a mascara spoolie. You just need a tiny bit of product, according to Southern Living. That way, you don't weigh your lashes down further. Plus, thick aloe vera will cause flakiness on your lashes after it dries. In fact, that is also why you should avoid applying mascara after aloe vera gel.
Castor oil is another option. After all, it makes the hair wet and strengthens it, which allows you to manipulate and curl it with your fingers for a curl that stays put. If these tricks aren't enough, here are some other tips to help you grow your lashes to new heights.