Physician Informs Us Why You May Feel Sick After Getting A Massage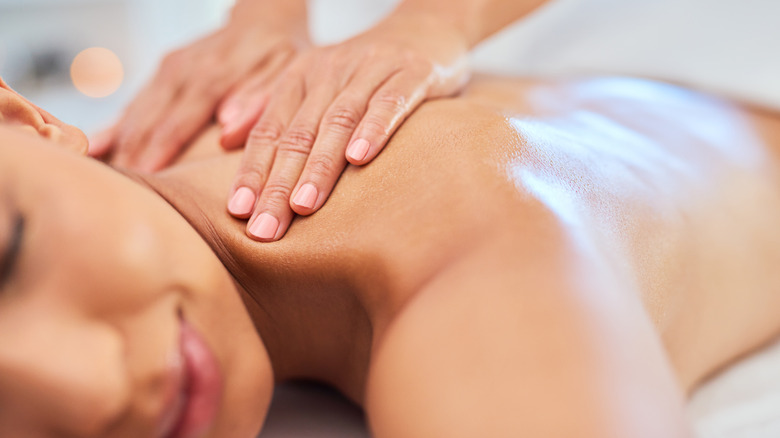 Hiraman/Getty Images
Life is stressful, so who among us doesn't long for the occasional blissed-out massage? After all, trained hands can relieve the symptoms of a number of medical conditions, such as chronic pain, tension headaches, and even depression. Massages are also great for reducing stress, which often manifests squarely in the necks and shoulders of tense individuals. Plus, massages also just feel really, really good.
Advertisement
Although massage therapy can help soothe those problems (and more), side effects such as nausea can occasionally appear, usually to the total surprise of the massage recipient. Since no one likes to be caught with their pants down — literally and metaphorically, since massages are often done mostly in the buff — it's vital to know what to look for so adverse effects can be treated or prevented outright. To get to the bottom of massage sickness once and for all, we asked Dr. Jason Singh, a Virginia-based physician and the founder of One Oak Medical, for exclusive insight on why this sickness happens and how to prevent and treat it. Now, before you head out for your next massage, you can take a moment to prep yourself for the best results possible. 
Advertisement
The most common side effects of massage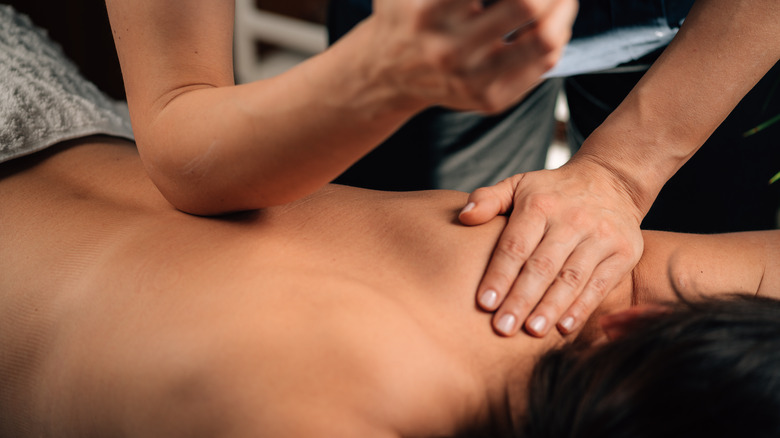 Microgen/Shutterstock
A lot of cool stuff happens to the human body during a massage, and, as Dr. Jason Singh exclusively tells us, "there are several reasons why someone would feel ill after getting" one. The biggest issue? The vagus nerve. "This nerve courses from the brainstem all the way down to the abdomen and is responsible for many functions, including regulating your heart rate, digestion, and respiratory function," Dr. Singh explains. "Stimulating it during a deep tissue massage can potentially lead to lightheadedness and nausea." Certain types of massages can aggravate the vagus nerve more than others, too. "These ill feelings are more commonly seen in deep tissue massage and in particular the back, shoulders, and neck areas where the vagus nerve is more likely to be activated," Dr. Singh adds.
Advertisement
What's more, massages typically release metabolites — like lactic acid — into the body that have been stored up (via The New York Times). "Secondly, compressing muscle tissues release lactic acid, which can build up and enter the bloodstream, potentially causing nausea and lightheadedness as well," Dr. Singh explains. As a result, clients commonly feel some level of nausea post-massage, especially if they're not well-hydrated. In extreme cases, this nausea can even include vomiting. Muscle soreness is also likely thanks to the serious manipulation the body endures, and headaches are also common to experience post-massage (via Medical News Today). Fortunately, these ailments can all be prevented or treated to some degree, so there's no need to suffer when you're supposed to feel amazing. 
Advertisement
How to prevent or treat post-massage malaise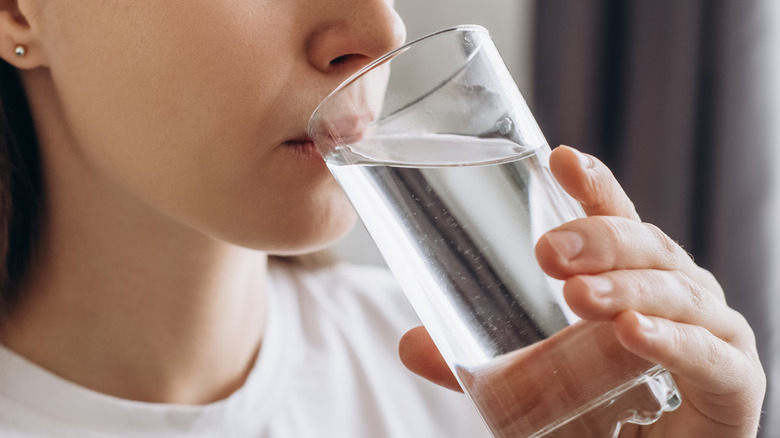 Yurii Yarema/Getty Images
You probably already know that water is important to your overall health. Not consuming enough water can lead to weight gain, dehydration, persistent headaches, and more, per Henry Ford Health, and Dr. Jason Singh exclusively tells Glam that it can be a culprit for post-massage sickness, too. "Ensure you're drinking plenty of water, as dehydration can exacerbate nausea," he tells us. Since dehydration can cause dizziness, fatigue, headache, and a host of other symptoms, it's best to avoid it whenever possible. What's more, your eating schedule could cause some discomfort, too. To prevent this, Dr. Singh explains, "Avoid going into a massage with a full stomach [and] give about three hours after a large meal" to let your food digest thoroughly.
Advertisement
To that end, be sure to stay transparent when your appointment arrives. According to Dr. Singh, you should let "your massage therapist know if you have experienced feeling ill before [so] they can use lighter pressure." This could help prevent sickness from taking hold of you. Then, when your massage is done, "get up slowly and sit for a few minutes, then gradually stand up to avoid dizzy spells," Dr. Singh adds.
Finally, make sure to sip water throughout the day. While it's not necessary to chug a huge jug the moment you get home, try to aim for a normal day's worth of water or more — this isn't the time to be stingy. For the best overall results, Hackensack Meridian Health recommends drinking a glass of water beforehand so your muscles are more hydrated and "pliable."
Advertisement