TikTok Is Blowing Up With People's Tattoo Regrets & They Make Some Good Points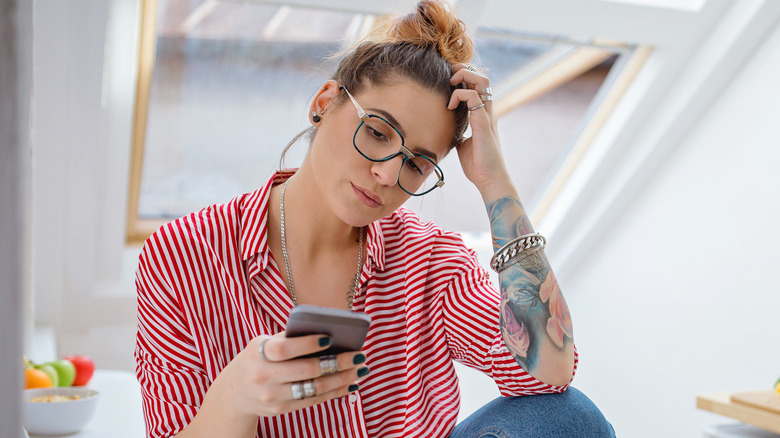 Fluxfactory/Getty Images
Tattoos aren't as taboo or "edgy" as they might have once been. In fact, 32% of American adults have at least one tattoo, according to 2023 Pew Research Center data. Compare that to the 23% of adults who said they had ink in 2010, and it's safe to assume that body art has gone mainstream. Even if tattoos seem as standard as ear piercings or hair dye, TikTok might make you think twice about getting ink of your own.
Advertisement
Videos with the #tattooregret tag have exploded on the platform, racking up over 130 million views (and counting). In the clips, creators open up about why they regret getting tatted while offering cautionary advice for others who are considering adorning their bodies with ink. TikToker @kiyaminx shared her hatred for the rose on her neck, explaining that a tattoo artist pressured her into a design she didn't ask for. Other creators cite their own naive judgment for their feelings of regret. "I think I was looking for a sense of identity and outward validation from other people," says @leahbbeth of her tattoos, adding that no one should get body art until they've turned 25. Echoing this sentiment, @abbybaffoe, an influencer who got her first tattoo at 17, also blamed her regret on being too young.
Advertisement
Numerous other content creators have taken to TikTok with similar tales of ink remorse, and it turns out they're not alone.
Regretting tattoos is pretty common
Having second thoughts about tattoos isn't just a trendy topic on TikTok. Statistics show that a lot of people with ink go on to regret it later. Pew Research Center data suggests that 24% of tattooed Americans regret at least one of their designs. Other sources say the percentage is much higher. A survey of mostly teens and 20-somethings by Advanced Dermatology found that 78% regret a tattoo.
Advertisement
However, when it comes to committing to tattoo removal, not quite as many are ready (or able) to take the plunge. One 2022 survey conducted by Harris Poll for The Atlanta Journal-Constitution discovered that about one-in-five people with tattoos have had ink removed or were currently getting a tattoo removed. Tattoo removal is an arduous and expensive process that typically requires laser treatment or surgery, according to the Mayo Clinic. Even after these procedures, scarring and tattoo markings often remain. As a result, some people may live indefinitely with unwanted art on their skin.
How to avoid regretting your body art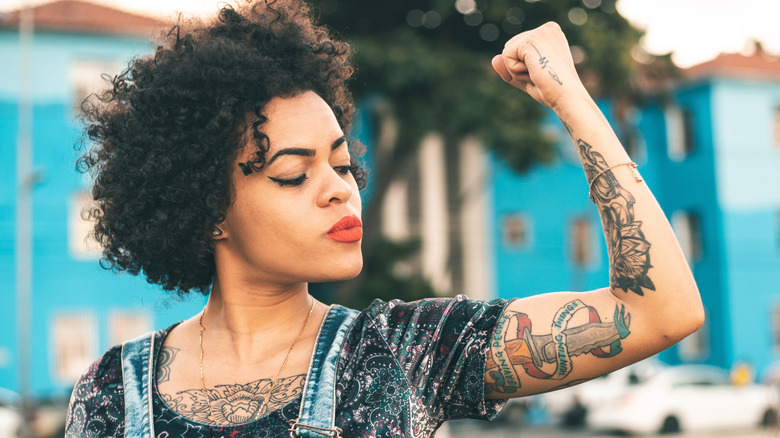 Mesquitafms/Getty Images
Many TikTokers urge against getting tattoos during your teen years and early 20s, and there's reason to heed their warnings. Previous data by Harris Poll (per Healthline) revealed that one of the respondents' most common regrets surrounding tattoos was being too young when they got the tattoo. Additionally, many said that their personality or lifestyle had changed since getting the ink and no longer fit their current stage of life. Postponing a tattoo until your mid-20s might result in less regret later.
Advertisement
Advanced Dermatology's survey also found that impulsivity was the leading factor in getting an undesirable tattoo. Moreover, 73% of respondents who regret their tattoo said they waited no longer than a few weeks before getting it (28% only waited a few hours). Giving yourself a few months (or even a couple of years, as TikToker @jade.amberrrrr suggested) before heading to a studio could save you from getting a cringeworthy tattoo.
The quality of the design and the artist can also make a big difference. "Having a great experience actually getting the tattoo often has a huge effect on how a person feels about the tattoo on their body. Love your artist and you'll love the artwork even more," tattoo artist Brit Abad told Allure. A trustworthy pro can also help you choose a timeless design and placement that works for your body and personal needs.
Advertisement