The Skincare Benefits Of Glycolic Acid, Explained To Us By A Cosmetic Chemist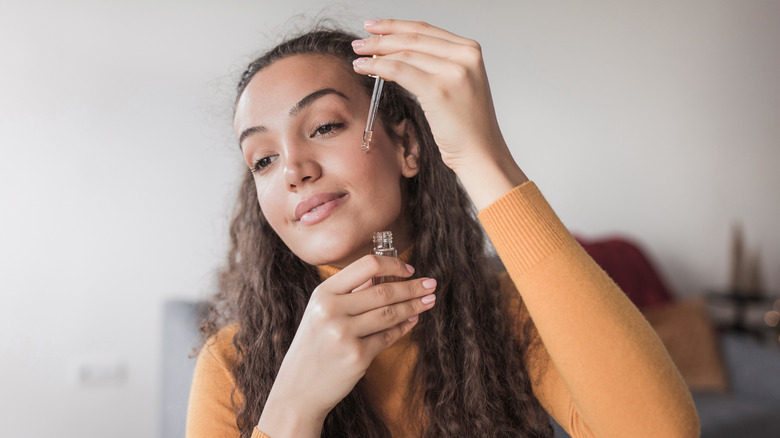 Dobrila Vignjevic/Getty Images
When dealing with dry, oily, or acne-prone skin, finding the best skincare products can be frustrating. With so many different skincare ingredients being discussed on the internet, you may think that you need to try every viral skincare product out there. However, it's vital to do a deep dive into new ingredients you want to try to ensure they're safe to use on your skin. One ingredient you might have seen all over your For You page on TikTok is glycolic acid, an alpha hydroxy acid (AHA) known for its exfoliating and rejuvenating properties. It has many benefits and is one of the few acids safe for acne-prone skin. By comparison, many other skincare ingredients can be harsh on the skin and cause acne to worsen or affect the skin's texture. 
Advertisement
If you've been debating whether to include glycolic acid in your skincare routine to help your skin, we spoke to Nevada-based beauty chemist David Petrillo, founder of skincare brand Perfect Image, to help you make your decision. In an exclusive chat, he gives us the rundown on why glycolic acid works for most skin types, who benefits from it, and things to look out for if it's your first time using the exfoliant. 
Benefits of glycolic acid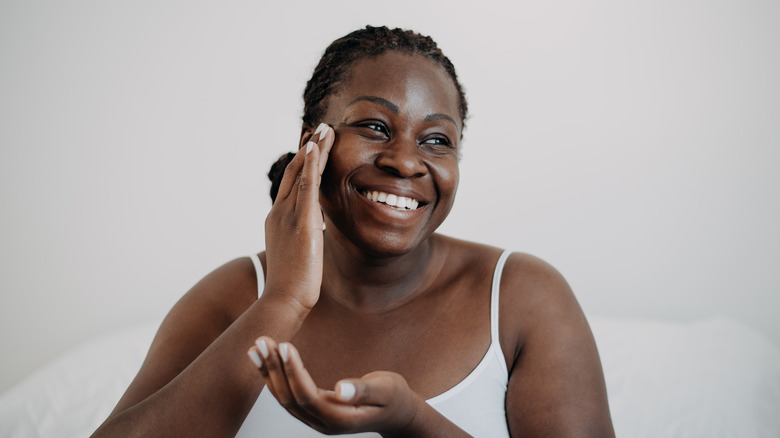 Andreswd/Getty Images
Glycolic acid has various skincare benefits that can help the skin look smoother and more youthful. David Petrillo tells Glam exclusively, "Glycolic acid acts as a chemical exfoliant, gently removing dead skin cells from the skin's surface." This works to improve the skin's texture. Petrillo also mentions how the AHA can reduce the appearance of "dark spots, sun damage, and uneven skin tone," as well as fine lines and wrinkles over time. 
Advertisement
In particular, glycolic acid can benefit those with acne-prone skin. "Glycolic acid helps unclog pores by eliminating excess oil and dead skin cells, making it beneficial for individuals dealing with acne or frequent breakouts." Additionally, glycolic acid may improve the appearance of acne scars with long-term use. Other skincare benefits of glycolic acid include pore size reduction and enhanced absorption of skincare products. "Exfoliating with glycolic acid promotes better absorption and efficacy of other skincare products like serums and moisturizers, as they can penetrate the skin more effectively after the removal of the outermost layer of dead skin cells," Petrillo tells us.
However, it's best to use low concentrations if you have sensitive skin. "Those incorporating glycolic acid into their skincare routine should begin with lower concentrations and gradually increase them as their skin adapts," Petrillo cautions. In addition, using glycolic acid will increase your skin's sensitivity, so use sunscreen daily to protect it from UV radiation. If you're still unsure whether to use glycolic acid in your skincare regimen, seek out and speak to a dermatologist who can set you on the right path.
Advertisement
Precautions to consider when using glycolic acid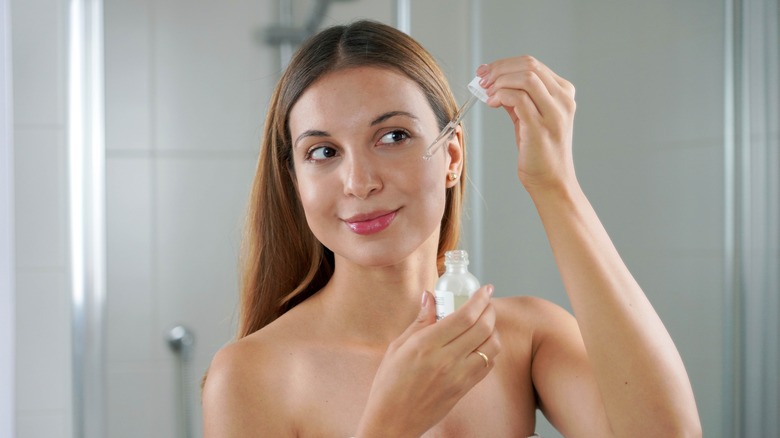 Zigres/Shutterstock
While glycolic acid can change your skin's texture and overall appearance, it won't benefit everyone. David Petrillo tells us exclusively that pregnant and breastfeeding individuals and folks with sensitive skin or underlying skin conditions should be careful when using the AHA. "It's generally recommended that pregnant and breastfeeding individuals avoid using products containing glycolic acid, or any other potent skincare acids, as the effects of these ingredients on a developing fetus or a breastfeeding infant are not well-studied." As for individuals with sensitive skin, it's crucial to patch test the acid because it can lead to "irritation, redness, or dryness." For those with rosacea, eczema, or open wounds, seek guidance from a dermatologist since exfoliating products can exacerbate the conditions. 
Advertisement
Glycolic acid is generally safe for most people, but you should still use it cautiously. Petrillo advises doing a patch test on your skin before applying it to your face. "Apply a small amount of the product to a discreet area (like the inside of your forearm) and monitor your skin's reaction for 24 to 48 hours." If you notice irritation, redness, burning, or itching, avoid using the acid. However, if you have a positive reaction to the patch test, follow the directions on the packaging to prevent overusing. Petrillo reveals that too much glycolic acid leads to "skin irritation and damage." Now that an expert has weighed in, you can decide if glycolic acid is suitable for you.