Your Guide To The Benefits Of Pore-Blurring Makeup & Skincare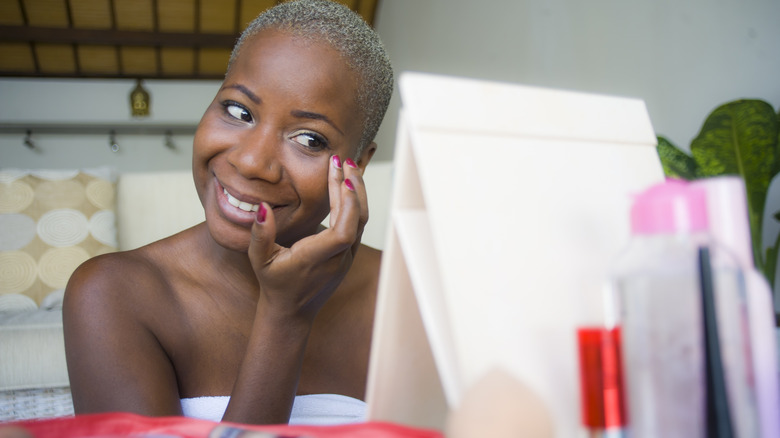 Marcos Calvo/Getty Images
We may receive a commission on purchases made from links.
Who among us doesn't desire pristine skin? While preventative Botox or TikTok's makeup application filters may be powerful ways to enhance your appearance, they may not work for everyone. Those who are wary of relying on injectables and social media filters for the appearance of perfect skin may be on the lookout for other options. Enter pore-blurring products like primers, foundation, and powders that can multitask as both makeup and skincare.
Speaking about primers in particular, celebrity makeup artist Kirin Bhatty explains to Byrdie, "Blurring primer creates a soft-focus layer on the skin — literally blurring pores and imperfections and creating a smooth base for makeup." Bhatty also highlights that pore-blurring primers can make your makeup last longer.
Pore-blurring products aim to make the surface of your skin as smooth as possible, offering an even canvas for an effortless application of makeup on top, and then helping to hide the appearance of blemishes or large pores. Depending on the product used, they can moisturize the skin, help with evening out its tone and texture, and offer longer-lasting makeup wear. In some cases, good pore-blurring primers can be used as a replacement for foundation by providing an even glow.
The benefits of the best pore-blurring products on the market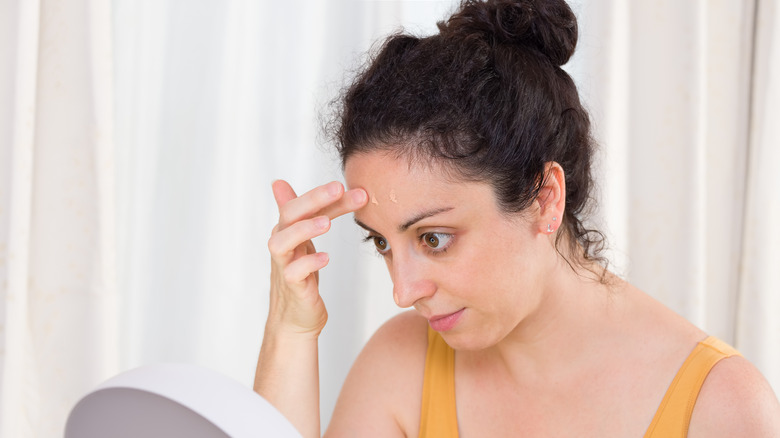 Kazzpix/Getty Images
Pore-blurring products come in many forms, including setting powder. Speaking about setting powder to PopSugar, makeup artist and beauty blogger Ivy Boyd revealed that products like Dermablend's Loose Setting Powder "minimize pores and control shine" while setting your makeup in place. Products like this are often "translucent" and "used to blur pores, soften texture, and even give an overall glow to the skin."
You can also find pore-blurring foundations on the market, even if they don't explicitly state that they're pore-blurring in the name. A good example is Lancôme's Teint Idole Ultra Wear Care & Glow Serum Foundation which contains hyaluronic and mandelic acid to smooth the skin and thus minimize the appearance of pores. Look for foundations infused with skincare ingredients that hydrate and smooth the skin to reap these benefits. Additionally, Ipsy explains that foundations which are "mattifying" will also usually help to decrease the appearance of large pores by absorbing oil.
Meanwhile, New York-based lifestyle writer Megan Schaltegger shares the benefits of using a lightweight primer, which include concealing uneven skin tone and large pores, enhancing skin texture, and helping makeup to last. Writing for Yahoo, she says, "I apply a small amount all over clean skin, and it instantly gives a blurring effect — so much so, I barely need foundation and have been using less concealer, too. The formula not only smooths out my skin complexion to hide my hyperpigmentation, but it also reduces pore size and actively works to improve skin texture."
How to apply pore-blurring makeup and skincare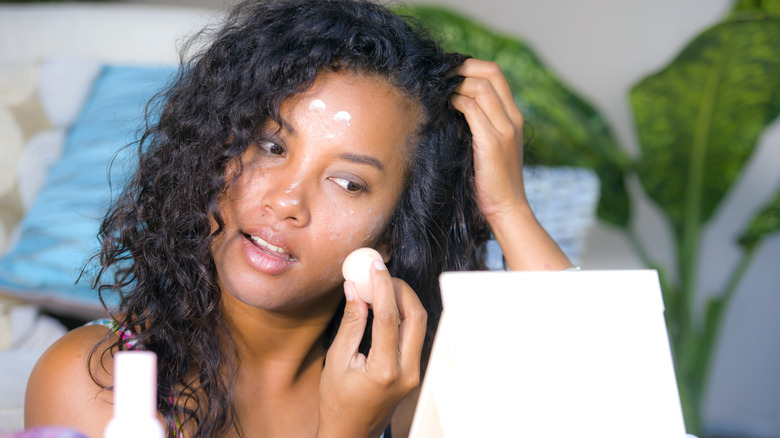 Marcos Calvo/Getty Images
When it comes to pore-blurring primer, Megan Schaltegger explains that primer should be used sparingly before foundation, on clean, moisturized skin (via Yahoo). However, you can also use it on top of your makeup: "... you can even pat and blend a small amount over your makeup throughout the day to absorb excess oil from your pores. You can also wear it without any makeup at all, which I've personally done and am a fan of for low-key days."
Apply the product with a dampened makeup sponge or a makeup brush, or gently pat it in with your hands, instead of vigorously rubbing it in, as that may harm the skin. It is important to note that merely because your pore-blurring makeup and skincare products contain SPF and other skincare ingredients, they should not be used as replacements for specific products that target individual skincare needs.
Pore-blurring foundation should be applied after you have first moisturized your skin with primer. On the other hand, setting power is generally used after you have applied the rest of your makeup. Apply it sparingly to minimize shine from your makeup, which may enhance the appearance of your pores if left untreated.
Regardless of what form they come in, pore-blurring products that are lightweight and water-based are especially beneficial to those with oily skin, as they don't clog pores. However, if you have dry or combination skin and still want to hide your large pores, pore-blurring products that have moisturizing properties will prevent your skin from feeling flaky.