TikTok's Makeup Application Filters May Be The Key To Unlocking Your Inner MUA Prowess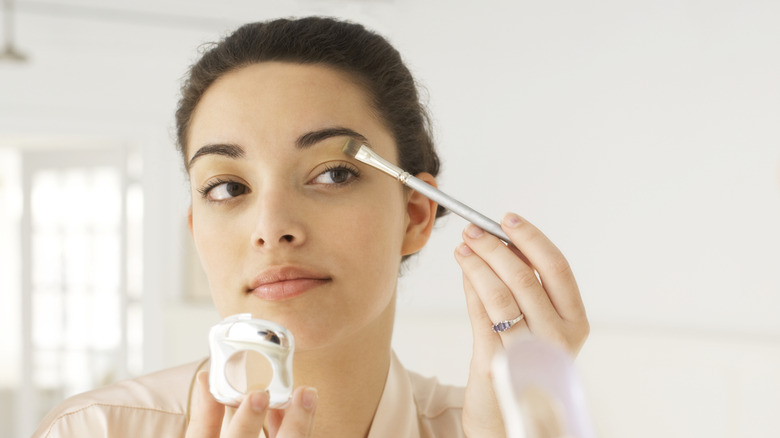 Christopher Robbins/Getty Images
Contour, highlighter, and primer, oh my! Much like Dorothy had to navigate the yellow brick road in "The Wizard of Oz" to unlock her true potential, TikTok may be handing you its own version of a yellow brick road in the form of makeup application filters to unlock your inner makeup artist (MUA) prowess to the fullest extent. 
Advertisement
Instead of flying monkeys, dancing scarecrows, and fearful lions, TikTok's makeup frontier is filled with tutorials galore on how to incorporate every trick, hack, and tip into your makeup game. However, just because there's a vast realm of makeup content on the social media platform, that doesn't mean it's any easier to figure out how to apply your makeup in the best possible way or which shades work with your unique skin tone. In fact, the TikTok makeup sphere may actually make things even more confusing as you scroll through your For You Page to find countless videos of influencers applying perfectly winged eyeliner, celebrities undergoing glam transformations, and professional makeup artists showing off the latest product in their purview. 
Advertisement
Enter makeup filters, which may be your version of Dorothy's iconic glittering red shoes. Just like Dorothy clicked her heels three magical times, scroll three times (or a few more) through the makeup filters offered on TikTok to enter the wonderful world of your inner MUA. Here's everything you need to know about utilizing makeup filters as an educational tool for applying your makeup. As always, knowledge is MUA power.  
Why makeup filters can be educational
Makeup filters on TikTok are essentially your digital makeup gurus, showing you what looks the best on you by personalizing the effects they show. Pay close attention to the results of the filters, especially if you really like the way the filter has applied virtual makeup to your face. By doing so, you'll be able to discern the best features of your face to emphasize, where each type of cosmetic product should be applied, and other nuanced tidbits about the optimal makeup application for you. With eyebrows and eyeliner having their respective moments in the makeup spotlight right now, TikTok filters can show you where exactly you should be drawing the outline of your eyebrows to then fill in with a complementary color. For instance, there are makeup filters made specifically for shaping your eyebrows that provide personalized lines on your face to indicate the dimensions and angles at which your eyebrows will serve to enhance your facial features. 
Advertisement
Replicating the exact looks of makeup filters, TikTok content creator @leilanigreen posted a video of herself, which has garnered tens of thousands of views, applying her makeup to match a makeup filter available on the social media platform. Viewers commented that they couldn't tell which portions of the final product utilized the makeup filter and which were filter-free. This is your sign to pull out a notebook to take notes on bringing out your inner MUA.
Study the details shown in the makeup filters
Artificial intelligence is behind the tailored results of makeup filters, with innovator Grace Choi paving the way for beauty technology. Having created many of the makeup and beauty filters used on TikTok, Choi has ensured that her filters are able to identify the features of each user's face and show them exactly where they should be applying makeup for their unique features. Through the use of Choi's virtual face stencils, the makeup application filters give users a set of lines that indicate their optimal angles for applying various cosmetic products. Lines across the upper cheekbones indicate the best angle for constructing layers of concealer, contour, blush, and highlighter. When so many of us struggle with simply understanding the conceptualization of face contouring, Choi's filters gift us the easiest way to know exactly how to craft our makeup for the perfect glam.
Advertisement
In particular, the "eyebrows" filter shows how to perfectly shape your eyebrows while also indicating the best angles for contouring and applying highlighter, blush, and even eyeliner. With more than 200,000 views on her video, TikTok user @ashleyquiroz_ has shown exactly how to use the "eyebrows" filter as an enhanced mirror that guides you through the process of shaping your eyebrows in addition to showing your stunning reflection. With virtual facial stencils via bright pink lines and labels indicating where to construct each brow's start, arch, and end, you'll quickly find your inner MUA unleashed.