Suzanne Somers Looks From Three's Company You Can Easily Wear Today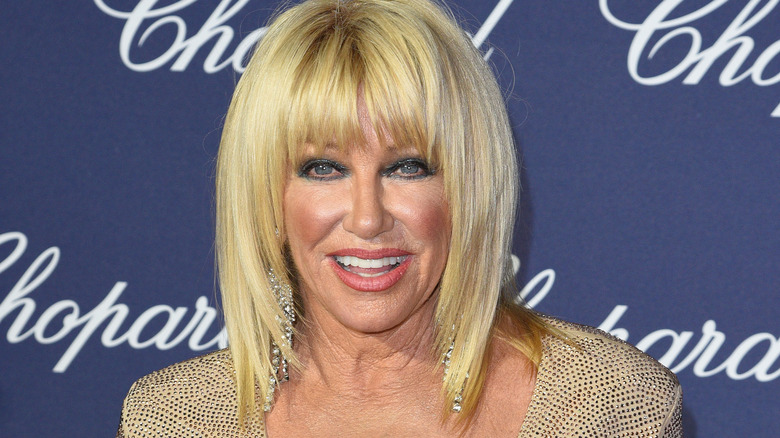 C Flanigan/Getty Images
Many hearts broke when Suzanne Somers passed away on October 15, 2023, only a day before she would have turned 77 years old. The actor starred in ABC's beloved comedy "Three's Company" as Chrissy Snow, who was known for wearing countless fun and stylish outfits over the years. Decades later, many '70s fashion trends experience resurgences fairly often, with many style trends of the '80s becoming cool again, too. Clearly, there's no better time than the present to take inspiration from the late celebrity's wardrobe from the show.
Many of Somers' outfits in "Three's Company" reflected her character's playful personality. "She had a style... sexy but not vulgar... And that's what I really enjoy about her," Somers told Today in a 2017 interview. "She was a woman child. She had the soul of a child and the body of a woman, and she didn't know it. And that's what made her likable, I think." Whether you agree with Somers or love something else in particular about her character's wardrobe and personality, let's take a look at some of her cutest 'fits (that never really went out of style, to be honest).
Chrissy's bright red turtleneck and tan pants
Suzane Somers' red turtleneck and tan pants with a light brown belt from the "Three's Company" episode "Jack to the Rescue" appear less playful than you may expect of Chrissy Snow. However, the turtleneck's beautiful red hue and body-hugging fit look stunning on the actor, making her stand out in the episode (even more than when she poured her drink on a costar's head). What's more, it's a 'fit that you could easily see anyone wear today, making it that much cuter in our eyes.
Her neutral T-shirt and short shorts
Chrissy Snow's light gray T-shirt and shiny white shorts that left little to the imagination were perfectly on-brand with her cutesy character. This outfit was casual yet sexy, as the shorts were very short and the T-shirt hugged her figure, nodding to Chrissy's flirty personality. The blond pigtails also reflected the character's youthful mindset. It's simple but reminiscent of '80s-set camp thrillers, so we naturally adore it.
The iconic black bathing suit from the theme song
The black bathing suit in the "Three's Company" theme song perfectly represents Suzanne Somers' sexy character. Her form-fitting bathing suit shows cleavage and features ultra-thin straps, making it clear to any first-time watchers that the character likes to wear provocative, playful 'fits. This ensemble also proves that black bathing suits are effortlessly stylish, and who could really argue that?
Chrissy's low-cut red dress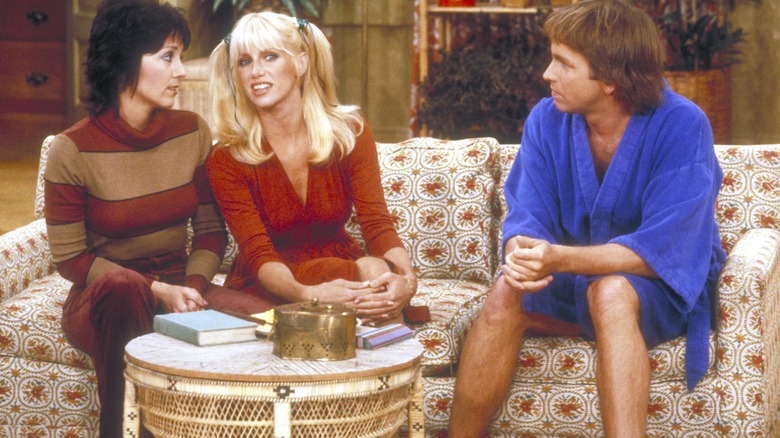 ABC
There's arguably nothing sexier than a red dress that shows some cleavage. As such, Suzanne Somers' low-cut red dress and playful pigtails make for an unforgettable look. When Somers wore this outfit sitting next to a female co-star who wore a much more serious-looking turtleneck, Somers stood out in a big way, and the two drastically different ensembles represented the two characters' opposite personalities brilliantly. Note? Taken.
And her pink turtleneck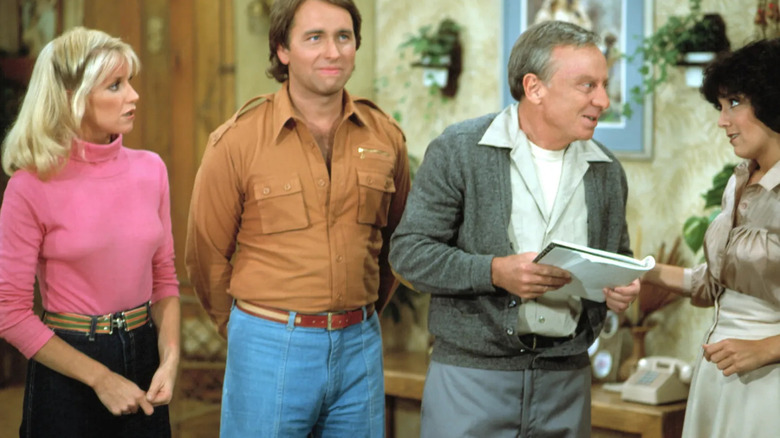 ABC
Bright pink is a famously playful, cute, and silly hue, so it was a brilliant idea for Suzanne Somers to wear a top in this adorable color on the show. Not only did the pink mesh beautifully with the actor's light hair and features but it also stood out from the less exciting hues and neutrals that the rest of the actors in the episode wore. This really hearkens back to the overall lesson we're taking from Chrissy Snow: Never be afraid to be the loudest one in the room (or express yourself, but louder is better).