TikTok Finally Found A Dupe For MAC Spice, The Iconic Brown Lip Liner Of The '90s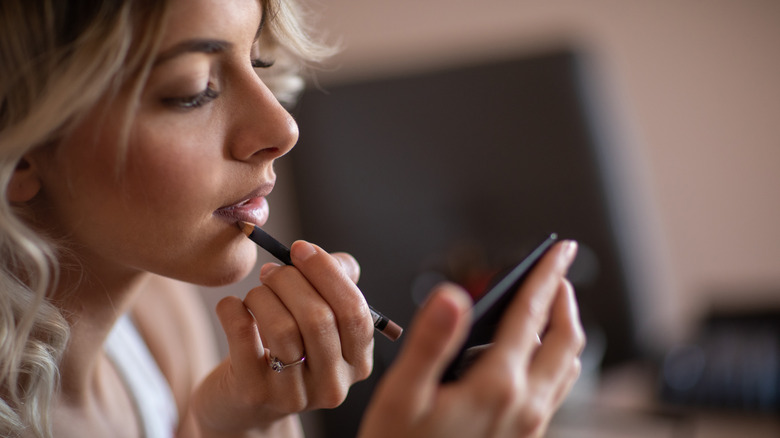 Bojanstory/Getty Images
In our chronically online opinion, TikTok is the closest thing we have to a time machine. Whether it's trying out nostalgic Y2K hair looks or recreating Pamela Anderson's makeup from the '90s, no trend — or makeup product — is safe from TikTok's trend-resurging powers. And speaking of the '90s, a classic makeup item from that period is back on our trend table: MAC Cosmetics' Lip Pencil in the shade Spice.
Advertisement
In the '90s, it was common to line your lips. In other words, what skinimalism is to recent times: an inescapable trend. And MAC Cosmetics was at the forefront with their bestselling lip pencil shade, Spice. The shade, a neutral-toned creamy pencil at the time, was famous for working on most skin tones and was used to damp down lipsticks that were too harsh or stark against the skin. The liner was so popular that even pop culture icons like Cindy Crawford and Pamela Anderson are rumored to have used and loved it. But like all good things that come to an end, MAC's new Spice is now a warmer-toned, cinnamon-pink shade that's not as neutral or nostalgia-evoking as the original brown everyone fell in love with. Plus, $24 can be a steep price for a lip liner no longer in its original color.
Advertisement
Luckily, TikTok also offers the gift of dupes, and with makeup artist Erin Parsons' help, we now have a close enough dupe to the OG Spice lip liner: the Maybelline Color Sensational Shaping Lip Liner. 
Maybelline's Color Sensational Shaping Lip Liner in Totally Toffee
In the '90s, MAC's Spice Lipliner was loved in many makeup routines. While finding one dupe that caters to several two-toned lips can be a hassle for some, Erin Parsons found four suitable dupes, with the Maybelline Color Sensational Shaping Lip Liner standing out the most.
Advertisement
In a TikTok video, Parsons demonstrated the Maybelline Color Sensational Shaping Lip Liner in Totally Toffee on half of her lips while wearing the original MAC Spice on the other half. The results were a darker but barely visible difference, making it a great alternative to Spice.
Unlike the MAC Spice lipliner, which comes in a solid traditional lip pencil and retails for $24, the Maybelline alternative is available in retractable packaging and retails for $8.49. Maybelline's Shaping Lipliners are also available in 18 other bold shades that reviewers love. One reviewer on the Maybelline website stated: "I love this color and the silky smooth application. ... The price is very affordable for such a good and long-lasting product."
Advertisement
More MAC Spice dupes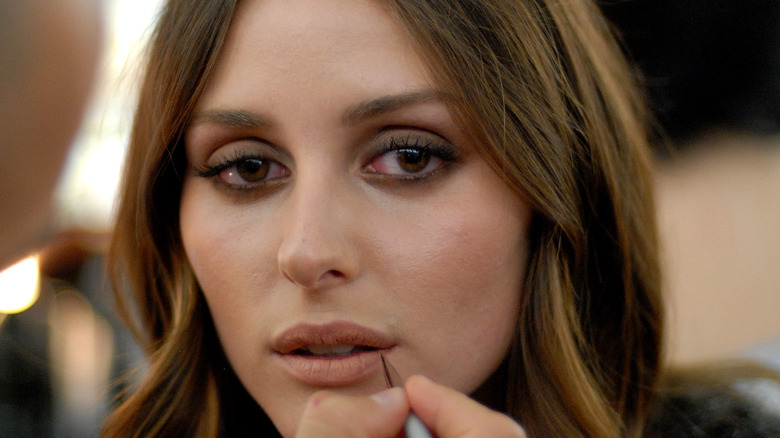 Michael N. Todaro/Getty Images
With how iconic and popular the MAC Spice lipliner was, you might find Maybelline's Totally Toffee a bit harder to get your hands on for its close fit. Thankfully, other dupes are still budget-friendly and precise enough for a great application. One is Rimmel London's Lasting Finish Lip Liner in the shade 90's Nude.
Advertisement
In Erin Parsons' TikTok comparison video, the Rimmel London alternative was a bit warmer than the MAC Spice but still quite close in terms of color and payoff. The 90's Nude shade is one of the 14 shades available by Rimmel London and retails at $6.97 on Amazon.
As close as Rimmel London's 90's Nude is, it may be challenging to find in your nearest beauty supply store. In that case, Kevyn Aucoin's Unforgettable Lip Definer in the shade Divine is a great option. The lipliner, one among six skin-like shades, retails for $25 and is similarly neutral as the original MAC Spice. However, as Parsons describes, it's a slightly lighter version. Thanks to TikTok and Parsons' expertise, we now have dupes that match our '90s nostalgia.
Advertisement