Fig Fragrances Are The Perfume Trend Adding Depth To Your Fruity Scents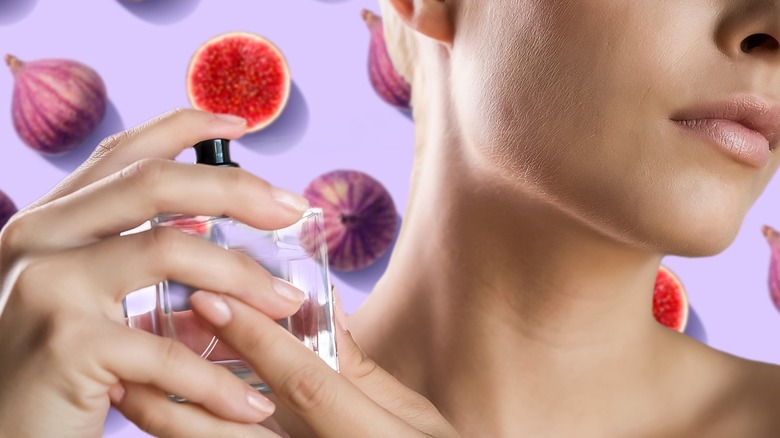 Static Media / Shutterstock
We may receive a commission on purchases made from links.
Landing on a signature scent that elevates your mood is no easy feat. And choosing notes that'll carry you through the seasons with the perfect touch of sweetness or spice takes considerable thought and effort. While florals and citrus are reliable, go-to options for an inviting, delicate perfume, sometimes a less commonly used note can be a refreshing surprise. That's where the earthy, honeyed sweet fig comes in.
Advertisement
Complex, woody, and warm, a ripe and creamy fig scent makes for a versatile, fruity fragrance – ideal for late summer and early fall. While the earthy aroma of the delicate fig may not yet be on your radar, this perfume trend is smooth, lush, and refreshingly unique. Reminiscent of the Mediterranean, fig adds a pleasant element of depth that will appeal to many perfume connoisseurs. Often paired with notes of vanilla, bergamot, cedar, and sandalwood, fig fragrances tend to be comforting and calming, creating luxurious aromas that range from simple and clean to exotic and striking.
Fig fragrances have a long history
The romantic fig symbolizes prosperity and fertility and has been used as a fragrance since ancient Greece and Egypt. Both familiar and enigmatic, the scent captivates wearers with its versatility. Fig fragrances surged in popularity during the 1990s, and today you can find a wide range of them in the perfume industry.
Advertisement
Both fig leaves and fig fruit can be used in a fragrance, providing either a bitter green note or a lush, fruity element. Typically categorized as a more masculine scent, fig promotes a sense of confidence and well-being. The unique, earthy scents are very wearable and tend to last up to six hours. While other fruity aromas may be light and airy, fig offers a notable depth and dimension that creates a mesmerizing aroma. There is something mysteriously ancient about the soothing scent, and if you are looking for a perfume that will make you stand out in any room, a fig fragrance is definitely worth a try.
Check out these fig scents
If you tend to prefer rose, peony, or lavender scents but are ready to try a more earthy fig fragrance for the cooler months, you'll be pleasantly surprised by the variety of options to choose from. A strong and popular choice would be one of the scents that popularized the milky fig aroma in the '90s: L'Artisan Parfumeur's Premier Figuier or Diptyque's Philosykos. Priced at $210 for 100ml, the former incorporates both the fig fruit and fig leaves to create a well-balanced, woody, and ripe scent. You'll also notice hints of cedarwood and sandalwood. Diptyque's Philosykos, which retails at $220 for 75ml, has a touch of spice with notes of black pepper that complement the fruity fig flavor.
Advertisement
For a more vibrant and dewy scent, try Phlur's Father Figure Eau De Parfum ($96), which features notes of fig, jasmine, and sandalwood. If you aren't quite ready to wear the woodsy and cozy fragrance, you can choose to fill your home with the earthy aroma by using a candle. Consider picking up Diptyque's exotic Figuier candle ($42) to instantly transport yourself to the Mediterranean countryside.