Gauzy Materials Are All Over The Fall Runways - Our Best Styling Tips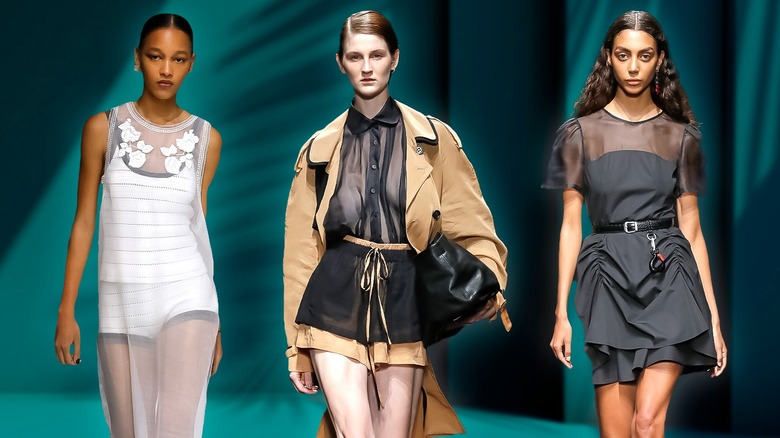 Static Media / Shutterstock / Getty
Think of light and airy gauzy fabrics like organza, tulle, and tissue, and you invoke a sense of whimsy mixed with ethereal elegance. It's safe to say that donning dresses with some of these elements added in any measure is enough to make us feel like real-life princesses. With all these benefits, it should be no surprise that these fabrics have a timeless appeal. Some versions can be found on runways, social media content, or street style at any given point in time. However, we have noticed a particular proliferation of these gauzy materials all over runways as fashion weeks convene across the world.
A few other noteworthy fall trends include the sweater dress, which is making a strong comeback, and white for fall. If you are keen to jump on the gauzy fabric trend, in particular, we recommend a few styling tips that include wearing it as a sheer overlay to have you feeling comfortable and looking great.
Wear it as a sheer overlay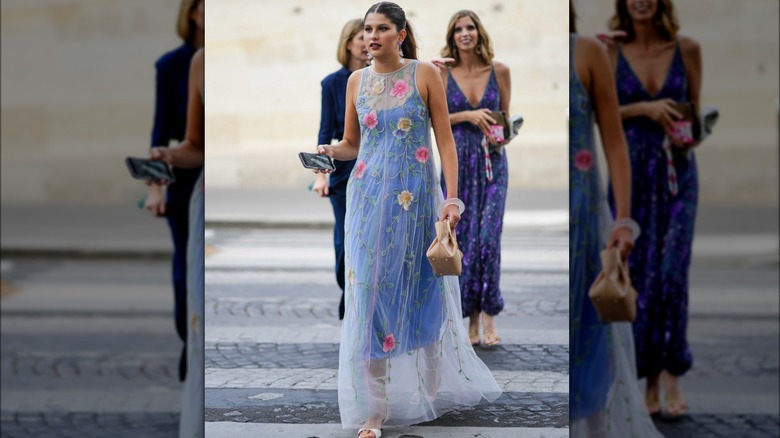 Edward Berthelot/Getty Images
As the fall season is all about layering your clothes, take a cue from the weather and incorporate sheer fabrics in your dressing in the form of a flowy floor-length overlay. To maintain the fun and flirty vibe of the outfit without looking too matronly, you can pair the sheer printed overlay with a short, fitted dress underneath.
Look for it in the neckline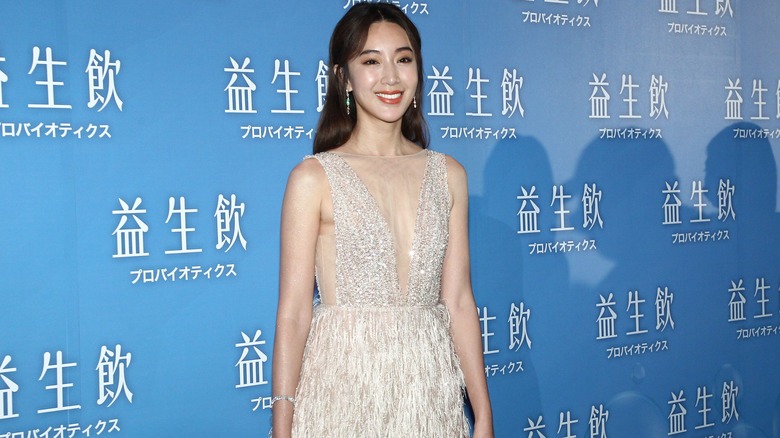 Tpg/Getty Images
Depending on how these sheer fabrics are used, they can allow you to portray yourself as sexy or modest. For the latter, in particular, adding a layer of gauzy fabric to a very low neckline or a bare midriff can help you feel comfortable while still allowing for an allure fashion peek-a-boo.
Layers make all the difference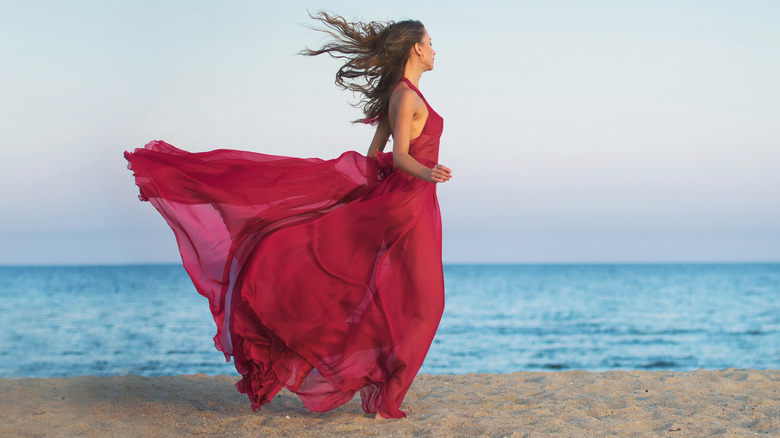 Valery Sidelnykov/Shutterstock
Styling gauzy material may be tricky for some, especially if you are not keen to lay your body bare for everyone to see. That said, you could play with soft chiffon fabrics layered upon themselves to add flattering bounce and vibrancy to an outfit. A dress, for example, could be cut or tailored in a variety of ways, such as in this halter style.
Try an unexpected combination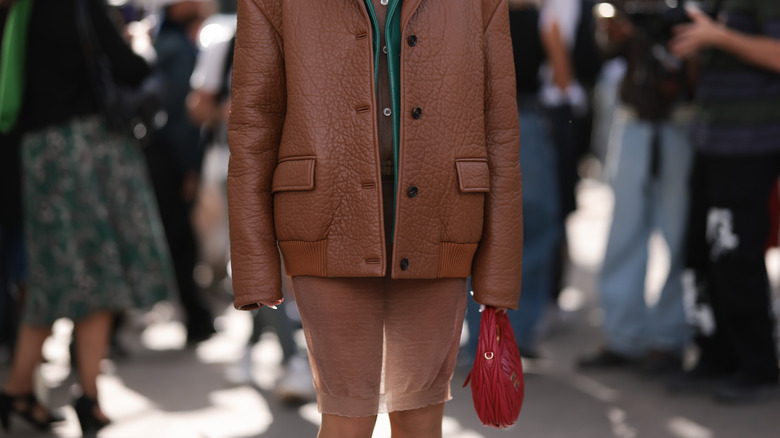 Jeremy Moeller/Getty Images
Fashion is all about having fun, so don't be afraid to play around with unexpected combinations when it comes to styling gauzy fabrics. A sheer bottom may be daunting for many, but when paired with a long and boxy faux leather biker jacket, like above, it becomes wearable and chic at the same time.
Go gauzy on the sleeves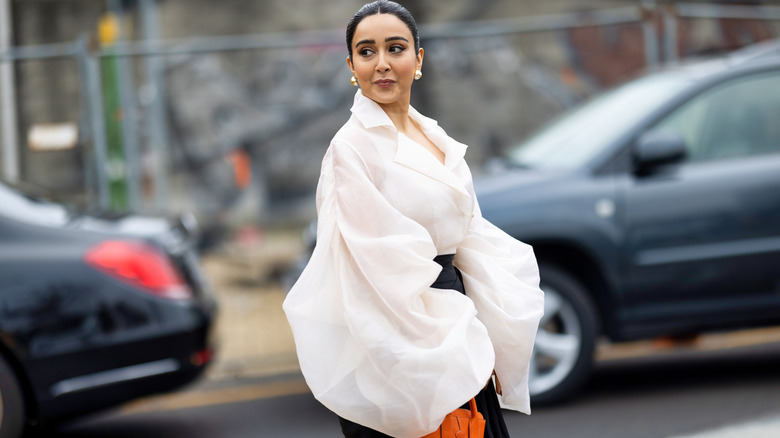 Valentina Frugiuele/Getty Images
In our opinion, the easiest way to play with this trend is to incorporate the organza fabric into your sleeves. A balloon-style sleeve blouse or dress adds oomph and drama without the need to commit to showing too much skin on areas of the body you aren't comfortable showing off. The whimsy factor is played up too.
Gauzy and shine pair well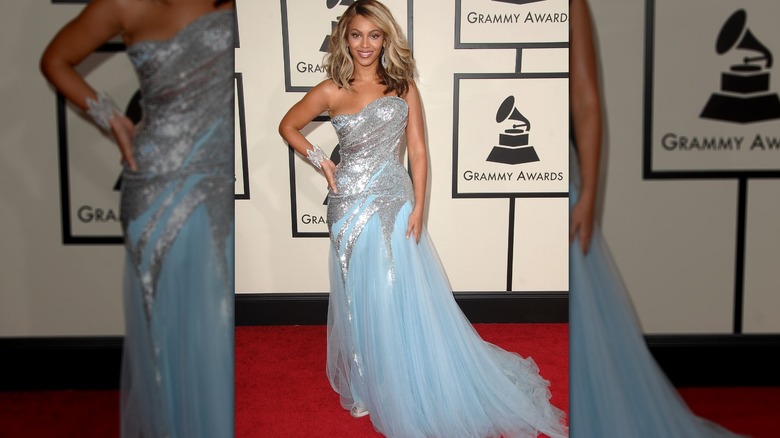 Steve Granitz/Getty Images
In case wearing sheer intimidates you, choose a lightweight tulle fabric and embellish it with sequins or other shiny bits throughout. In a dress, this will grab the light in a specific way and draw attention to the sparkles, making you look like you are lit from within. Don't believe us? Just take a cue from Queen B.