White For Fall: How To Style The Groundbreaking Trend In 2023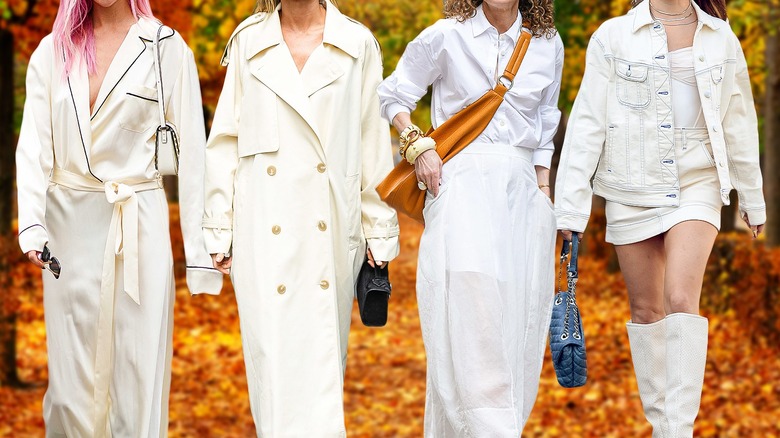 Static Media/Shutterstock/Getty
Traditionally, as soon as the temperature drops and the first leaves turn yellow, we embrace darker colors for our ensembles. As Labor Day marks the unofficial end of summer, this shifts our attires into shades that land on the darker end of the color palette, such as black, brown, purple, and burgundy. Some bolder fashion enthusiasts may even opt for brighter orange and yellow shades to add a vibrant touch to their looks. But what about white? How much truth is there about the "no white after Labor Day" rule? 
Traditionally, white is a favorite color worn during the hot summer season and is associated with flowy summer dresses, shorts, and tank tops. And if we do choose to wear white, it's usually a small part of our overall outfit and not the dominant color of our fall looks.
But not anymore. Because this season, white is making an impressive entrance as the groundbreaking trend for fall 2023. From white accents to all-white apparel, white is currently dominating the fashion scene. Emulate the style and embrace the trend by incorporating white into your classic fall ensembles — we'll show you how. 
Pair a ruffled top with sleek bottoms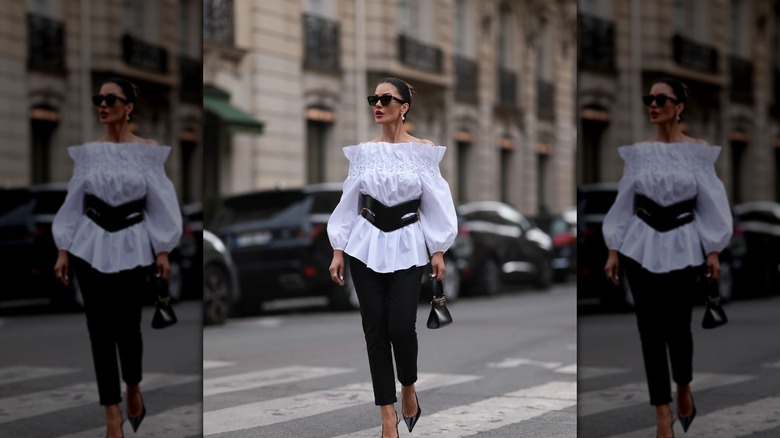 Jeremy Moeller/Getty Images
This fall, style the white clothing trend with a ruffled blouse and add a touch of elegance to your ensemble. Depending on how you choose to pair it, this blouse can be worn up or down. The off-the-shoulder touch makes this piece a chic choice for a night out with a pair of sleek trousers, a leather belt cinched at the waist, and high heels. Alternatively, for a more casual affair, wear it with a pair of slim-fit jeans and ankle boots, tucking the blouse in your pants and skipping the belt.
Throw a blazer over an asymmetrical white dress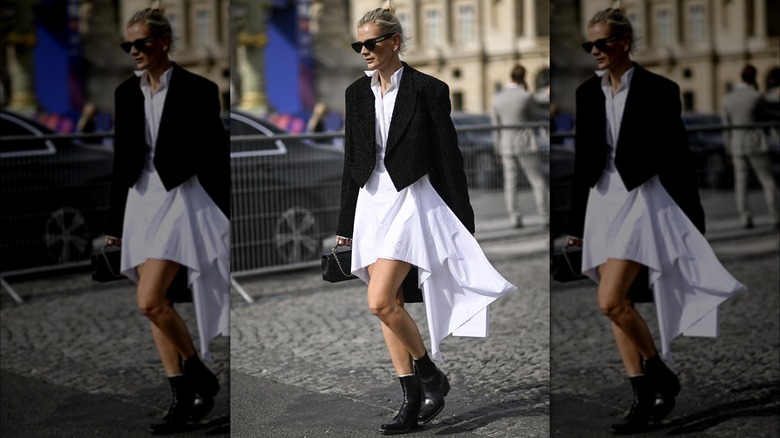 Daniel Zuchnik/Getty Images
Bring out the rock star in you by playing around with asymmetrical ensembles paired with neutral blazers. The plain white shirt dress is revamped in this unique style, making it a perfect choice for every occasion. The waistline seams complement the waist, and the asymmetrical detail can make your legs look longer. Pair it with a black blazer (kick it up a notch and make this one asymmetrical as well!) and combat boots to rock the edgy style.
Go all-white for a head-turning look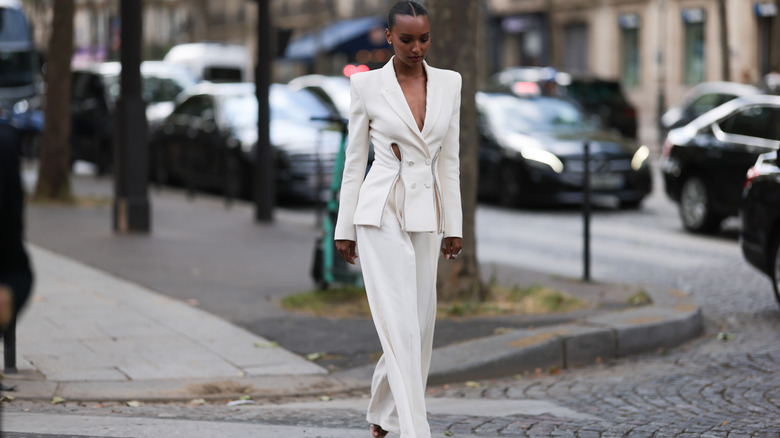 Jeremy Moeller/Getty Images
Style your white pants with a white suit jacket this fall for an all-white look. The all-white suit is the perfect choice for balancing femininity with confidence — it's sexy without being provocative, feminine without being excessively girly, and powerful without being too loud. This suit can be worn at the office or elevated with black high heels, a black clutch, and golden accessories for a night out. However you embellish the look, this style effortlessly exudes timeless elegance and perfectly complements any occasion.
Accessorize your floral white dress and pair it with a cardigan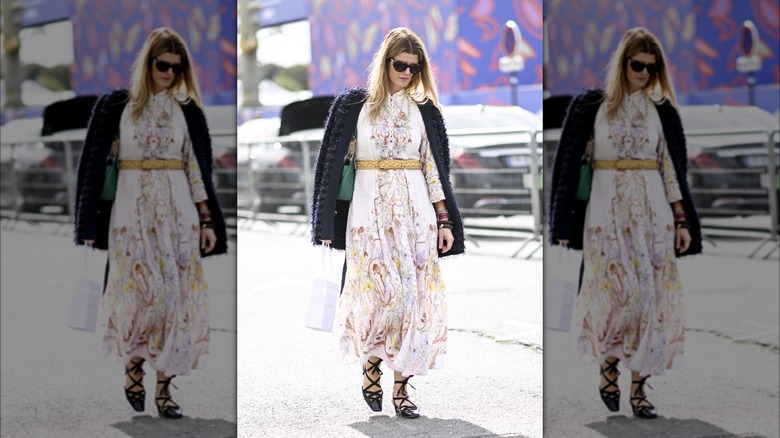 Daniel Zuchnik/Getty Images
Bring a little spring to your fall with the floral white dress. The romantic allure of floral patterns is timeless and never really out of season. Accessorize your white dress with a striking gold belt and long golden chain necklaces to elevate the look. Add a wool cardigan in a complimenting shade to keep you warm and stylish. Opt for wooden bangles, brown ankle boots, and a jean jacket for a boho spin.
One A-line skirt, several styling options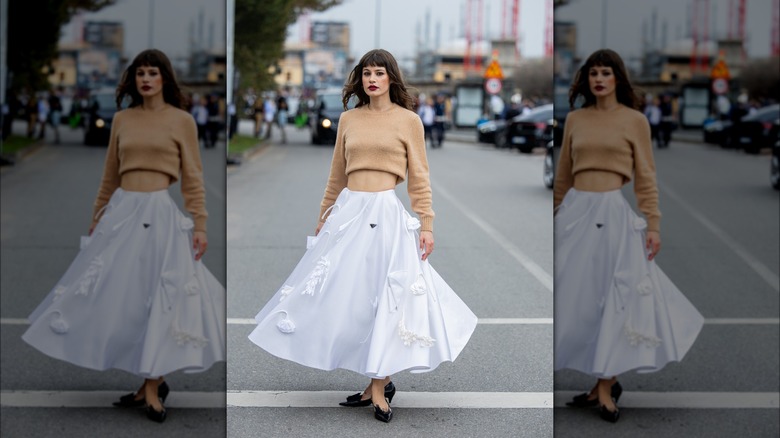 Christian Vierig/Getty Images
The A-line skirt is a classic option that perfectly compliments your natural body curves, enhances your waistline, and is a must-have trend for fall 2023. This white A-line choice can seamlessly elevate your fall attire from drab to fab and form the basis of various dress styles and options. Since it's so versatile, it can be paired with different tops, shoes, and accessories. Wear it with a sweater for a casual look, a long-sleeved lace bodice for a romantic date, or a floral T-shirt and a soft cardigan for a romantic feel. 
Compliment your cozy white sweater with bold shoes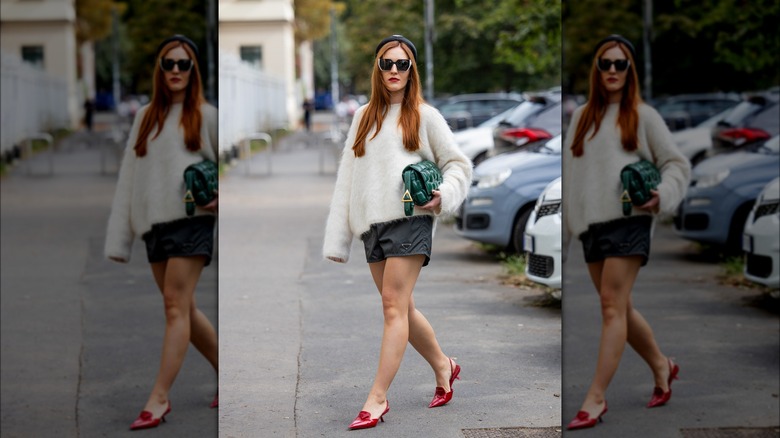 Christian Vierig/Getty Images
One of the things we love most about fall is that we can finally cocoon ourselves in the comforting embrace of a cozy sweater. This fall, indulge yourself in this warm fuzzy feeling with a white sweater and style it with another hot trend this season — bright red shoes. Versatile and easy to match with all sorts of pants and skirts, this sweater will become your favorite go-to option for every fall attire; match it with daring red-hot shoes, and you will embody fashion's latest trends.