A-Line Skirts Are The Must-Have Trend For Fall 2023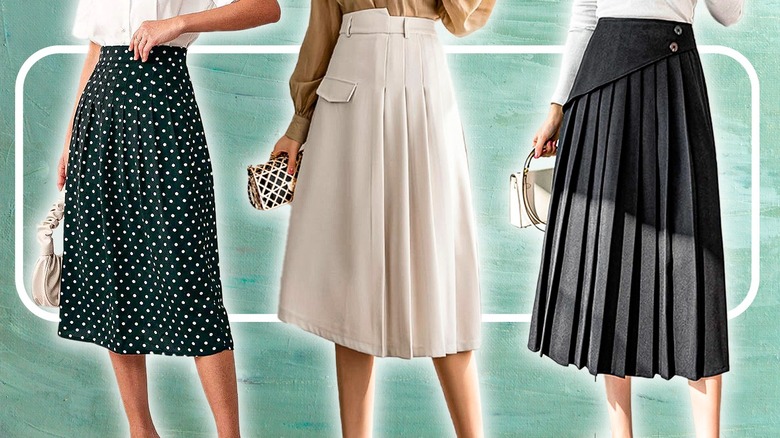 Static Media/Shutterstock
Don't let the heat and humidity fool you – chillier days are right around the corner, and fall 2023 fashion trends are already rolling out. All signs point to this autumn being filled with classic, sophisticated styles. Wearability is in and you can expect to see lots of tailored pieces and practical minimalist looks. If you're planning to restock your fall wardrobe, the essential item you'll need for a timeless, effortless aesthetic is an A-line midi skirt.
An A-line midi skirt is a mature and simple style that can feel simultaneously vintage and ultra-modern. The length is whimsical without being childish, while the relaxed, natural flow of fabric gives your outfit a cozy energy that's perfect for the autumn months. What's more, an A-line skirt has an understated femininity that you can play up with delicate accessories or contrast against edgier, dynamic pieces for an eye-catching ensemble. Once you have a few A-line skirts in your closet, you'll be ready to style looks for any and all occasions this fall.
Simple elegance
A-line skirts are excellent for moments when you want to look elegant without putting in too much effort. Go for a mid-length skirt in a luxe fabric, like wool (or linen if you live in a warmer climate). While you can experiment with prints, your skirt will be more versatile if you choose a dark neutral color, such as navy blue, black, or warm brown. Pair it with an attractive blouse and sensible shoes, and you'll exude a charming, no-nonsense sophistication wherever you go.
Romantic silhouettes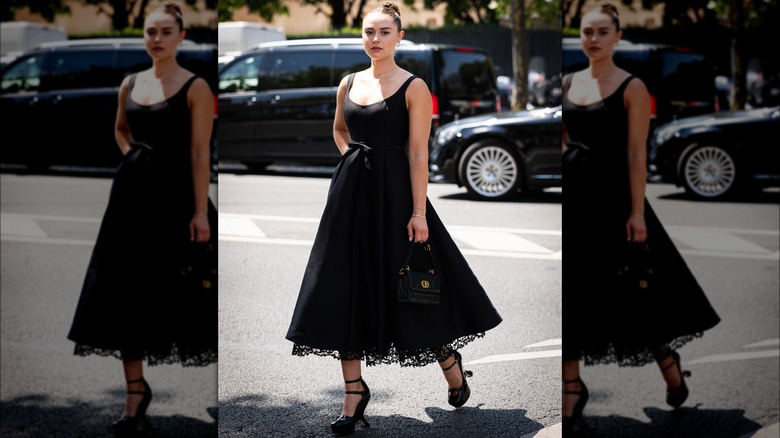 Claudio Lavenia/Getty
To channel your inner Grace Kelly, consider pairing an A-line midi skirt with a matching top and styling it like a dress. You can get fancy with a lace skirt and ornate shirt, or keep it simple with a regular A-line skirt and a tank top. Complete the look with heels and dainty jewelry. To create a more vintage silhouette, experiment with a petticoat underneath your A-line skirt, which adds volume and makes the outfit feel more formal.
Cozy jewel tones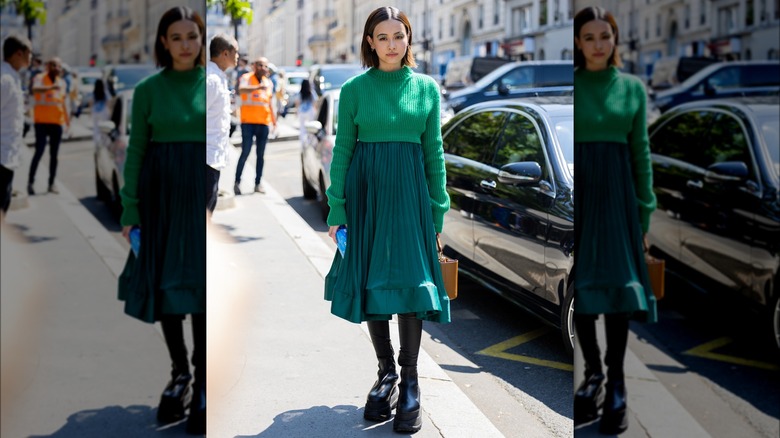 Christian Vierig/Getty
An A-line skirt can take your cozy fall aesthetic to the next level. Rock your midi skirt with a sweater, ideally cropped or tucked in. If your sweater is too thick to tuck into your skirt, try a French tuck or wear it loose for an edgier look. For the color palette, play around with rich jewel tones that feel warm and decadent. While a plain A-line skirt works just fine, a skirt with soft pleats pairs nicely with a knit top and has a subtle academic energy that evokes traditional autumn motifs.
Chic leather ensembles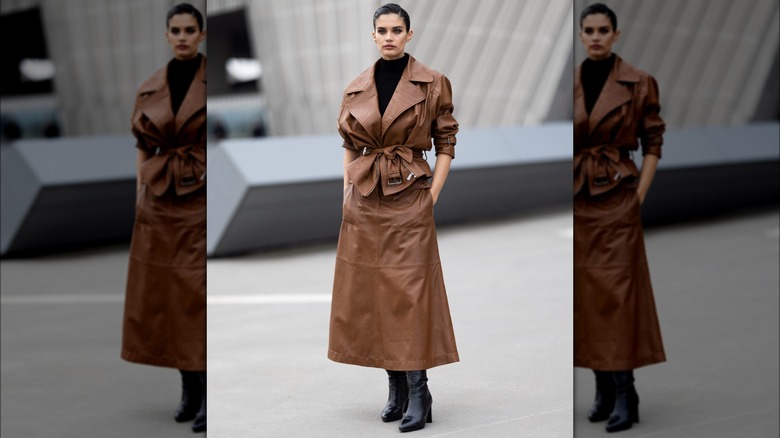 Valentina Frugiuele/Getty
Give your A-line skirt a tougher edge with a structured material, like leather. A dark brown leather skirt is a quintessential autumn piece, and the A-line silhouette is a fun divergence from the straight lines we often associate with typical leather skirts. Wear it with a blouse for a workday, or stay warm (and incredibly cool) by pairing it with a matching leather biker jacket.
Relaxed in denim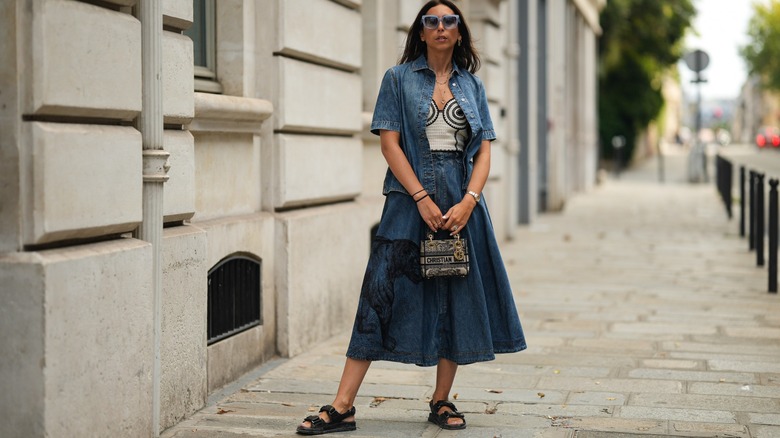 Edward Berthelot/Getty
Denim midi skirts sometimes get a bad fashion reputation for being associated with old-fashioned or conservative aesthetics. However, an A-line denim skirt with a cute crop top or T-shirt is an excellent and practical 'fit for an independent woman having a relaxing weekend out on the town. You can make this look feel even more stylized with chunky sandals and an artsy tote bag. Later in the day, swap out the sandals for heeled booties and the tote for a stylish purse, and you'll be ready to hit the bars with your friends.
For business and for pleasure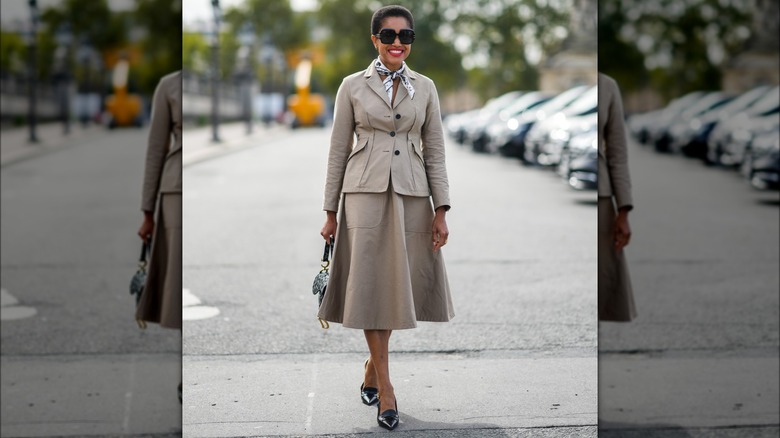 Edward Berthelot/Getty
Join in on the midi skirt suit trend and show off your A-line midi skirt with a coordinating blazer. This is a creative twist on mainstream workwear, but you can also bring out this ensemble for lunch dates, formal daytime events, and even when you want to feel posh while traveling. Although an A-line skirt may seem a little bland at first, this classic piece can elevate any aesthetic, whether it be girly or punk, and add a tasteful touch to your go-to autumn outfits.