Bright Red Shoes Are Going To Be A Fall 2023 Staple - Here's How To Wear Them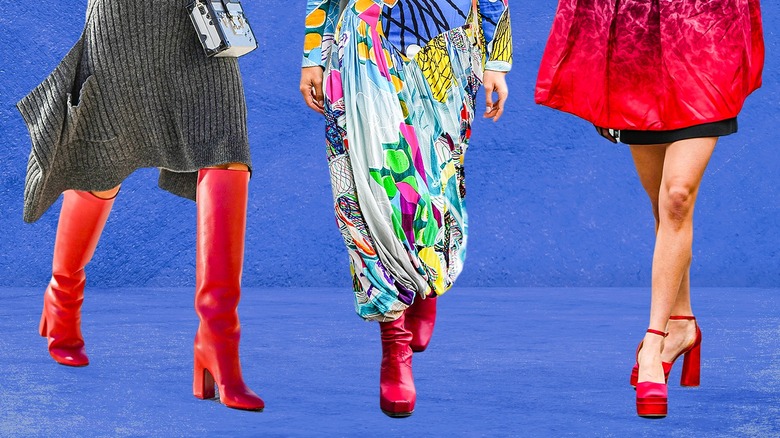 Static Media / Shutterstock / Getty
Just as the autumn foliage changes its hues, the shift in seasons sets the stage for exciting new color palettes in fashion. But it doesn't all have to be about predictable fall yellows and oranges. Autumn leaves also evoke fire and passion with rich red shades. And this year, vivid reds are among the leading color trends for fall 2023 — including striking red shoes in all sorts of styles.
With their chic, daring energy, red shoes are an easy shortcut to outfits that look polished and intentional. Plus, there are so many ways to wear them. The fall and winter shoe trends for 2023 suggest that we'll be seeing some exciting styles and materials this autumn, from pointed toes and sky-high platforms to puffy cloudcore shoes. So why not celebrate and highlight these cutting-edge styles by wearing them in vibrant red? Whether your signature shoe is a stiletto heel or a sturdy boot, experimenting with bright red shoes can breathe new life into your autumn wardrobe.
Contrast dark slacks with bright red heels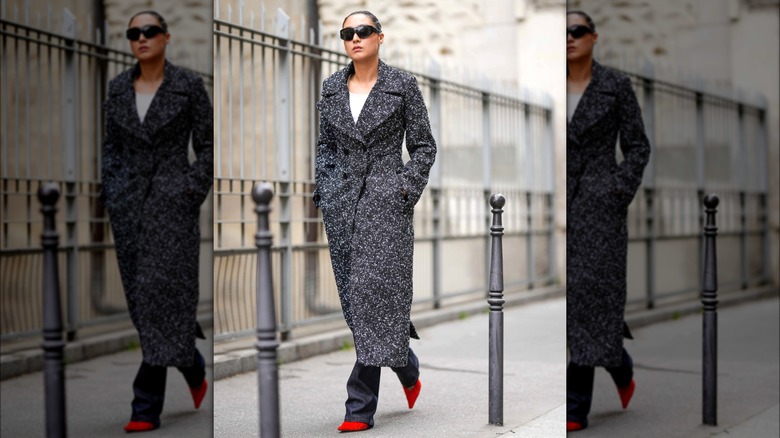 Edward Berthelot/Getty Images
Is there anything quite as glamorous as a subtle hint of luxury? Use your favorite red pumps to create a sense of mystery and allure by wearing them with a pair of tailored dark slacks or trousers. In this look, less is definitely more, and the luscious but restrained peep of red at the toe is so fabulous that it's nearly hypnotizing. Don this combination whenever you need to feel confident and professional this fall, whether you're putting together an interview outfit, dressing for a big presentation, or having a meeting to renegotiate your salary.
Add a sense of whimsy with chunky red sneakers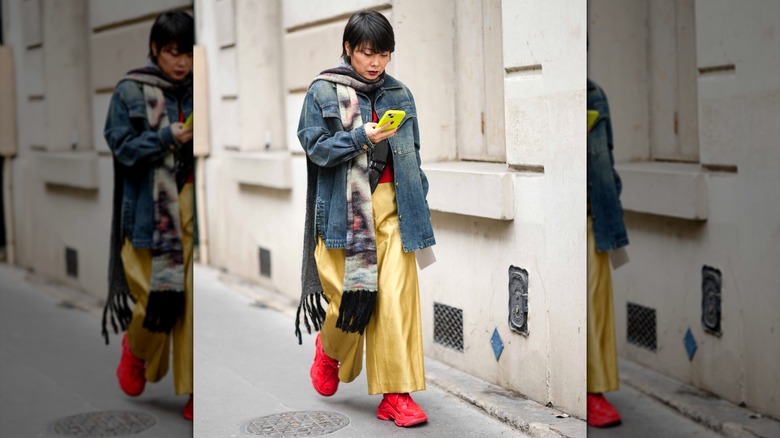 Edward Berthelot/Getty Images
With their oversized profile, chunky sneakers already add a spirit of playfulness to any outfit. But why stop there? Selecting chunky sneakers in a larger-than-life shade like bright red delivers a full-on punch of fashionable whimsy to your autumn wardrobe. Pair thick red sneakers with a muted outfit to create a wild focal point, or use them as the cherry on top of an already eclectic look to cultivate artistic vibes.
Red pumps enliven neutral ensembles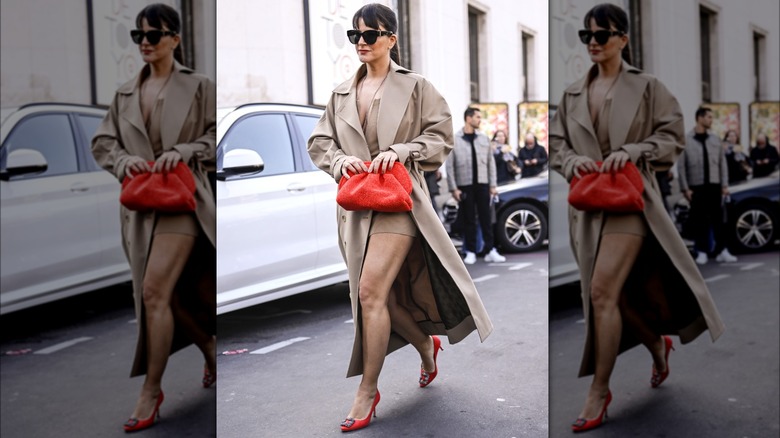 Daniel Zuchnik/Getty Images
Whimsy is one thing, but the boldness of a red shoe doesn't preclude elegance. To wear your favorite red footwear without seeming garish, try pairing them with a decidedly understated fall outfit. Neutrals look incredible with red, from classic black, white, and gray to khaki and brown. Plus, it's easy to make the addition of a red shoe harmonious — turn it into a proper accent color by adding a red handbag and red lipstick, then enjoy glorious cohesion from top to bottom.
Create a sexy statement with tall red boots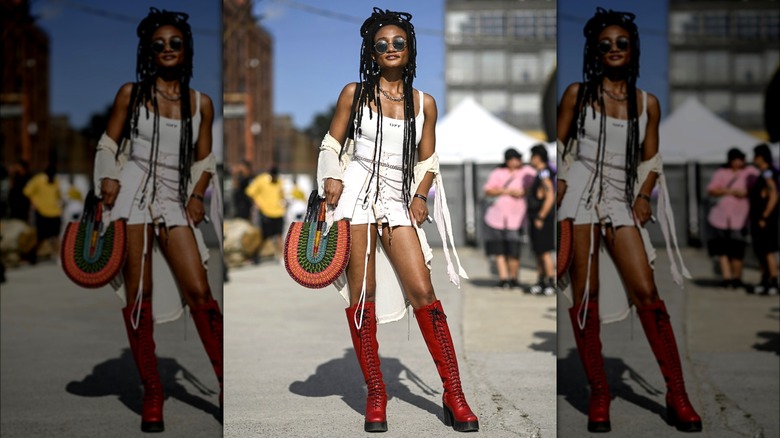 Daniel Zuchnik/Getty Images
Red is the color of passion, making it a perfect choice for sexy statement footwear this fall. Show off your fiery spirit with a pair of tall red boots, which look incredible in midi, knee-high, and even thigh-high styles. For a bohemian or rock-and-roll-inspired look, you can't go wrong with red lug-sole boots of any height. Or let your inner diva come out to play with tall red stiletto boots, which are sure to turn heads in matte or patent finishes.
Wear red flats with everything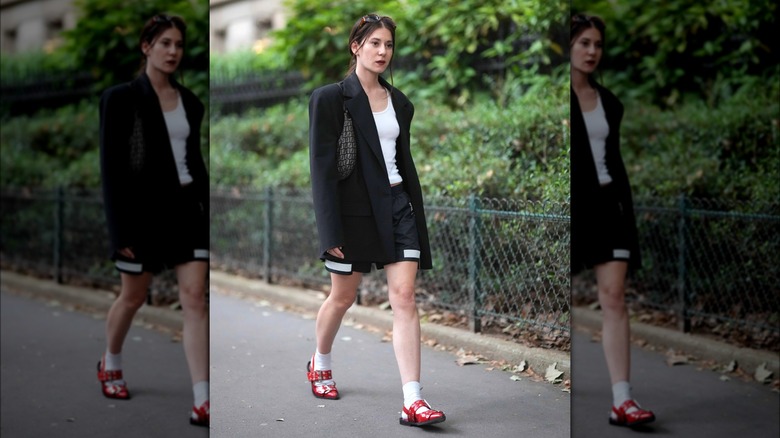 Edward Berthelot/Getty Images
From sportswear to business attire, you can get away with wearing red flats as an accompaniment to pretty much any autumn look. A pair of timeless red ballerina flats goes equally well with jeans or pencil skirts, offering your wardrobe stylish versatility. Meanwhile, red flats with unique detailing — like buckles, grommets, studs, or trendy rhinestones and sequins — let you easily add a dash of visual interest to an everyday outfit. And don't overlook the juxtaposition of choosing sweet mary jane flats in bright red, which creates an innocent but feisty aesthetic.
Red high-top sneakers add a cool factor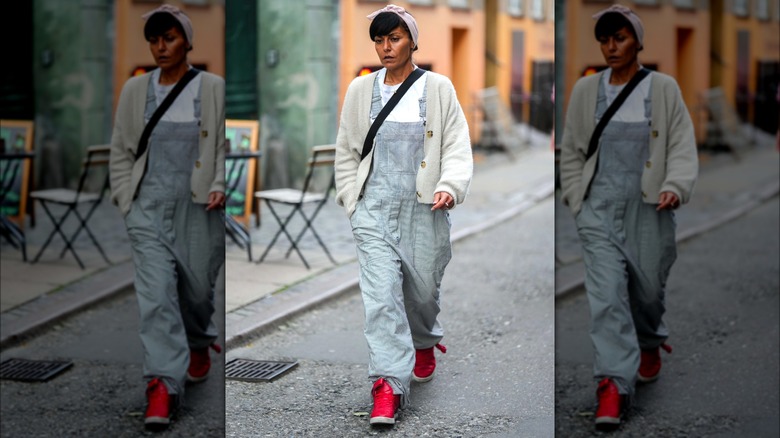 Edward Berthelot/Getty Images
If chunky red sneakers are the funky sports shoe option, then red high-tops have to be their sharp streetwear alternative. Whether you prefer a sleek high-top style like classic Converse or a bulkier silhouette à la Air Jordans, selecting these sneakers in bright red instills your ensembles with effortless cool. Wearing red high-tops with denim is a no-brainer, from jeans and denim maxi skirts to baggy denim overalls. But these red sneakers also look good with other casual bottoms like cargo or track pants — and can even be styled with a suit to add a saucy edge.
Sass up a minidress with red cowboy boots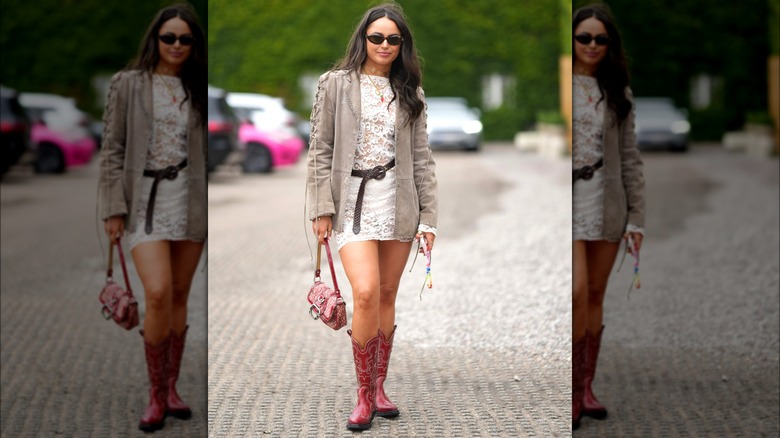 Edward Berthelot/Getty Images
The combo of cowboy boots with a minidress is always cute. But choosing those boots in a fun red shade contributes an extra layer of spunkiness and charm. Better yet, this look is a fantastic transitional ensemble for moving from summer to fall. Give your summer dresses a last hurrah and make them autumn-appropriate by pairing them with a blazers or cardigans, especially in neutrals or earth tones. Then finish the look with your red cowboy boots, which add vibrance and are an ideal weight for traversing chilly fall days.
Embrace edginess with red platform heels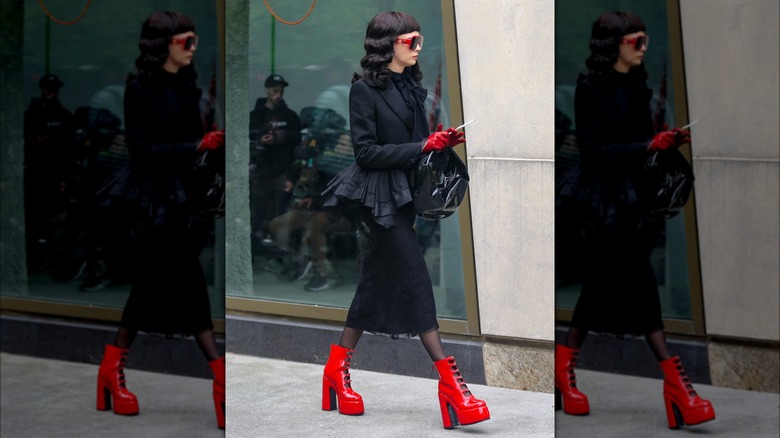 Jose Perez/bauer-griffin
Of course, no fall wardrobe is complete without a few dramatic, edgy ensembles, and red platform heels can help you take your spooky season looks to the next level. Naturally, these spicy shoes work with witchy, gothic outfits, but cherry-red platforms are also more versatile than you might expect. These shoes look equally fierce with a short skater skirt, a long bodycon dress, or a pair of artfully ripped jeans, letting you play with many different autumn styles.
Accent elegant autumn ensembles with red sling-backs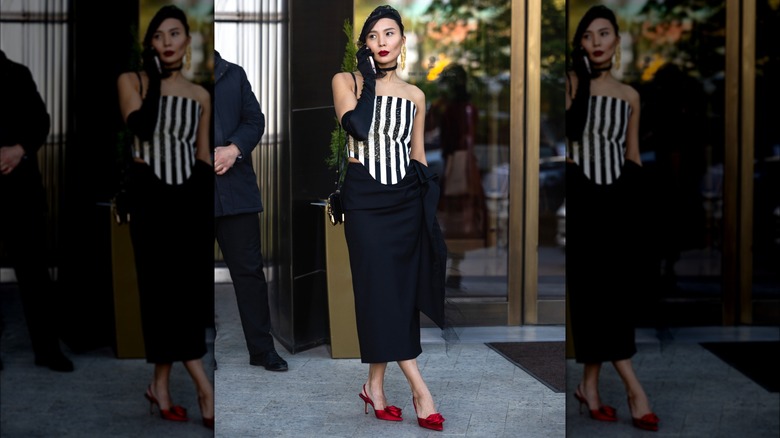 Christian Vierig/Getty Images
With their open heel, you may think that sling-backs are quintessentially spring and summer shoes, but they can also be styled for refined autumn looks. Often, dark colors are de rigueur for autumnal evening wear, and these moody palettes are an ideal backdrop for the spark of a bright red shoe. Use red sling-back heels as a transitional piece in the sunny days of early fall by wearing them with long skirts and gowns, or go for a more casual look by partnering them with trendy cropped jeans. As the weather turns colder, simply layer your sling-backs over hose or tights to add warmth without sacrificing the style.
Wear red peep-toes over tights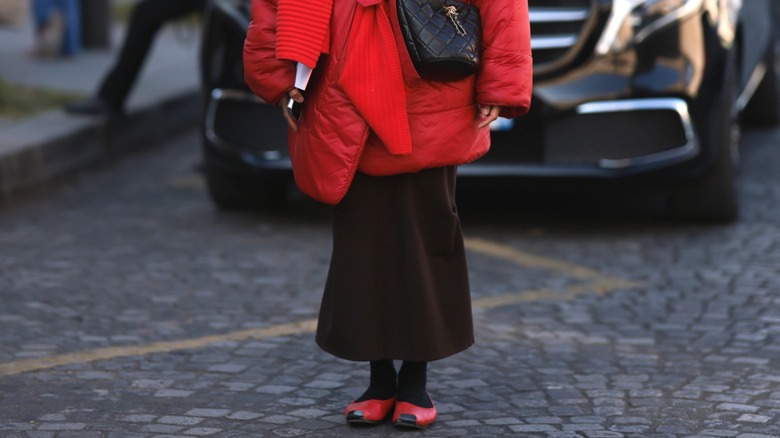 Jeremy Moeller/Getty Images
Think the arrival of cooler weather means you have to put your cheeky red peep-toe shoes away? We beg to differ. Like sling-backs, you can make these shoes seasonally appropriate — and create contrast in the process — by wearing your favorite peep-toes with a pair of tights. Choosing dark colors like black and heavier weights like a solid 80 denier will make your red shoes pop. Or, for a subtler contrast, slip them on over nude hose or sheer tights that allow a glimpse of skin underneath.
Add the barest sporty vibe with low-profile red sneakers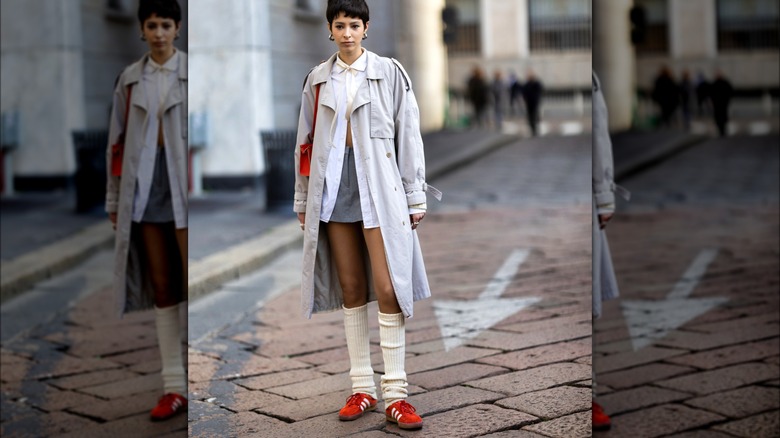 Valentina Frugiuele/Getty Images
It's easy to pull off light, athletic looks in the summer. But when fall arrives, bringing heavier, layered fashions, you might not be sure how to style your sporty shoes. Whether you're donning cozy layers like pleated skirts with oversized knits or going timeless with a collared blouse and a minimalist trench, don't count out your sleekest red sneakers. Adding these shoes imbues your ensemble with just a hint of quirky personality, without going as bold as chunky sneakers. You can even wear low-profile sneakers over tights or with knee-high socks and leg warmers to balance their inherent sportiness with a dose of autumnal comfort.
Add red shoes to complete a monochromatic look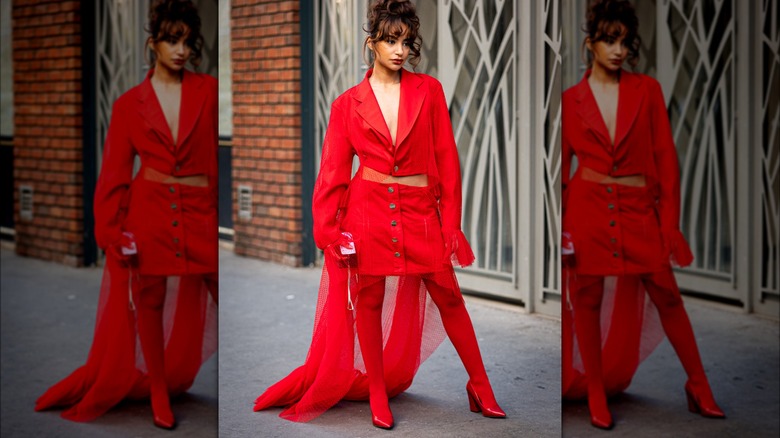 Claudio Lavenia/Getty Images
Monochromatic looks are endlessly chic. But rather than defaulting to admittedly sharp all-black outfits or trendy monochrome khaki styles, why not try something bolder by donning red from head to toe? Layer identical shades of fire engine red or create a nuanced look with varying hues of cherry, burgundy, and rust. Whichever approach you take, adding a striking red shoe is the perfect way to complete the ensemble.