Cropped Jeans Are Having A Moment - How To Wear The Fall 2023 Trend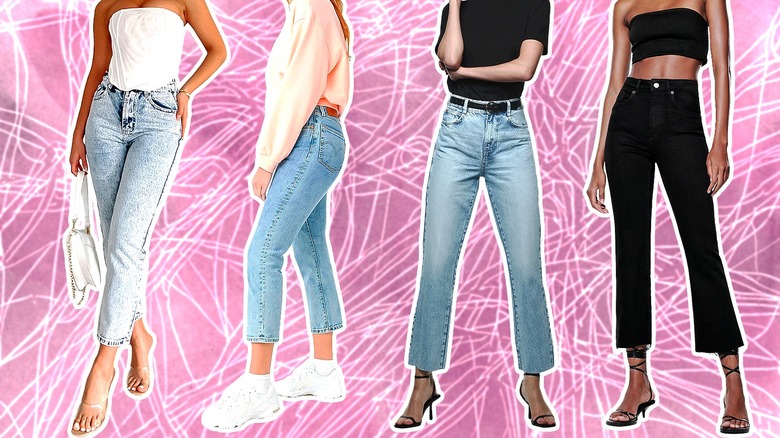 Static Media/Shutterstock
If you're tired of the baggy and oversized denim trends, there's some good news for the upcoming fall season. Cropped jeans are back for another moment after taking over our Y2K memories. Sometimes referred to as capri pants, cropped jeans typically signify anything below the knee to above the ankle. The crop of these jeans gives you more space to showcase your footwear while helping you appear taller. For petite women, cropped jeans can also be a hack for getting the proper cut on your denim.
While we usually see cropped lengths in casual settings, they also make an appearance on the high fashion scene. The Alexander McQueen Pre-Autumn/Winter 2023 Lookbook showcased the cropped pant in officewear and denim, both being perfect items to transition your wardrobe into the fall season. With plenty of ways of sporting cropped denim pants in the fall, you'll easily be able to find the perfect look for you.
Wear them with color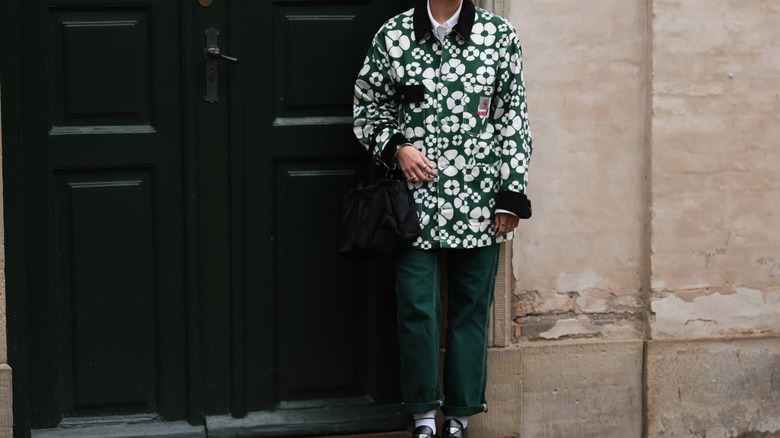 Jeremy Moeller/Getty Images
Cropped jeans are a fun way to bring a modern refresh to your traditional denim style. Although just by going with the cropped length, you'll be making a statement, there's no reason you can't add another pop. Mixing cropped jeans with color is the best way to enjoy this shorter length while maintaining your item's structured design. For maximalists looking for a quirkier aesthetic, colored cropped jeans will do the trick.
Rock them in monochrome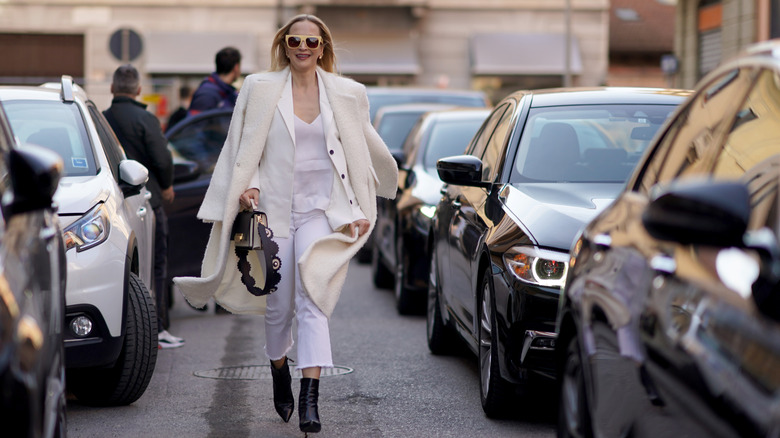 Edward Berthelot/Getty Images
You can use one of the most common styling tricks to elevate the look of these casual jeans. By wearing them as part of a monochrome 'fit, you'll level up the appearance of your cropped jeans and give them a more refined look. You can't go wrong with a monochromatic ensemble, whether all-white or in a statement hue. Add contrasting colors to your footwear and accessories for a balanced look that isn't boring.
Classic blue jeans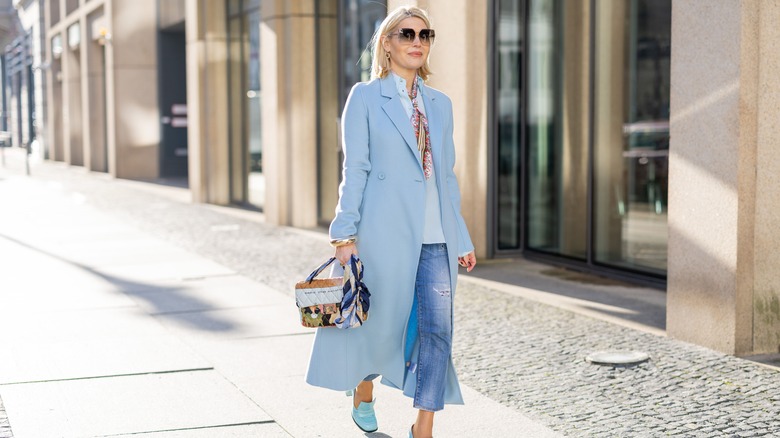 Andreas Rentz/Getty Images
Cropped jeans in a classic blue color are a staple in every wardrobe. Pick between light, medium, or dark washes for a look that best suits your style. Wear cropped denim jeans with a classic trench to finish the look. Distressed denim can give your 'fit a little more edge, but don't go over the top if you want an overall sleek feel.
Pair them well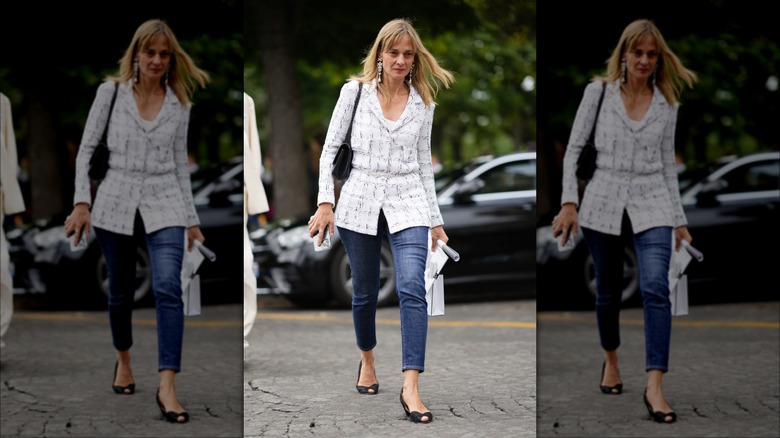 Edward Berthelot/Getty Images
Balancing dressier pieces with casual items is the best way to style your fall 'fits. With a relaxed garment like cropped jeans, you'll need to style them against more elevated objects. Blazers are one of those pieces that can lift up any ensemble with zero effort. Pair your cropped jeans with your favorite chic blazer and get a fashionable contrast that you'll repeat the entire season.
Rock them with flats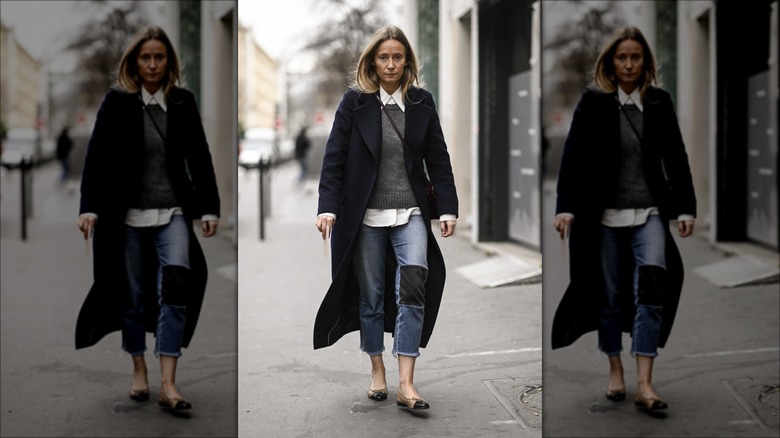 Daniel Zuchnik/Getty Images
While cropped jeans look stylish with ankle boots, they aren't the only footwear option you have. If you want a chic, on-the-go outfit, you'll want a pair of flats for this look. With plenty of upcoming shoe trends featuring flats, including mesh flats, cropped jeans are rising in popularity at precisely the right time. 
Cover up your crop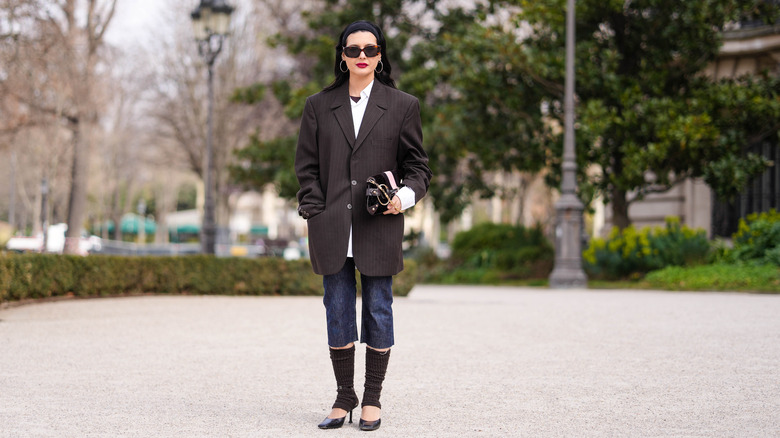 Edward Berthelot/Getty Images
Although it may seem counterproductive, the extra space from cropped jeans allows us more room to layer up. We already know that the '90s and Y2K fashion eras have a hold over fashion trends, meaning it's time to bring out our leg warmers. We've seen brands like Miu Miu bring back the leg warmers in the past, which will give your cropped jeans an even more retro vibe. Along with leg warmers, you can also opt for taller boots to cover up that extra skin.