12 Fall/Winter 2023 Shoe Trends That Will Be A Step Above The Rest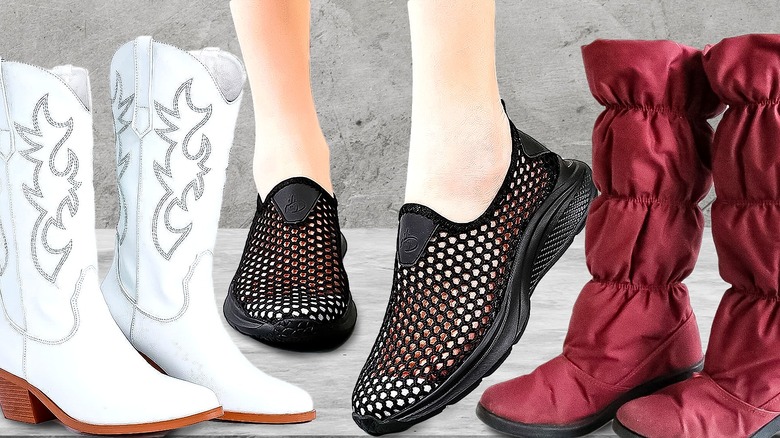 Static Media / Shutterstock
Once the sandals and slides return from whence they came, it's time to prep your closet with the shoe trends gracing official runways and unofficial catwalks alike for autumn and winter. After all, footwear plays a huge role in curating that perfect OOTD. When an outfit feels off, it's often what you choose to slip your toes into that ties it all together or throws off the aesthetic. Personal style is the most important consideration for choosing shoes you love, but taking a look at trends can be a great indicator of how you'd like to compile your outfits for the season — or longer. Not only that, but it's simply fun to switch up the footwear that hugs your feet.
If you're a little sick of your standard fare of black boots and a jacket when crunchy leaf season hits, this might be the year you trade them in for something metallic. Or, if you've been a big fan of mesh flats and platform heels, you'll be pleased to find that these trends aren't dipping out after summer ends. It's a lot to dissect, but we have you covered with trend analyses and predictions of which fall/winter shoe trends will come out on top this year.
Slides for cooler weather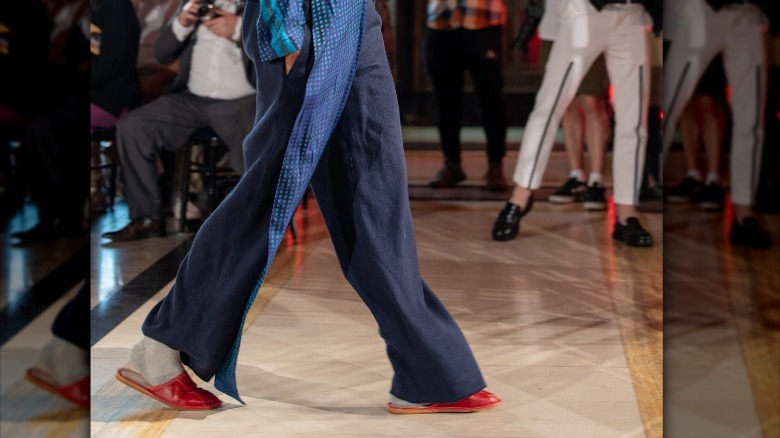 Shane Anthony Sinclair/bfc
Elevated slides have made waves this summer as a go-to shoe that won't ruin your outfit (or your feet). They're comfortable but stylish, and we'll be seeing an iteration of this shoe trend in autumn, too. If you were to take your indoor slippers outside, that's exactly what cool-weather slides are. They have sturdier soles for moseying along sidewalks, but the insoles tend to be just as comfy. What makes them different? Bright colors, textures, and patterns make them feel more like an outside shoe and less like what you wear after a shower.
Neon colors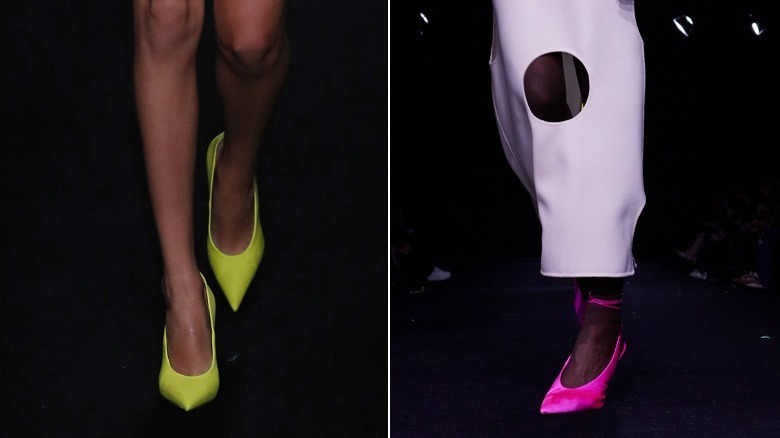 Peter White/Getty & Estrop/Getty Images
As all you style experts know, the '80s gave a lot in terms of fashion, and we often see trends from this era cropping up every season. This fall, rather than the muted neutrals taking their usual places, they're sharing the spotlight with bright neon hues. This is a pleasant (and welcome) surprise, especially when the cold-weather blues hit. These pops of color inject personality into any outfit, whether they star as a statement piece or blend in with other bright-toned garments. 
Pointed toes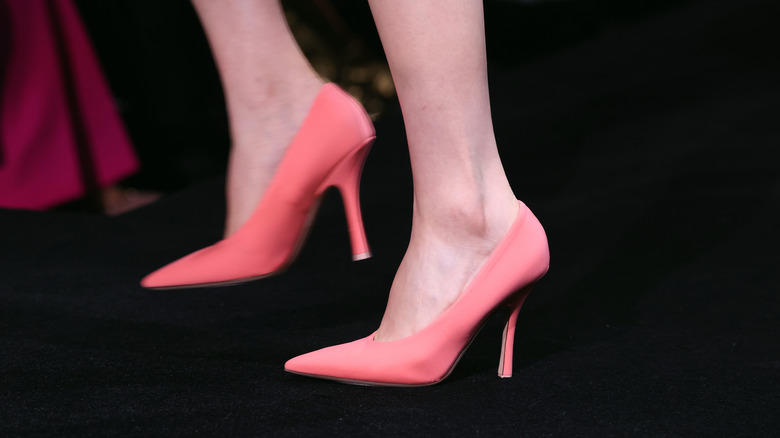 Pascal Le Segretain/Getty Images
Pointed toes are back with a vengeance. Though they're not necessarily the most comfortable for every foot type, there is something to be said for their consistent appearance every couple of years (and, to be honest, they've never really gone out of style). In the last year or so, we've seen square silhouettes hold the title as the most popular toe shape, but this iconic tapered look is majorly trending for autumn and winter 2023. Mix it with another trend, like neon or mesh, and you'll be set for the rest of the year.
Strappy Mary Janes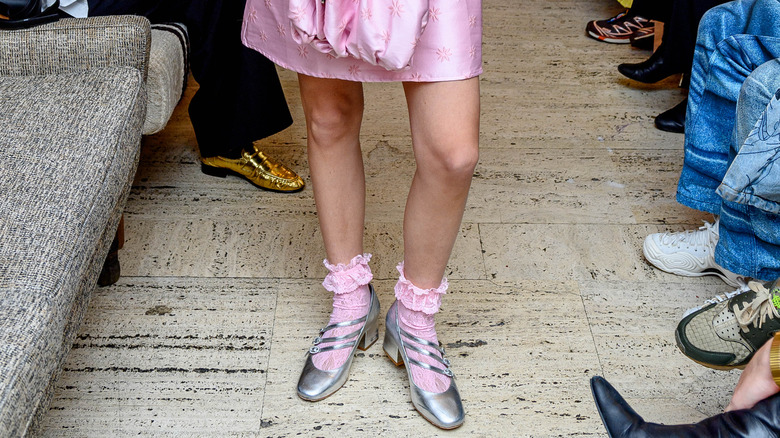 Roy Rochlin/Getty Images
Mary Janes — yes, those shoes from your childhood — have received a grown-up upgrade. With a higher heel and going heavy on the straps, these kid-friendly faves turned high fashion staples have been spotted at runway shows and around the streets of the most fashion-forward cities. Slanted, criss-cross, or stacks of straps are the details behind why they now feel so modernized. While different versions seem to be growing in popularity, we're hedging our bets on metallic and patent leather becoming favorites. 
Platforms are staying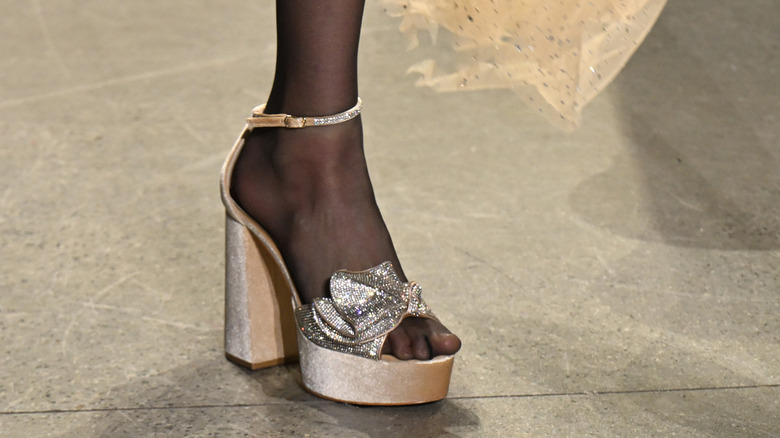 Noam Galai/Getty Images
Thought the sky-high heels wouldn't last? Think again. As one of the best shoe trends of 2023, we'll only be seeing a continuation of the chunky platform shoes that went viral after Valentino's Pink PP Fall/​Winter 2022-23 collection. The thick platform beneath the ball of the foot makes them comfier than your standard heel, so the reason for the obsession is justified. Closed-toe versions will likely be the biggest players in autumnal closets but don't underestimate the look of an open-toe heel with a pair of sheer tights. That'll take you from when the first leaf drops through to any New Year's Eve party.
Feather details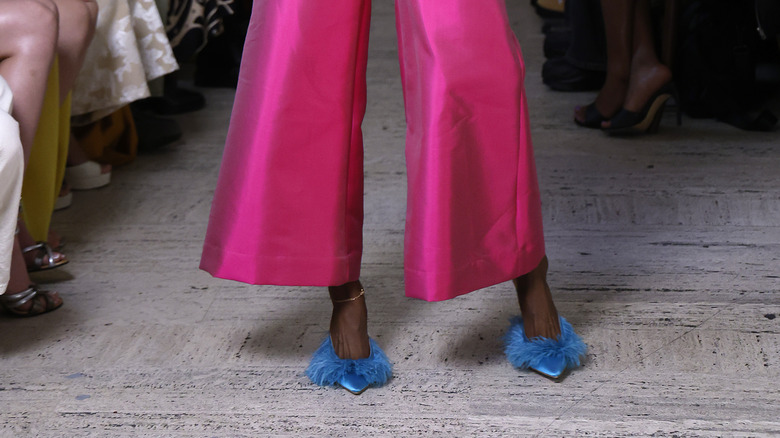 John Lamparski/Getty Images
Feathers are delicate in nature, but the second they're bunched together and added as a detail to a shoe or item of clothing, party mode is activated. They ultimately look elevated and fancy but are quirky enough to veer away from feeling pretentious. As basics like straight-cut jeans and pullover sweaters start rolling back in, shoes with this fluffy addition can help take relatively simple outfits to another level. 
Shin-skimming boots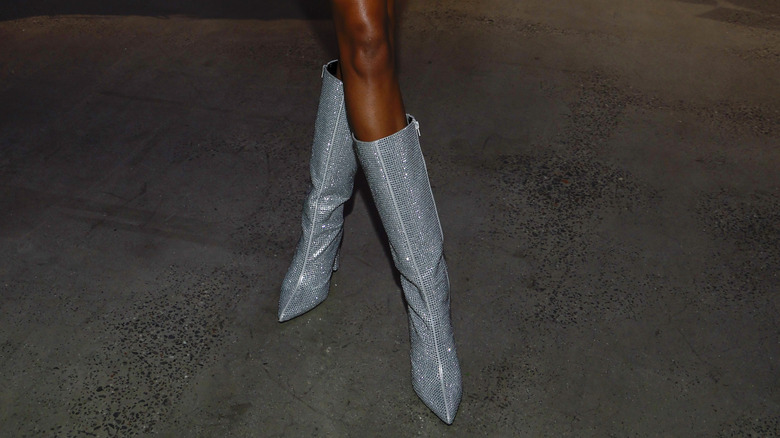 Jason Mendez/Getty Images
Riding boots had their heyday, and while they'll never fully fall out of the fashion sphere, people appear to be opting for shoes that don't blend in with the crowd. Shin-skimming boots are spiking in popularity for fall, but more specifically, options constructed out of unique materials (like faux hair or hide), bejeweled fabrics, or in vivid colors are rising on the scene. Pop them on with a shorter sweater dress, wear them over baggy jeans, or pair them with a miniskirt and tights. Besides, life is too short to only wear brown and black boots. 
Combat boots come out on top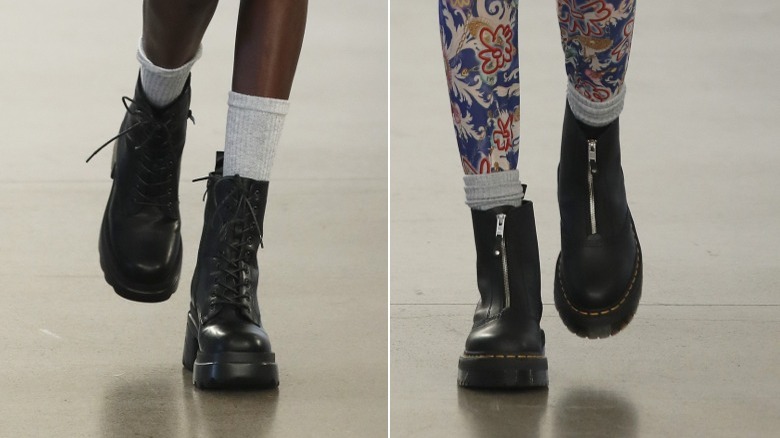 Al Zeta/Getty
Combat boots probably deserve to graduate from their work as a "trend" and enter the realm of being a classic. They've been popular for years, but small tweaks and details are tweaked every season they return. Aside from the expected lug sole and laces, we'll also be seeing a single zip up the front or on the side — an interesting take on a shoe that's normally tied. They're not reserved for grunge looks, either. The beauty of combat boots is how cool they look with any outfit.
Cloudcore and puffy shoes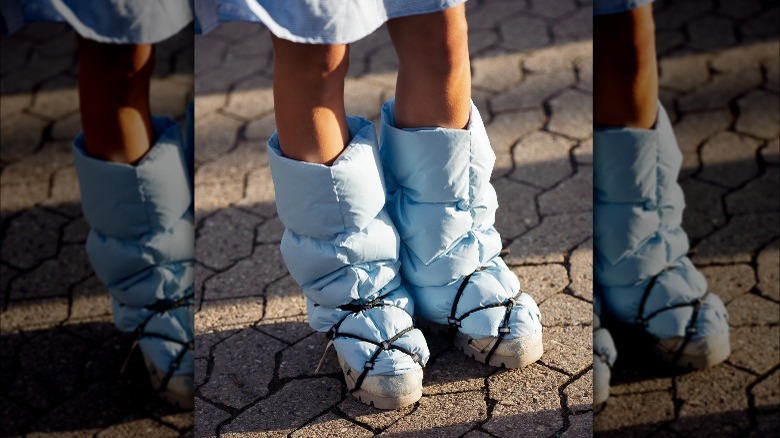 Raimonda Kulikauskiene/Getty Images
Cloudcore has taken over the planet. From the viral cloud couch to dreamy cloud nails, we all seem to be craving all things puffy, soft, and ethereal. The same can be said for footwear trends. They're a perfect statement piece and work well paired with a more streamlined coat. That being said, you can double up on the pouf factor and wear a puffy coat in tandem!
Lug soles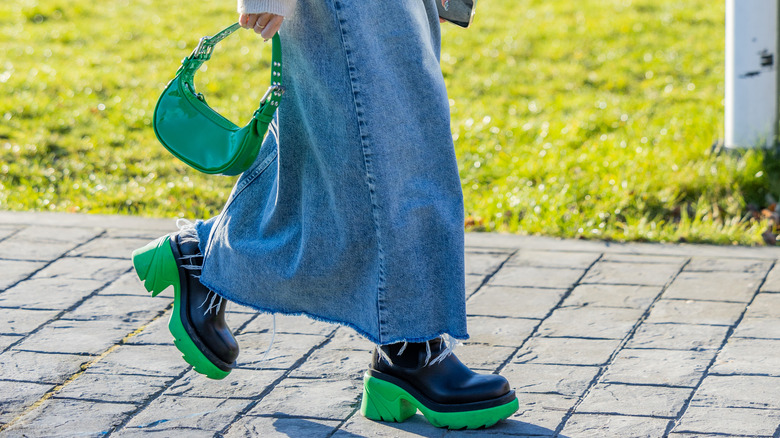 Christian Vierig/Getty Images
The second rain and chilly weather become the norm, lug soles report for duty, and understandably so. These thick platforms give shoes a sturdy foundation, and the rubber material is a great defense against errant puddles or muddy fields. You're not beholden to plain old rain boots, either. There are plenty of chic styles nowadays, from cute combat boots with lug soles to knee-high variations. It's the definition of style meets function. Everyone needs a pair on their shoe rack, as is evident by the fact that influencers and runway models alike have been consistently repping them. 
Riding heel-style boots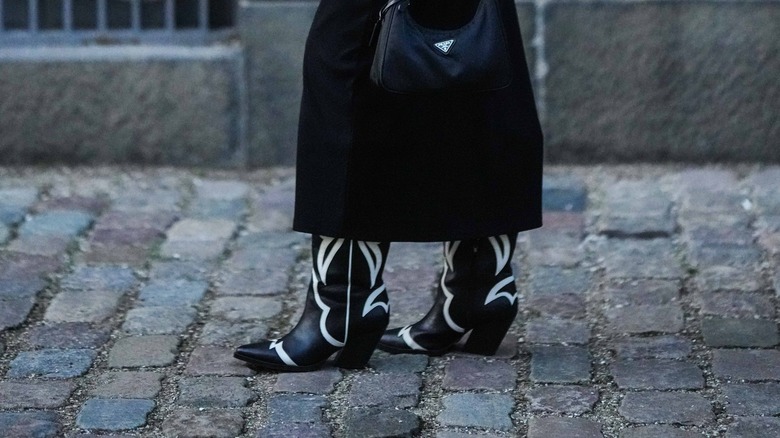 Edward Berthelot/Getty Images
It's no secret that 2023 has been the year of the cowboy boot. If you're looking to tone down the Western appeal but still love the silhouette, say hello to the alternative: riding heel-style boots. They certainly look similar to the aforementioned styles, but there's something a little more sophisticated about this fall shoe trend. Whether you're trekking around a big city or living life in the suburbs, it's really a shoe for anyone. Pair it with a long trench coat and a matching handbag for a sleek ensemble.
Mesh shoes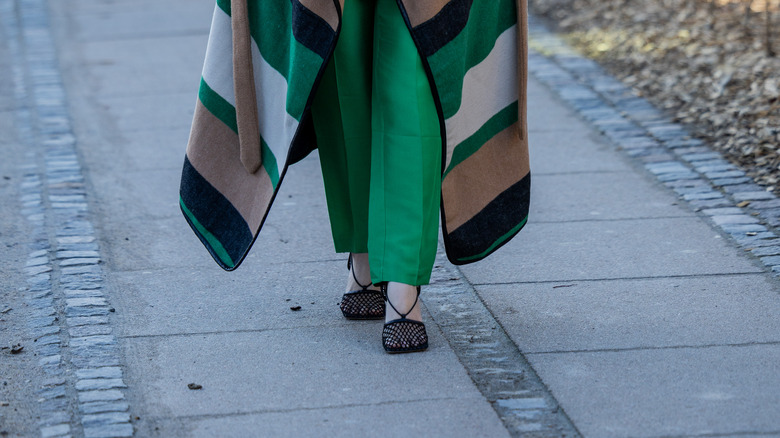 Christian Vierig/Getty Images
Mesh ballet flats won the hearts of trendsetters the last few months, and it just so happens to be the perfect shoe to continue wearing into the fall. Whether in flat or heel form, these are ideal for warmer days that are still verging on the edge of summer. This type of fabric gives toes room to breathe and provides a little more stretch. They won't become obsolete when it's cold though either. Add a pair of sheer socks in a splashy hue or a pair of matching colored tights to extend their wear.