8 Shoe Trends That Bounced Back From Outdated To Old Favorites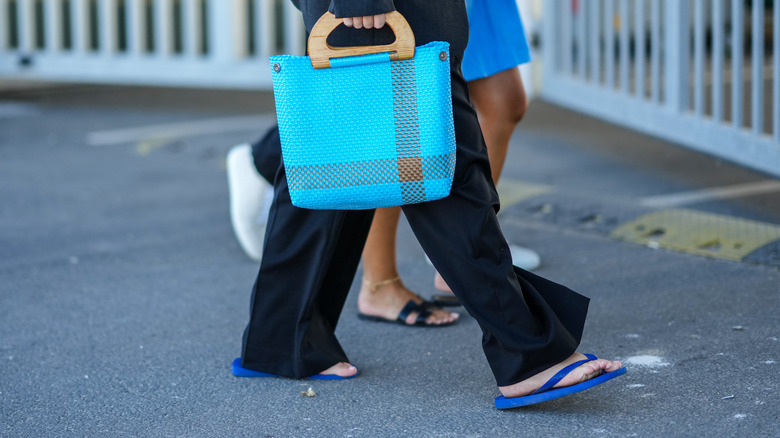 Edward Berthelot/Getty Images
Shoe trends can often result in a quick turnaround in favorites. While clothing items tend to rotate rapidly, on-trend footwear can change from day to night. Although some remain classics, such as white sneakers, others take various generations to become trendy again, with many outdated shoe styles going out of favor for radically contrasting trends. With fashion constantly circling back to previous trends, these shoes often find their prime audience once again. While the '90s saw plenty of chunky and oversized shoes, the early 2000s saw many with thinner and narrower designs.
Thankfully, for those of us who have kept some old favorites, many shoe styles are bouncing back into fashion. Some of these previous trends enable us to wear the style in a more modern way. The key to bringing back an old trend is to pair it with newer styles. With fashion constantly evolving, it's more economical and sustainable to restyle an old trend than to constantly change up your wardrobe. If you didn't get a chance to fully take advantage of an old shoe trend during its heyday, now is the perfect time to dive back into the archives.
Ballet flats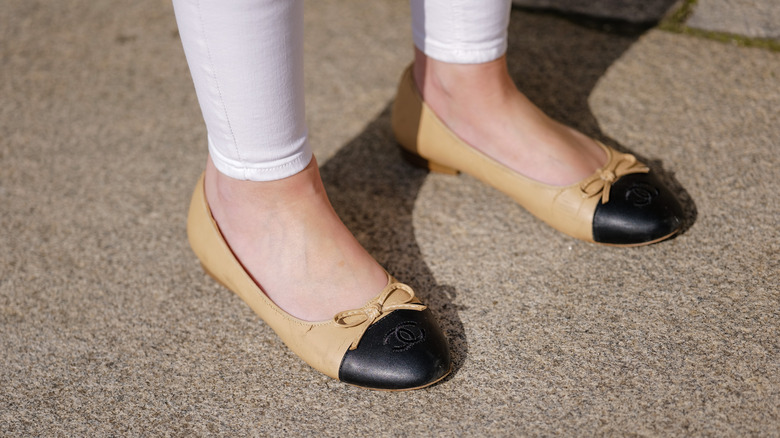 Edward Berthelot/Getty Images
The ballet flat has seen many versions and iterations, but nothing can beat a basic pair. For many years, the practicality of the ballet flat was replaced with chic alternatives including Mary Jane shoes. Although the ballet flat was always a classic option, many people are once again appreciating its beauty and simplicity. With quiet luxury on the rise, the ballet flat has never been more important or popular than it is now.
Flip-flops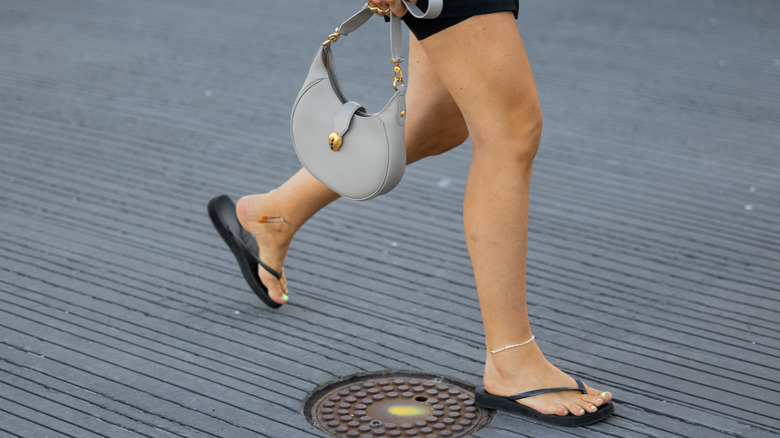 Christian Vierig/Getty Images
Even though flip-flops are the footwear of choice for lounging poolside, they're often lauded as a questionable choice when out in public. With the return of the Y2K era, flip-flops have found a new audience. Although flip-flops come in many more materials now than just rubber or plastic, the design of the flip-flop has become more appealing to those seeking a sleek and minimal shoe. Don't be surprised to see many more celebrities and style influencers rocking this perfect warm weather shoe on formal occasions, too.
Wedges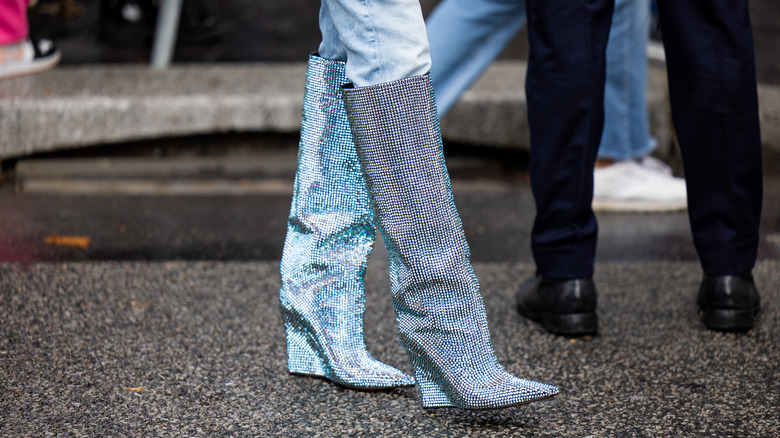 Christian Vierig/Getty Images
Like other '90s trends, wedges are a divisive trend, as many feel they're impractical and ill-fitting. However, newer wedge shoes are being mixed with modern trends to create an updated style of wedges many are loving. With sleek and stylish designs, wedges can be found in everything from boots to sandals. Many of these are reminiscent of their '90s counterparts but in ways that can easily fit your wardrobe today.
Gladiator sandals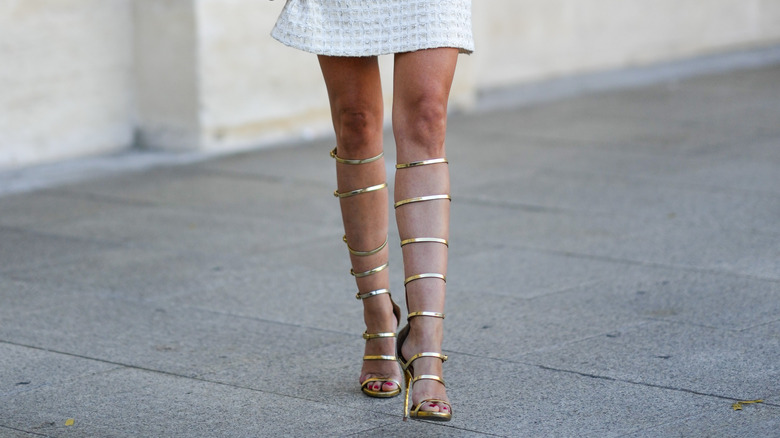 Edward Berthelot/Getty Images
The gladiator sandal was divisive in its time and, because of its design, ultimately deemed outdated. However, with many mini trends taking over, some are turning to gladiator sandals once again to show off their legs in a fashionable way. Although gladiator sandals often left unfortunate tan lines and marks, their return as a warm-weather favorite has everyone sacrificing their skin for the good of fashion. The only way to style them is to pair them with shorts, skirts, or dresses in order to get the full effect.
Metallic shoes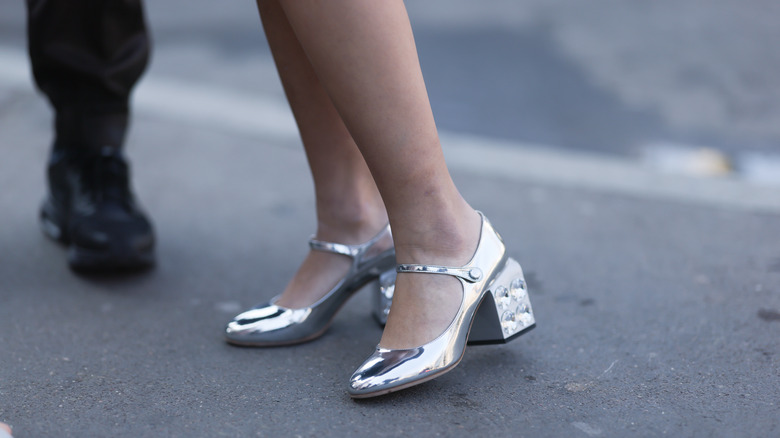 Jeremy Moeller/Getty Images
Metallic shoes may have once been the go-to for childhood recitals and holiday parties, but they have become a chic way to add some glam back to your footwear. Once an outdated trend, metallic hues are returning to your favorite footwear. From sandals to boots, metallic shoes are slowly becoming a fan favorite for concerts, events, and even grocery store runs. Whether gold or silver, metallic shoes are no longer an outdated way of adding shine to your feet.
Cowboy boots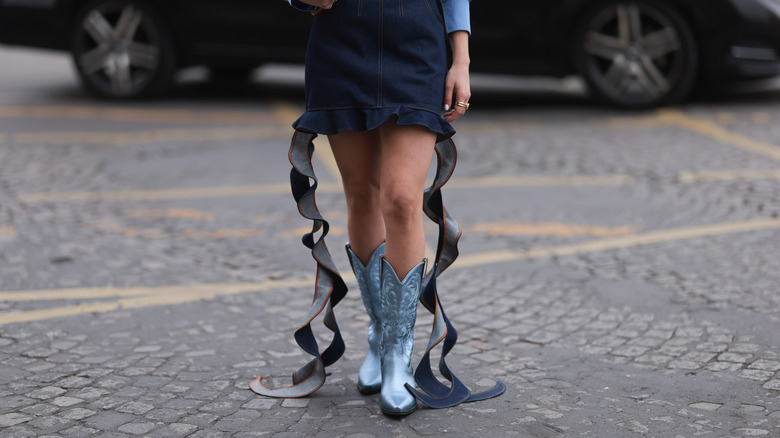 Jeremy Moeller/Getty Images
Although cowboy boots have always been a staple for music festivals, they've again become a popular year-round choice. With the rise of the coastal cowgirl aesthetic, the cowboy boot has found its space as a must-have shoe. Even though it's not everyone's style, many have discovered a newfound appreciation for the cowboy boot and its intricate design. Paired with your favorite jeans or sundresses, the cowboy boot makes for an epic look and trendy comeback.
Buckled shoes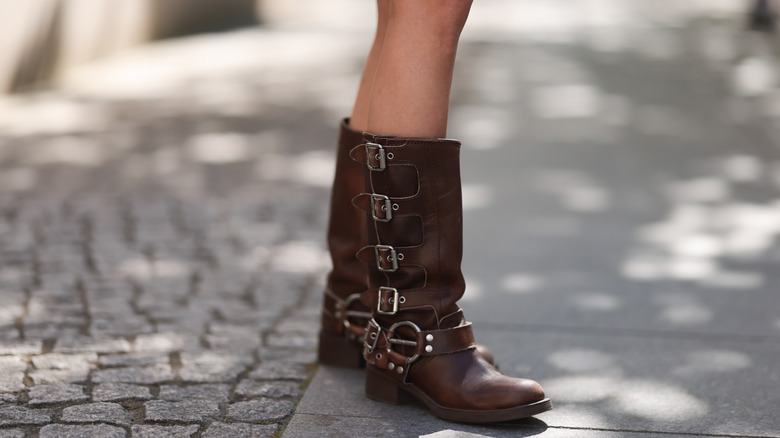 Jeremy Moeller/Getty Images
If '90s shoes are having their moment, the early 2000s are getting ready to take over. Buckled shoes were in their prime during the 2000s but were quickly replaced with slimmer and simpler options. Nowadays, many are reaching for this nostalgic shoe for its edginess and heaviness. Like other types of chunky footwear, the bulky shape of buckled shoes can help balance out a form-fitting top.
Dad sandals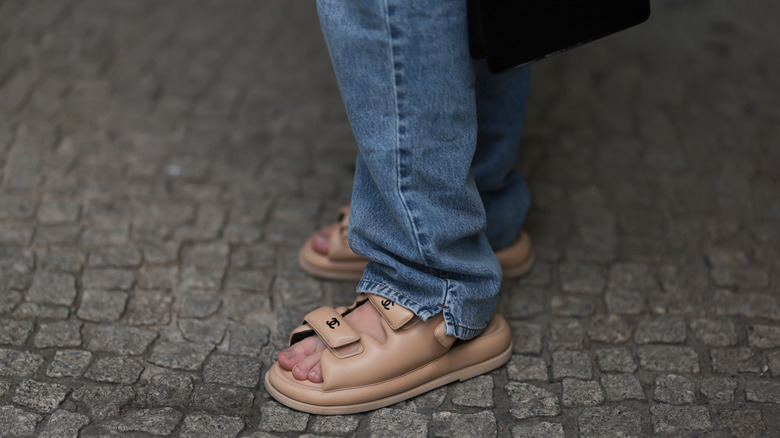 Jeremy Moeller/Getty Images
Since already-dealt-with dad sneakers are coming back, it's time to prepare for dad sandals. These chunky sandals were once the nightmare to many who didn't love lugging around a heavyweight sandal all day. Even though they seemed to disappear for a few years, the renaissance of all things '90s has brought the dad sandal back into our collective memory. These dad sandals, though, are no longer your dad's favorite summer shoes; they're chic and perfect for the warmer weather.