Dad Sandals: The Comfortable Summer Shoe Trend Being Remixed Right Now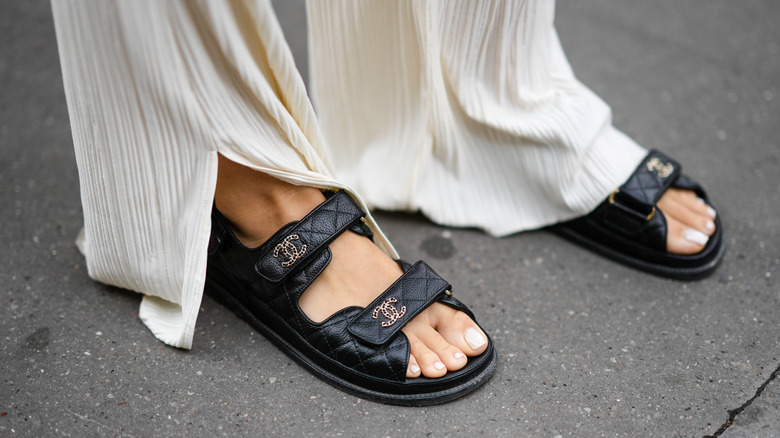 Edward Berthelot/Getty Images
Dads have an instinct for utilitarian comfort, hence all of the cargo shorts and bucket hats out there. And although their young'uns like to good-naturedly rib them for being so very out of touch, occasionally their life experience bleeds over into fashion in unexpected ways. Everywhere you look these days there's something a dad would wear – Dad jeans, fanny packs, budget-friendly comfortable running shoes — albeit styled in slightly more trendy ways. Dad-style purists even go so far as to acquire such pieces in a truly fatherly way: at Costco. 
One of the latest ways that your old man has likely influenced fashion (if unknowingly) is with his summer footwear, also known as "Dad sandals." Several years ago Dad sandals blew up the runway when Chanel launched their own designs, inspired by the functional footwear dads so often sport during pool and grilling season. The nostalgia factor caught fire and the next thing the fashion world knew, "ugly shoes" became the highly coveted norm.
Here's what standard dad sandals look like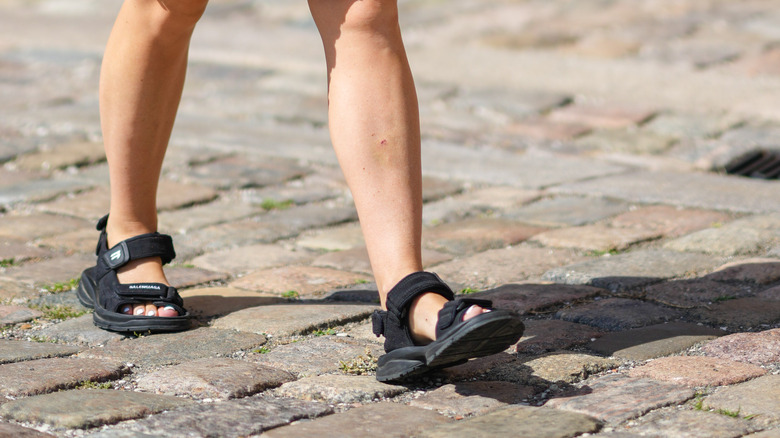 Edward Berthelot/Getty Images
Dad sandals are comfortable and functional footwear that is a welcome alternative to their hotter counterparts, like sneakers and hiking boots, in the summer months. They feature chunky soles that support the arches and heels and adjustable velcro straps to achieve just the right fit. They're just sturdy enough to stand up under pressure but ventilated enough to keep those little piggies nice and comfortable.
Dad sandals come in all colors
While the traditional models of dad sandals are often dubbed "ugly shoes," the fashion industry has made serious gains in glamming up the modern versions. Dad sandals are now available in a full rainbow of colors to go with virtually any outfit, from neutrals to neons and everything in between. It's not at all unusual for dad sandal aficionados to have multiple pairs (often with matching fanny packs). If you're going to work it, you have to own it, after all.
Dad sandals can be dressed up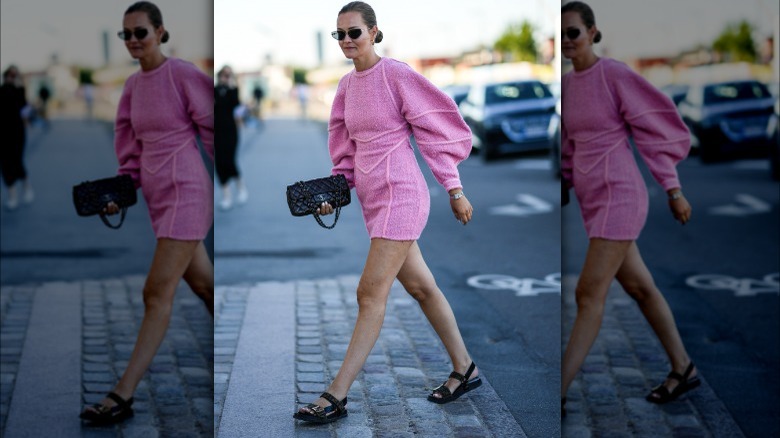 Edward Berthelot/Getty Images
Those of us who prefer not to sacrifice our ankles and arches at the altar of fashion can skip out on the sky-high stilettos. These days, dad sandals are routinely being paired with looks once reserved for Manolos. We can all thank the runways for this little bit of grace.
Or they can be worn super casual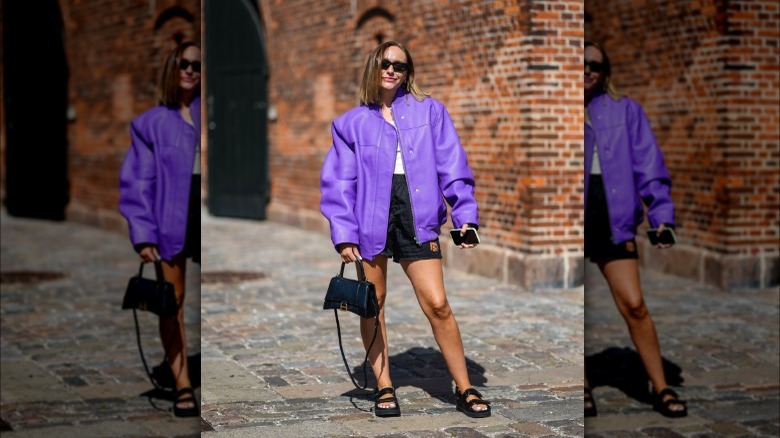 Edward Berthelot/Getty Images
Dad sandals are also the perfect footwear for the person who has hoof it around town for work or play. They go with absolutely everything, from jeans and shorts to long, flowy skirts. And the ultra-cushioned soles are aces at keeping blisters and other aches and pains at bay. They are simply a must-have for summertime travel.
Dad sandals are getting texturized
Although dad sandals are traditionally made of leather or some similar offshoot, designers are increasingly having a little more fun playing with the tone and texture of the footwear. Designs featuring raffia, faux animal skin, denim, suede, tweed, and much more are showing up on shelves all over the place. This is an excellent way to add dimension to any look.
And they're also going ultra glam
Although dad sandals are an absolute staple in basic black, it's also easy to have a little bit of glam fun with the footwear. Chanel and many copycats have introduced dad sandals in metallic hues, which can add just the right amount of pop to an otherwise understated outfit. 
Dad sandals are even getting blinged out
And of course, anything that's worth wearing is worth blinging out. Dad sandals all over the place are starting to show up with glam accents, from crystals to luxe buckles. Wild prints are also making their way into the collective norm as society is accepting that perhaps Dad did have the right idea all along, even if he did need a little help making it stylish.