Coastal Cowgirl Aesthetic: Giddy Up, We're Transitioning Our Wardrobe To Spring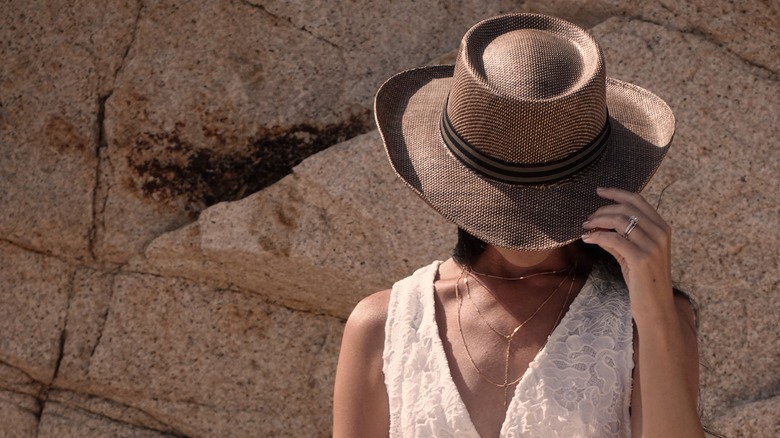 Esther Zacharias/Getty Images
Just when you think you've seen every niche aesthetic possible, a new one comes to life. If you haven't seen TikTok recently, you're probably not aware of the newest trend that's taking our spring wardrobes by storm. While we all have come to know and love the coastal grandmother trend that previously was the must-have clothing style, this season it seems like the grandmother is moving west. The coastal cowgirl aesthetic is the newest way of life that mixes two popular wardrobes. While it may seem like another fast-trending fad, the truth is that many aspects of the trend can probably be found in your wardrobe already.
Although the coastal cowgirl aesthetic was born on TikTok, celebrities and fashion influencers have already jumped on board to make this look their spring staple. Kendall Jenner has embraced this aesthetic with a cowboy hat and all! You don't have to use a cowboy hat only; other western basics like bandanas and western boots are some of the pillars of this trend. So don't be afraid to let loose your inner cowgirl this spring season, as she's getting a serious remix with coastal wear.
Don't forget the denim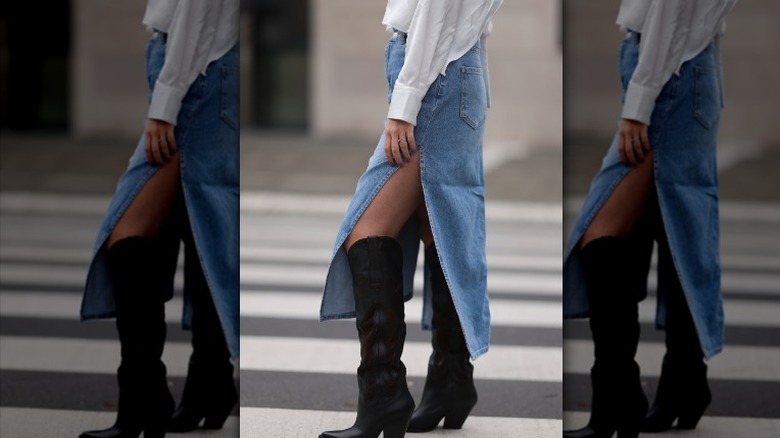 Jeremy Moeller/Getty Images
This trend is as easy as pulling out your favorite denim piece from your closet. Recently, we've seen denim midi skirts becoming some of the hottest must-haves of the season, making them perfect for this trend. Pair your denim with coastal attire like linens, white button-downs, and floral blouses for the perfect combination. Finish the look off with your favorite cowboy boots or any western-inspired tall boots for an outfit that'll become your newest spring go-to.
Florals are a must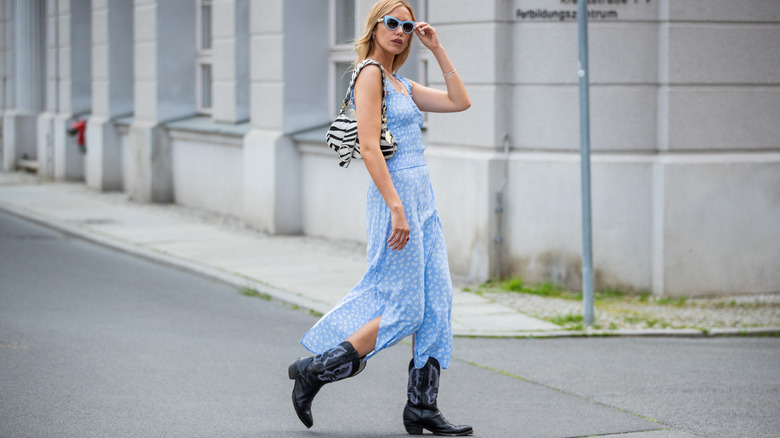 Christian Vierig/Getty Images
While it's easy to have fun with the westerncore fashion pieces, you can't forget your coastal attire. Mixing these two aesthetics is simple but you can easily get carried away with one side over the other. To incorporate the coastal aspect into your look, florals will become your new favorite print. These light and airy pieces will appear like they're right out of Cape Cod, with the addition of some cowboy boots or hat.
Layers on layers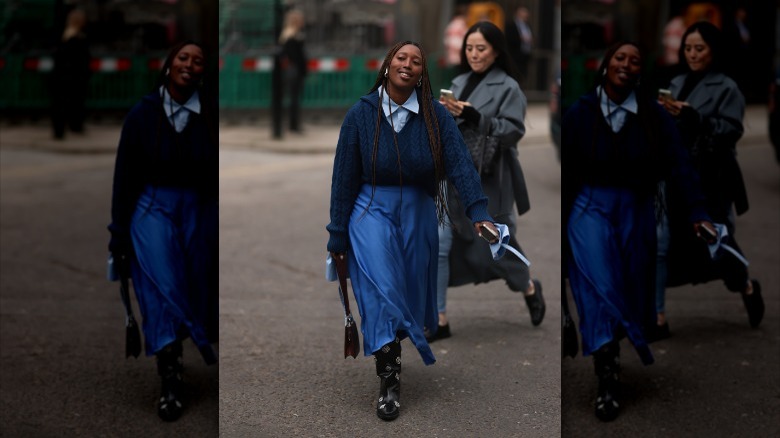 Jeremy Moeller/Getty Images
Even though spring is the season when the weather starts warming up, you always still need a sweater to keep you cozy. One of the core aspects of the coastal grandmother trend is layering sweaters with almost any outfit. While many following the trend tend to tie their sweaters over their shoulders, sweaters can be a great transition piece for your coastal cowgirl outfit even worn normally over a shirt. 
Western boots all around
It's a no-brainer that cowboy boots are a necessity if you're looking to get the cowgirl look. However, as classic as cowboy boots are, they aren't always a timeless investment. Depending on your style, cowboy boots may not work long after the spring season. Instead, opt for western boots that can also match other styles. Tall western boots are typically shaped like cowboy boots with the exception of the embroidered designs and pointed toes. These shoes are not only perfect for this aesthetic, but they are practical for future fall and winter seasons.
Mixed color palettes
Getting the coastal cowgirl aesthetic can be confusing at first when considering what color patterns you need to look at. Pastel, neutrals, and other light colors are the perfect way to embody coastal style during the spring season. The cowgirl aesthetic will typically stick to earthy tones and include a variety of denim blues. To expertly combine these two aesthetics, try pairing earthy western pieces with your pastel clothing items. This combination will help deliver your look with zero struggle.
Coastal dresses and cowboy boots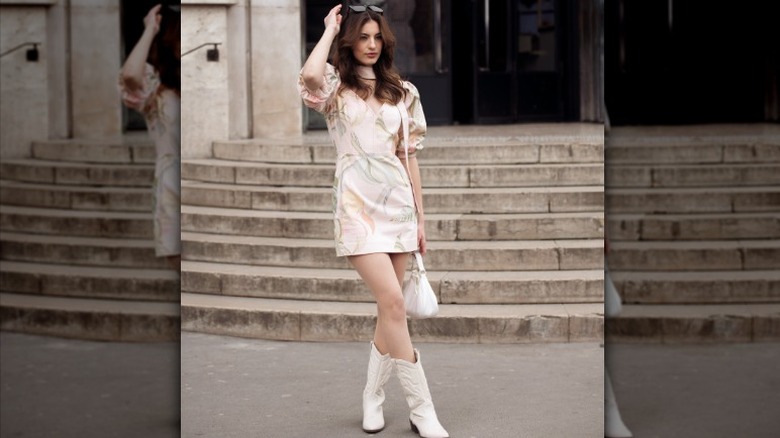 Raimonda Kulikauskiene/Getty Images
If you're looking for your go-to coastal cowgirl uniform, look no further than a beautiful dress and cowboy boots combination. Coastal attire calls for flowy and airy midi and mini dresses, which will style perfectly with your rustic cowboy boots. Go with matching colors to make the entire look more cohesive and fun. When in doubt about what to wear, you can't go wrong with a coastal-inspired dress with your fun cowboy boots.
Keep it light and airy
It can be easy to get consumed by bright colors and bold prints when looking to style both of these opposite aesthetics. When in doubt, keep your clothing pieces light and airy. Styling monochrome light pieces is much easier for spring than combining several colors in one outfit. Since western wear can be bold, pairing it with light coastal clothing will make it much easier to pull off.
Add the cowboy hat
Like the cowboy boots, a cowgirl outfit will be complete with a cowboy hat. With cowboy hats, you'll find that there's a wide variety of styles out there to pick from. Some will be much more classic, while others might seem more unique and trendy. No matter which you choose, you can't go wrong with this piece.