Common Styling Mistakes To Avoid When Dressing For Job Interviews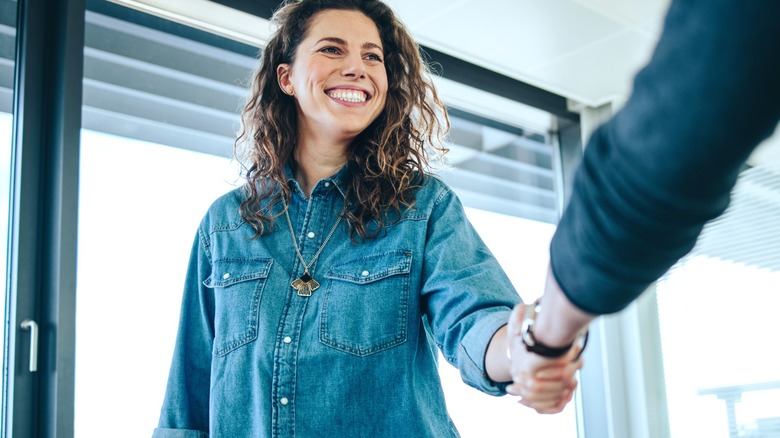 Jacob Lund/Shutterstock
So you've landed a job interview. Congratulations! Whether you're super invested in this opportunity or just throwing your name into the ring to see what happens, an interview is your chance to feel out the company and make a strong first impression toward getting hired. Of course, this can mean a lot of pressure and stress as you prepare for the big day. You're probably practicing your responses, brainstorming questions of your own, and trying to keep your nerves from getting you down before the interview. Still, there's another consideration you shouldn't overlook: the all-important interview outfit.
Every job and workplace is a little different, so you may be scratching your head over what to wear and overthinking each piece of clothing. After all, it can be a difficult line to walk. You want to look smart, but not stuffy — neat, but never bland or forgettable. In an attempt to stand out, it can be all too easy to make a misstep on your road to a tasteful and eminently employable outfit. But no matter where you're applying, there are some definite styling mistakes to avoid so you can make sure you look interview-appropriate for any opportunity.
Wrinkled, stained, or dirty clothes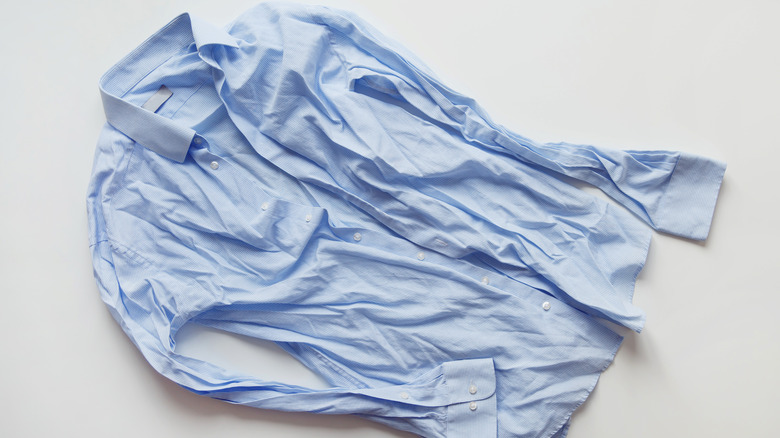 Vladdeep/Getty Images
Let's get the obvious out of the way first. Showing up to a job interview in poorly kept clothing is a bad look, both literally and for your chances as a candidate. When putting together your outfit, immediately nix anything that's stained, discolored, dirty, or torn. Next, ensure that each piece of your interview ensemble is wrinkle-free. Wearing a creased or crinkled garment comes across as sloppy, and may unintentionally create the impression that you're lazy or lacking attention to detail. Instead, you want to look well-prepared with a clean, smooth outfit.
A day or two before your interview, pick out your clothing and give yourself time to iron or steam any pieces that need a refresh. Don't have an iron? That's okay, there are still ways to release wrinkles from your clothes when you don't have an iron on hand. For lightweight items, try hanging them in the bathroom with the door closed while you take a hot shower. The steamy air will help relax creases for a tidier appearance.
If shower steam doesn't take care of the issue, you can lightly dampen the fabric around any wrinkles and dry the area with a blowdryer. In a pinch, you can even iron out small areas with a hair straightener. This is easiest around the hem for sharper edges on a skirt or jacket. But be careful and be sure to wipe the plates clean first — you don't want to singe the cloth or transfer any greasy residue from your hair products.
Clothes or shoes that are too casual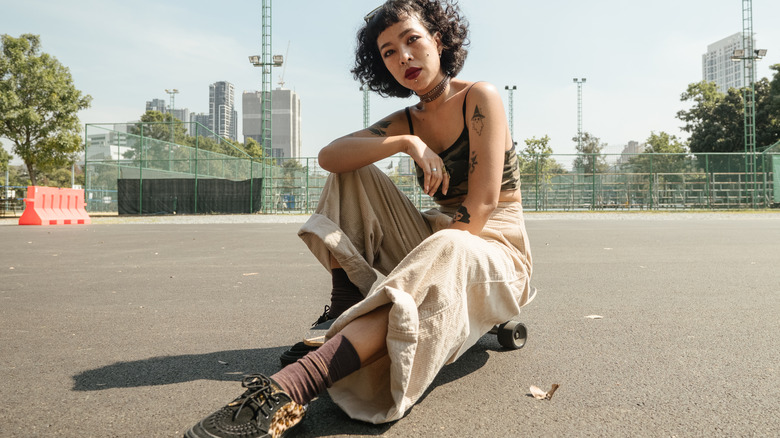 Staticnak1983/Getty Images
A lot of office environments have relaxed their dress codes in recent years, but you should still avoid attending any job interviews with clothing that's too casual. This is your first impression, so make it count! Don't show up in t-shirts, sportswear, athleisure, or jeans — even if they're your nicest pair of black jeans. For that matter, you probably want to rule out denim shirts and jackets, as well. Even if you try to dress it up, denim in general has too much association with relaxed, everyday wear.
As for shoes, don't undermine the rest of your outfit with a pair that dresses you down instead of dresses you up. Skip the sneakers, leave the Crocs at home, and certainly don't don anything like flip-flops, Birkenstocks, or other casual sandals. If it could feasibly be called "beachy," it's almost certainly inappropriate for a job interview.
A winning combo will most likely feature pieces like a suit jacket or blazer, button-up shirt, nice skirt or slacks, and a pair of dressy, business-appropriate shoes like low pumps or Oxfords. It's old advice, but the adage, "Dress for the job you want" still holds true today.
A plunging neckline or crop top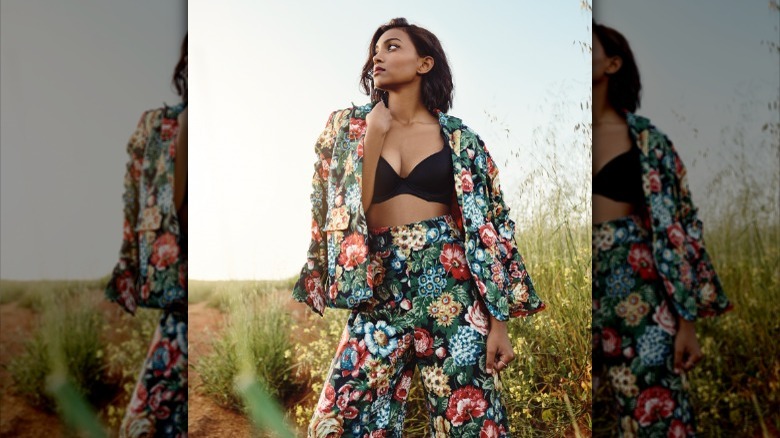 Adene Sanchez/Getty Images
In the game of fashion, there's no shame in a flirty neckline and a bit of décolletage. But as chic as a crop top and blazer combo can seem for a night out, a professional interview is not the time and place to opt for a revealing blouse. Set aside off-the-shoulder tops or anything with a low-cut neckline, and be sure that any button-up shirt isn't gaping too widely. Also, check that the sleeves of your top are wide enough to hide your bra straps. If any part of your undergarments is showing, your outfit is a fail.
As for midriff-baring shirts, do we even need to say it? Do not wear them to your interview. Whether you're applying for a high-level corporate position or your very first job at a fast-food restaurant, this is not a professional look. Choose a top that at least hits your belt line, or that's long enough to tuck in.
And, to be clear, this rule isn't just for the ladies — regardless of your gender, showing abs or cleavage is going to come off crass in a professional setting. A plunging v-neck or muscle tank just shows too much skin, and probably comes off as overly casual, besides.
A revealing hemline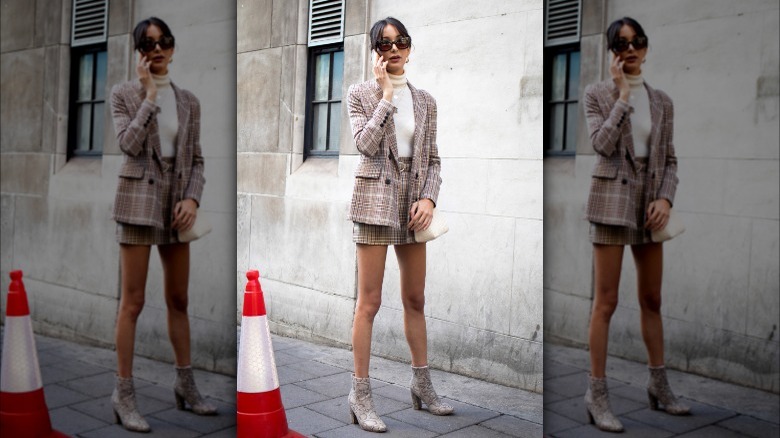 Elena Rostunova/Shutterstock
If you choose to attend your interview in a skirt or dress, modesty is the way forward. Any cut that shows too much leg may come across as distracting and unprofessional, no matter how chic. When in doubt, choose a classic knee-length hemline, instead. Flattering pencil skirts are a no-brainer, whether you're wearing a matching skirt suit ensemble or pairing it with standalone separates. But knee-length A-line skirts can also be styled into a professional outfit with a little character. Just be sure to dress them up, not down. Wearing a neat A-line skirt with a button-up, belt, and cute heels or flats can be timeless and charming.
Note, there is also such a thing as hemlines that are too long for job interviews. Styled well, you can probably get away with a midi skirt, which can look very sharp with a pair of strappy heels. But unless your religious beliefs require them, you may want to give maxi dresses a miss. These breezy, boho favorites may serve the interviewers a vacation vibe when you're trying to embody a focused, reliable employee.
Clothing that's ill-fitting or oversized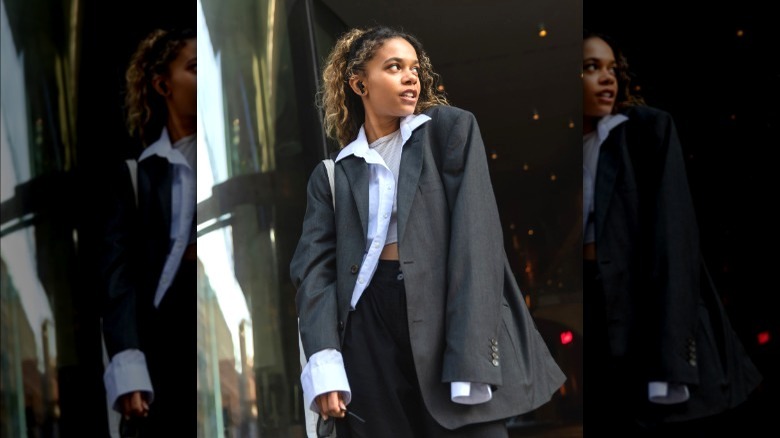 LightField Studios/Shutterstock
The oversized look can be cute for a lot of occasions, but your next job interview isn't one of them. You're not trying to look trendy, avant-garde, or cozy — you're trying to create an impression that's mature and sensible. For that, you want clothes that look sleek and tasteful, like a nicely tailored suit or blazer.
Even if you've chosen all the right pieces for a stellar interview ensemble, the fit matters. Anything too large or too tight will cheapen the professional impact of your clothing. And you don't want it to look like you've borrowed your suit or bought it used — though there's actually nothing wrong with either of those options. Rather, you want it to seem like you've made an investment in your future by procuring well-fitting businesswear of your own.
If you discover that your ideal interview outfit doesn't flatter you as much as you'd hoped, don't despair. There are a few tricks you can try. For instance, you can turn too-big pants into a properly fitting garment by using a safety pin to cinch a pinch of fabric in an inconspicuous spot inside the waistline. You can use the same technique to cinch the waist of a dress or blouse, discreetly hiding the safety pin at the small of your back.
Garments with graphics, phrases, or logos on them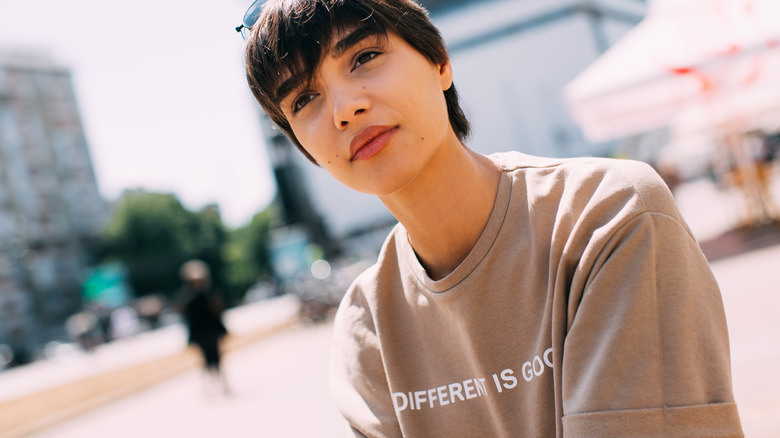 Miss_alva/Getty Images
We've already outlawed t-shirts from your interview selection, but it bears repeating here with an extra addendum — no tees, and definitely no graphic tees. In fact, any clothing embellished with images, phrases, slogans, or logos can be safely removed from your pool of interview options. The interviewer doesn't need to know about your favorite band, taste in art, brand loyalty, or political ideology right off the bat.
You also want to pass on any items that have another company's logo on them. For instance, maybe you still have a polo or sports jacket from a previous employer. You might think that wearing this hints at your skills and hireability, but the interviewer should already have a copy of your work history in front of them. You don't need to experiment with subliminal messaging. If anything, you want the interviewer to be envisioning you in their own workplace, not picturing you at your last job.
Overdressing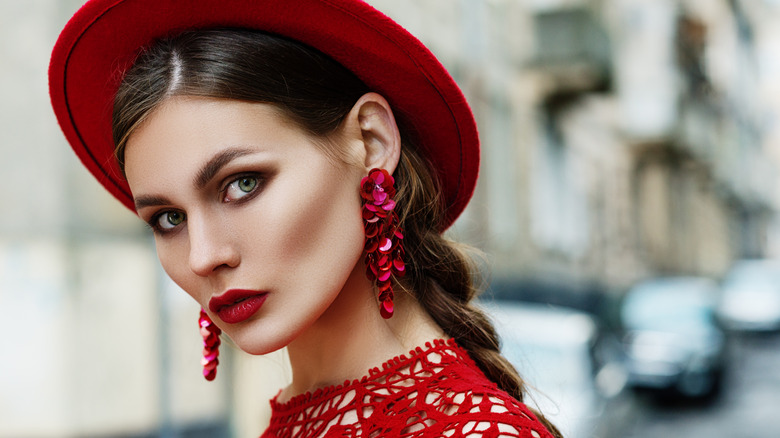 Victoria Chudinova/Shutterstock
If casual clothing is such a no-no, you may be tempted to swing wildly in the other direction and show up to your next interview dressed to the nines. However, there is such a thing as being too formal, even for a corporate job opportunity. After all, no recruiter expects you to show up in a tuxedo or ball gown. And this extends to less obviously ludicrous sartorial choices, as well. Sky-high stilettos, dramatic makeup, and overly glitzy fabrics like sequins may seem like a fun way to make a fashionable impression, but beware of veering into party territory. If you could just as easily wear the outfit on a haute couture runway or to a New Year's Eve party, it may be too close to evening wear for a serious daytime interview.
Some experts like the team at TopInterview also recommend against dressing in bold colors or patterns, suggesting that a vivid ensemble may distract the interviewer from what you're actually saying. And in the end, you want them to leave with a good opinion of your professional capabilities, not just your wardrobe.
However, it's possible to curate a memorable-yet-appropriate outfit by bending this rule a little. Instead of wearing five statement pieces together, consider just sneaking one bold garment into the overall look, tempering it with other, more subdued pieces. For instance, a velvet blazer can look super sharp over a plain white button-up and neutral trousers. Or a brightly-colored pair of pumps may breathe a little life into your skirt suit ensemble. Just remember that, in this case, less is more.
Lots of visible tattoos or body jewelry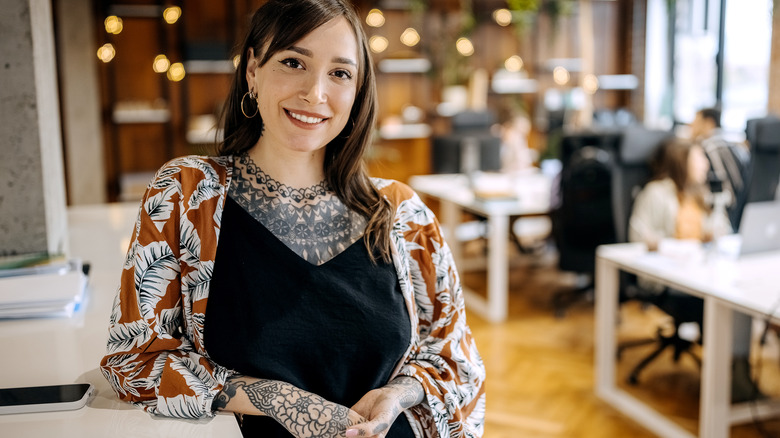 Pekic/Getty Images
The job market is getting more progressive every year, and style choices like tattoos or unnatural hair colors aren't quite as taboo as before. But it's impossible to know the interviewer's personal stance on these style choices, and you might end up shooting yourself in the foot if you arrive for your appointment decked out in piercings or flaunting a lot of ink.
When getting ready, consider what the business' professional dress code is likely to entail, and try to dress accordingly. For instance, you may not need to jump through hoops to hide a small, unnoticeable ankle tat, but you also may not want to choose a blouse that proudly displays the full-sleeve tattoo covering your entire right arm. For now, you want their attention on your resume, not your ink.
The same idea holds for body jewelry. An extra earring or two is hardly remarkable these days, and even a cute little nose stud may not raise any eyebrows in a modern workplace. But more edgy jewelry like a lip ring, septum piercing, or a long barbell through your ear cartilage should probably be removed for the interview. If you land the position, you can then ask about specific rules around piercings, and find out whether they're okay to wear on the job. But for now, err on the side of caution and conservative dressing.