Dermatologist Gives Us The Scoop On Cica, Skincare's Best-Kept Secret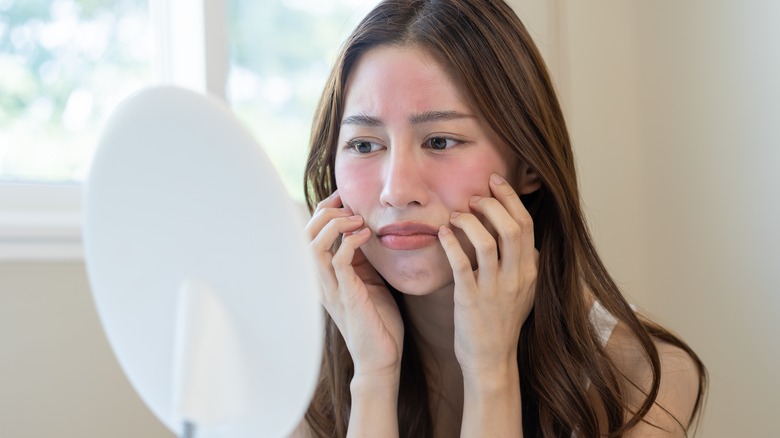 Kmpzzz/Shutterstock
We may receive a commission on purchases made from links.
While social media can have plenty of negative effects on us, there are also some huge positives. Social media is truly a passport to see how people live around the world. As glam lovers, this means being able to discover the unique ingredients and products other people use in their beauty routines. Concerning the ingredients used in everyday skincare, one of the current most popular is cica. Upon seeing the amazing effects posted on social media, this ingredient has exploded in popularity across the world.
Advertisement
Centella Asiatica (AKA cica) is an herb that grows wild in Africa, Asia, and many Pacific islands. It has been used in holistic medicine for years, particularly for wound healing. Korean beauty companies eventually began using the herb extract in their skincare products, which later went viral on social media for their incredible results. Today, cica has become more than a healing ingredient — it has become part of everyday skincare. Dermatologist Dr. Madeleine Gantz of Westlake Dermatology & Cosmetic Surgery exclusively tells Glam that cica is a skin-soothing plant extract that is now in the spotlight due to people becoming increasingly educated on skincare.
Skincare benefits of cica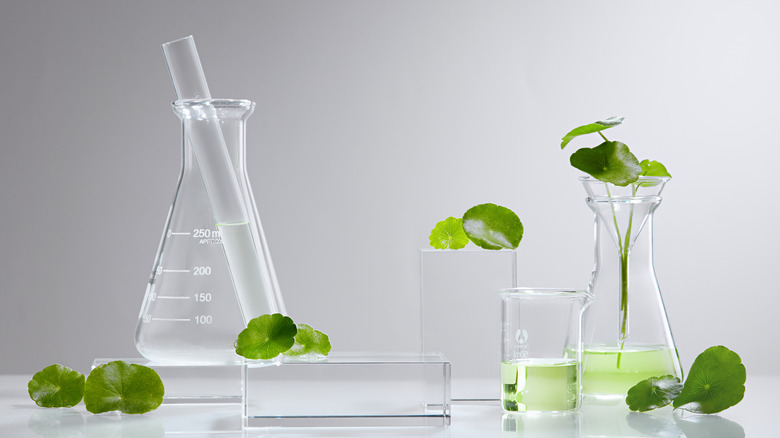 Light Stock/Shutterstock
Cica has long been used for skincare when needed, but what are the benefits of adding its extract to your regular skincare routine? Dr. Madeline Gantz of Westlake Derm exclusively tells Glam, "It is great for dry, sensitive, or eczema-prone skin." The ingredient has anti-inflammatory, antioxidant, and moisturizing properties. Dr. Gantz says that those who suffer from dry skin will reap moisture benefits as cica "stimulates your body's own glycosaminoglycans and hyaluronic acid, which leads to plumper, smoother, dewy-looking skin." This moisture will also help prevent damage to your sensitive skin barrier.
Advertisement
Severe dryness — whether it be from rosacea, eczema, or any other condition — is not only itchy and irritating, but it can also cause open wounds. Luckily, cica is known for increasing antioxidant levels, which offers skincare benefits such as speedy wound healing, per a 2011 paper in Skin Pharmacology and Physiology. Dr. Gantz says, "The antioxidants it promotes can help neutralize free radicals that would otherwise cause inflammation, thus it is also anti-inflammatory." As cica has anti-inflammatory properties, it can help prevent a red and inflamed skin barrier. Overall, the benefits of cica promote the healing of dry, sensitive skin and prevent the reoccurrence of these issues.
Adding cica into your skincare routine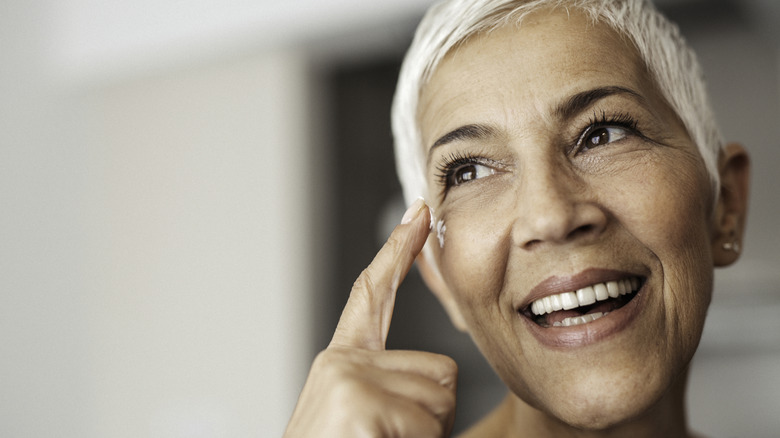 Milan2099/Getty Images
If you suffer from dry, sensitive, and irritated skin, cica can be a great ingredient to add to your regular skincare routine. As Dr. Madeline Gantz of Westlake Derm exclusively tells Glam, "Cica is found in a lot of K-beauty and European skincare products." A variety of beauty products contain cica, so it is up to you to decide which step of your skincare routine you use the ingredient in. Each product will have a different recommendation as to how often you should apply.
Advertisement
Dr. Gantz recommends a few products for beginners who are looking to try out cica in their skincare routine. For patients who suffer from redness, she suggests Tiger Grass Camo Drops. Not only does it have cica in it, but Dr. Gantz states, "It also has a bit of an opaque green tint to help camouflage redness during the day." The cult-favorite Laneige sleeping mask has a cica variation that she also recommends for those looking for an overnight product. If a patient wants a sunscreen that is appropriate for dry and sensitive skin, Dr. Gantz recommends the Skin 1004 Madagascar Centella Hyalu-Cica Water-fit sun serum. Another recommendation is La Roche Posay Cicaplast B5 specifically for healing and redness.
Advertisement