Feminine Menswear Is The Winter 2024 Fashion Trend We Can't Get Enough Of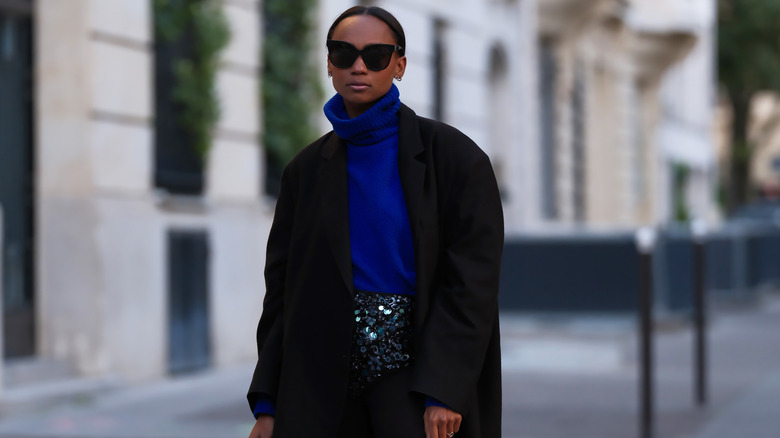 Edward Berthelot/Getty Images
Many people are appreciating androgynous dressing today as society finally recognizes that people don't have to conform to traditional stereotypes of men's vs. women's clothing. Some fashion enthusiasts have been bridging the gap between masculine and feminine before it was trendy, and 2024 is an excellent time to start exploring the idea if you haven't already.
Advertisement
"Day-to-day, I'm very into menswear, loose-fitting dress pants, or baggy denim cargos with oversize blazers ... The feminine-menswear trend blurs the lines between what has traditionally been considered 'masculine' and 'feminine' in fashion. It's also one of my favorite trends and has been inspiring my looks lately. I feel really powerful and stylish in a suit or anything oversize," Elaine Welteroth, Teen Vogue's former editor-in-chief, told Who What Wear.
If anyone knows what's hot in fashion, it's Welteroth. So, every woman wanting to explore an exciting modern trend should take inspiration from the expert and experiment with menswear-inspired looks. There are many ways to incorporate menswear into "feminine" outfits!
Advertisement
Experiment with shoulder pads
Some of the most convenient outfit details to introduce to your wardrobe for menswear-inspired touches are shoulder pads. Shoulder pads go in and out of style but always exude powerful vibes on people of all genders. For a more traditionally masculine look, try wearing them in suits and jackets. Meanwhile, dresses with shoulder pads are ideal for people just starting to experiment with feminine menswear.
Advertisement
Wear more dress pants
Slacks and trousers are perfect for the feminine menswear look if you style them successfully. For example, black or gray slacks paired with a crop top put a seductive spin on a menswear staple, while wearing those pants with a blouse and blazer will give very professional vibes. So, remember to think about how you want to present yourself and your energy when choosing the top you pair with dress pants.
Advertisement
Rock button-downs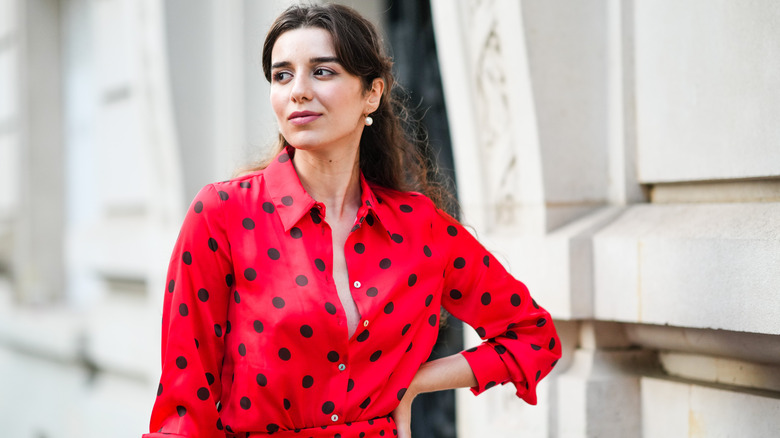 Edward Berthelot/Getty Images
Button-down doesn't mean "boring," and these shirts are some of the most versatile garments for people of all genders. A classic button-down top with solid jeans or slacks typically appears gender-neutral — or masculine-leaning if it has a looser fit. On the other hand, cropping a menswear button-down and wearing it with a skirt or skinny jeans appears more feminine. Wearing an oversized men's button-down with tights or shorts, or even as a dress is another way to experiment with gender expectations in fashion. Or, lighten it up with a fun print, as shown above.
Advertisement
Neckties are for all genders
Ties aren't only for men, and especially not in the 2020s! A necktie can be your chicest accessory if you wear it with the right outfit. For instance, a plaid or bright necktie can complement a professional outfit while adding a splash of color and contrast. Or a black necktie can add a sleek touch to edgy, goth-inspired looks.
Advertisement
Big comfy coats
Coats are supposed to be practical and provide warmth and comfort, so why would you want to defeat the purpose of wearing a coat in the first place by trying to squeeze into a tight, uncomfortable garment that doesn't even keep you warm? Oversized menswear-like coats are typically more comfortable and can exude high-fashion vibes, especially in trench coat styles.
Advertisement
Embrace baggy jeans
Baggy jeans are perfect for androgynous streetwear looks, as they look edgy on people of every gender. It's fun to style boyfriend jeans for any occasion, as that laid-back look is more versatile than you may think. For instance, pairing them with a dainty-looking blouse will instantly soften the ensemble, while wearing them with an oversized hoodie will give more of a gender-neutral appearance.
Advertisement
Newsboy caps and other hats
Considering that they even have the word "boy" in their name, newsboy caps are considered predominantly menswear accessories. However, these pieces look chic on everyone, adding just the right hint of youthful attitude to neutral and minimalist outfits. Fedoras and beanies are also fun to experiment with, as you can style them to lean as masculine or feminine-looking as you desire.
Advertisement