Cable-Knit Sweaters Are The Staple That Comes Back In Style Every Year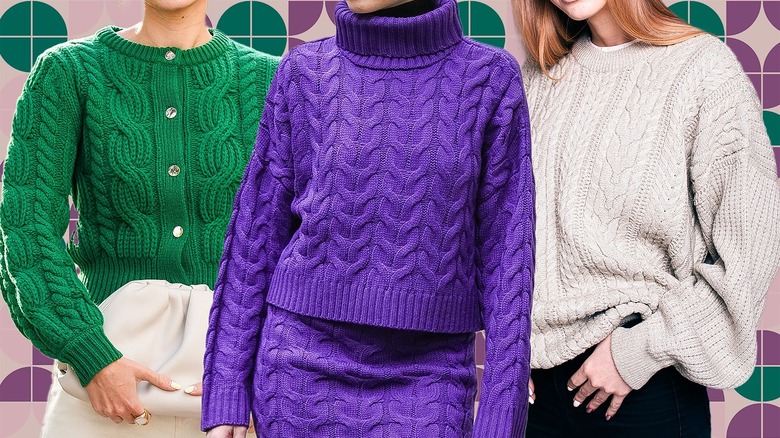 Static Media / Shutterstock / Getty
With their detailed and textured patterns, cable-knit sweaters are full of sophistication and elegance. Especially during the fall and winter, this classic item brings a preppy aesthetic to your wardrobe while keeping you warm and cozy. 
As we've learned throughout fashion history, trends tend to come and go at a moment's notice. This means that not everything in one season will stick around for the next. Cable-knit sweaters, however, always hold onto their must-have status, no matter that year's trends. 
They were first conceived in Ireland's Aran Islands as a practical garment for fishermen, but once Vogue highlighted the style in a 1958 article, they entered the fashion world and never really left (via Luca Faloni). The staying power of this style comes down to several factors, including its endorsement by various celebrities over the years, its practicality in the warmer months, and the fact that it can always be worked to accommodate the current year's trends. Additionally, it's a staple of preppy and old-money fashion styles, which are everlasting aesthetics.
Whether adding multiple layers underneath or making it into a statement piece, the cable-knit sweater is an essential item that deserves a permanent spot in your fall and winter wardrobe.
Elegantly bold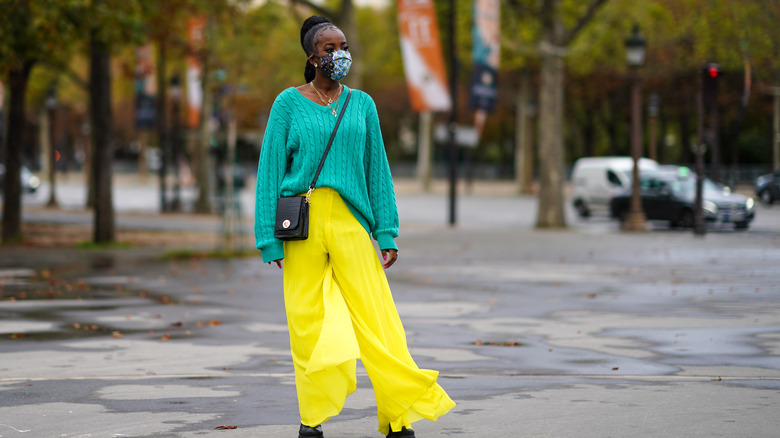 Edward Berthelot/Getty Images
The cable-knit sweater has the perfect texture and pattern if you want a luxurious twist to your wardrobe. Whether it's fall or winter, a cable-knit pattern is known for being a quiet luxury staple and remains the go-to for those looking to emulate the aesthetic. Plus, it's also the perfect way of injecting bold colors into your wardrobe. Mixing vibrant hues with a cable-knit pattern on your sweater will help create an exciting mix that allows you to be more creative with your cool-weather 'fit without sacrificing sophistication.
Standalone sweater statement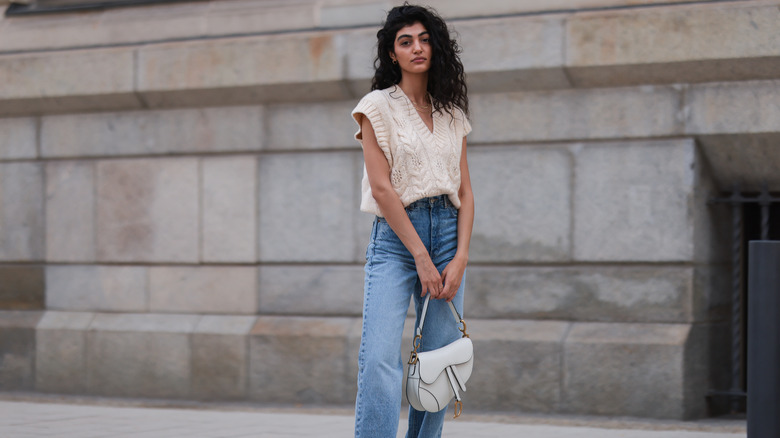 Jeremy Moeller/Getty Images
When you think of a preppy item like the cable-knit sweater, you often think of having to wear a top underneath. While this is true, especially during the colder months when you want more layers, you can also rock this piece independently when the weather is a little warmer. To do so, opt for a sleeveless cable-knit sweater, denim jeans or Bermuda shorts, and sneakers for the ultimate vintage look you can easily restyle. After all, retro will never truly be out.
Cable-knit cardigans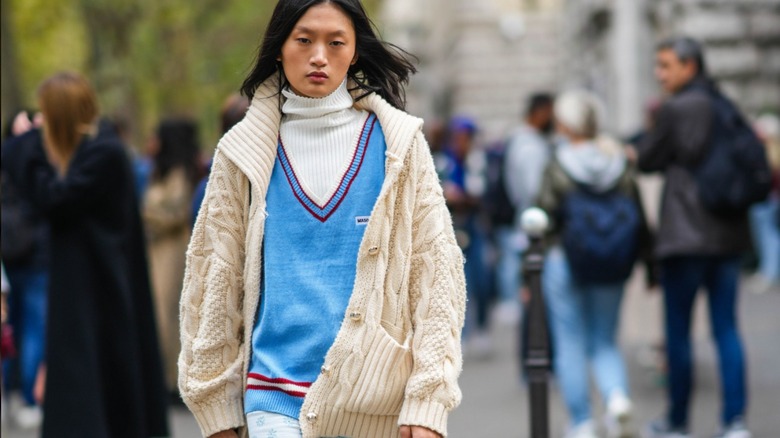 Edward Berthelot/Getty Images
The versatility of the cable-knit is one of the elements that keeps this style popular year after year. Cable-knit pullovers and crewnecks can often be constraining and too hot, especially during the transitional period when the weather isn't as chilly yet. An easy option to make your cable-knit sweater practical is choosing a cardigan sweater instead. The option to easily open and close your sweater, depending on the weather, will make styling it much more manageable. You can also use an open cardigan as the perfect excuse for a layered outfit full of texture and warmth.
Comfy sweater dress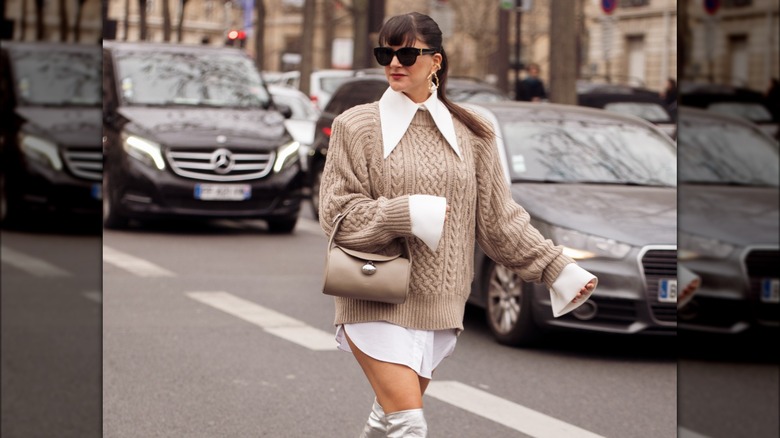 Raimonda Kulikauskiene/Getty Images
Wearing a cable-knit sweater with a pair of bottoms and a top is a classic way to wear this elegant item, but those looking to add a street-style finish will want to go up a few sizes to get an oversized look. A cable-knit sweater is a stylish option for a sweater dress, especially when belted and layered over a shirt dress. This messy and undone look is iconic, regardless of the current trends. Just pair it with knee-high boots for the cold or sneakers for the heat, and you have a built-in outfit every year.
Sweater vest option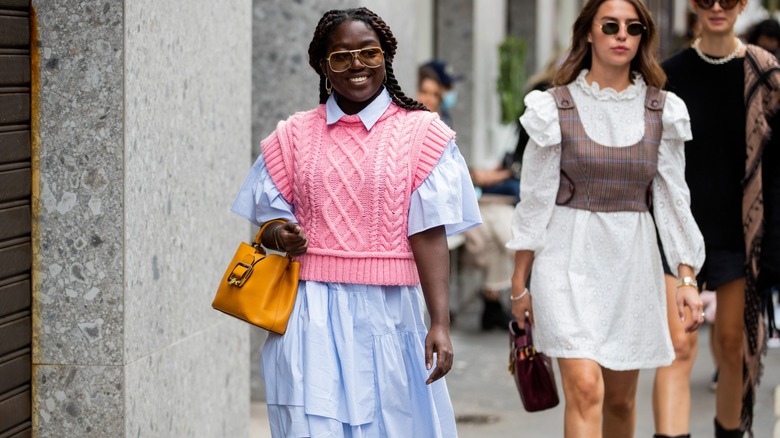 Christian Vierig/Getty Images
The sweater vest is essential if you want a chic, layered look and can be adapted to create a retro style or an old-money vibe, depending on what's trending. Layer it over a graphic tee to channel the '90s, or wear it over a cotton dress to really cement that preppy, academic aesthetic. 
Cropped cable-knits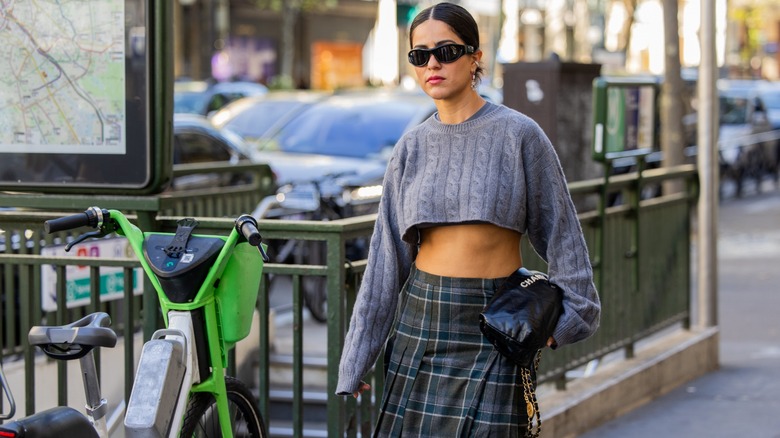 Christian Vierig/Getty Images
Not all sweaters need to be baggy and oversized; a cropped fit can bring an edge to your preppy look. If you want to get some of this chic academia-inspired pattern into your warm-weather wardrobe, opt for a cropped item that'll still give you room to breathe but perfectly captures the school-girl uniform look. Preppy aesthetics always come back each year for the fall and winter, making this the ultimate classic item.