The Easy Eyebrow-Flattening Hack Approved By Kylie Jenner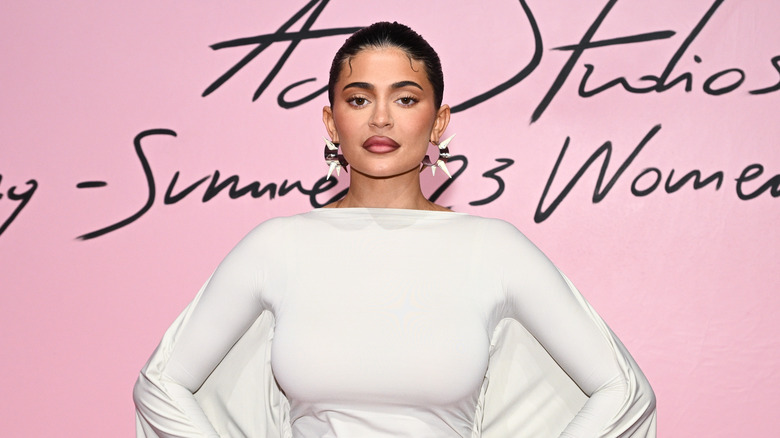 Stephane Cardinale - Corbis/Getty Images
If ever there was a celebrity who seemed to be at the pinnacle of her makeup looks, it would undoubtedly be Kylie Jenner. This style maven who singlehandedly set up her own beauty empire, has guided the way all of us do our makeup for the past few years. Hence, every time she lets us in on a new beauty trick or hack, we gladly lap up the knowledge and seek to recreate it on ourselves — whether it works out or not!
One part of her makeup and styling that stands out, in particular, is the way she does her beautiful and lush eyebrows. Don't be fooled into thinking that her gorgeous brows are natural though. Over the years, her team of makeup artists has worked out ways to achieve the look and maintain their perfection.
All of us are aware that there are ways to experiment with eyebrows that will change your whole aesthetic, and you could even turn to social media for inspiration, as is the case with this TikTok hack that gives your eyebrows the perfect shape with just a few dots. With this in mind, we tapped into the easy eyebrow-flattering hack approved by Kylie Jenner, which involves the flat side of a spoolie brush to achieve the brows of our dreams. Here's how you can too.
Prep the eyebrows to perfection first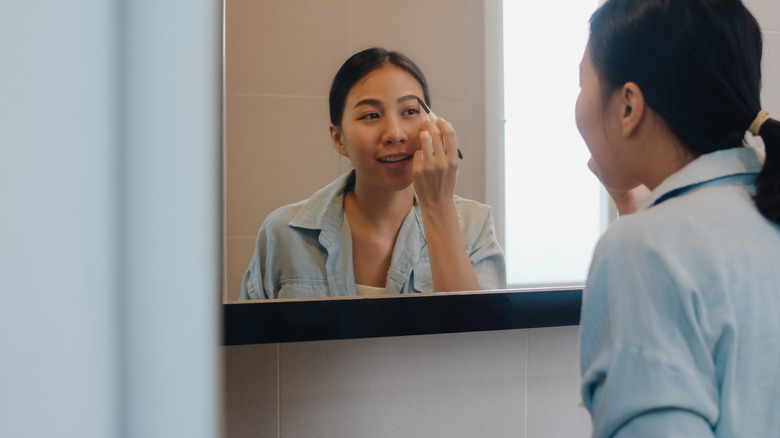 Tirachard Kumtanom/Shutterstock
The eyebrow-flattening hack we are referring to, which shows how Kylie Jenner flattens her eyebrows to perfection, can only be achieved once the brows have been groomed and prepped to perfection. 
Back in 2016, Jenner shared an eyebrow tutorial on her Snapchat, making it easy to emulate the way she does her brows. Referring to a technique done by Hrush Achemyan, a makeup artist who did Jenner's eyebrows at the time, according to MTV UK, "Hrush starts with a 'brow pencil and powder to fill in the area' and creates that full eyebrow look that's made a resurgence on the catwalks in the last year or so." Once this step is done, Hrush uses concealer under the brow with an angled brush in order to create a strong and distinct outline to emphasize Jenner's brow arch, which gives her a snatched look while also acting as a highlighter for an area of the face that naturally stands out.
Flattening your eyebrows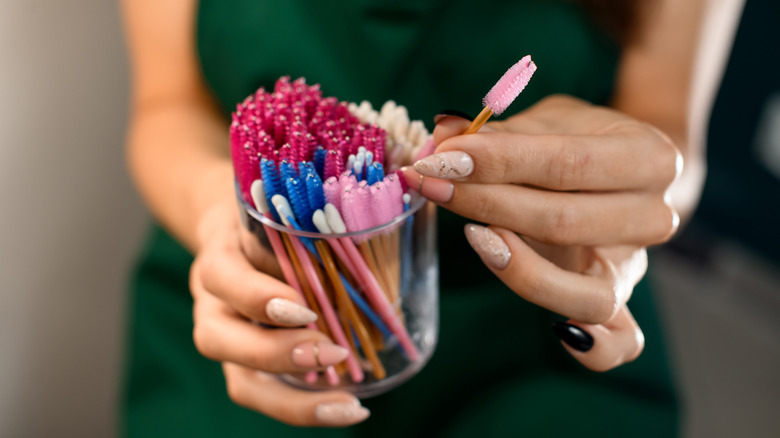 Maximfesenko/Getty Images
The eyebrow-flattening hack that Kylie Jenner shared on her Instagram stories is a much more recent addition to her eyebrow routine. It was done by makeup artist Ariel Tejada, also known as MakeupByAriel, who has become Jenner's go-to makeup artist in more recent years. "In the video, her go-to artist, Makeup By Ariel, is seen flattening down the hairs with the end of a spoolie brush — and no, it's not the spoolie side, it is actually the end of the brush he uses," according to beauty assistant Lia Mappoura at Cosmopolitan UK.
The flat and rounded end helps stick down any flyaway eyebrow hairs firmly in place. It's important to note, however, that this step only happens once the brows are already filled in and set in place with eyebrow gel.
The final step is after the flattening has taken place, when Ariel uses the spoolie end of the brush to comb the eyebrow hairs upwards and to lay flat against the brow. "I guess they're going for a polished look, rather than a fluffy brow," is Mappoura's final assessment of this look.