Whatever Happened To Coastal Scents?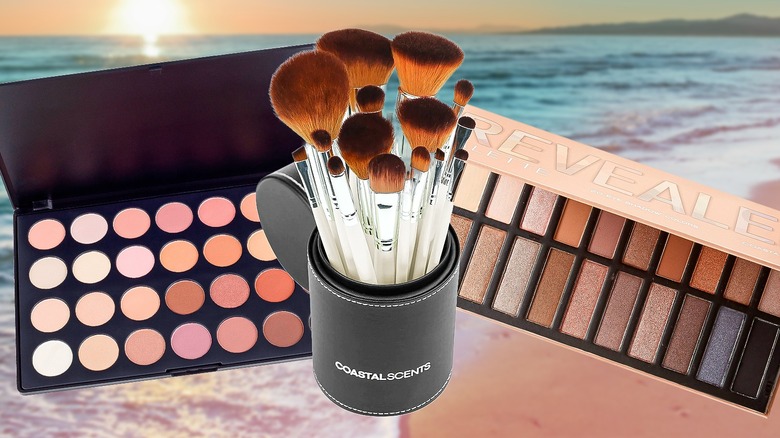 Static Media / Shutterstock
Coastal Scents is one of the original affordable online makeup brands that popped up alongside the likes of Makeup Geek during the early 2000s. Similar companies today would include iconic brands like ColourPop and Morphe. Before Coastal Scents got into the makeup scene, the brand started off by selling bath bombs and ingredient kits for DIY bath and body products. The company's founder, Reto Kramer, partnered with Kathy Hukalowicz to market and sell the brand's bath and body products until they parted ways in 2010.
Advertisement
In 2010, Kramer brought a new partner on board — his newlywed wife, Dorothy Kramer. This is when the brand began to switch its focus to makeup products and in 2012, it launched its own manufacturing operation within the United States along with a program to employ and provide health insurance to women in Ghana. Soon, Coastal Scents was considered a solid source of dupes for more expensive single eyeshadow pans along with makeup brushes and full eyeshadow and blush palettes. The brand appeared to continue this success until 2021 — when the company suddenly closed its doors with no explanation. Let's take a look at what happened.
Mysterious closing
After 16 years in business, Coastal Scents abruptly posted a closing notice on its website, as reported by beauty blog Musings of a Muse. "After 16 years of serving the beauty community with high-quality products at affordable prices," the announcement read, "our journey has now come to an end." In smaller print, below the main announcement, was a second proclamation. "All open orders will be automatically refunded," it read. "If you have any questions or concerns, please contact our customer service ..."
Advertisement
Not only did the company close abruptly with no warning and without a final sale to liquidate inventory, but every pending order was also canceled and refunded. There was no reason given for the sudden end to Coastal Scents' business practices or the immediate cancelation of pending orders. Behind the scenes, however, Reto and Dorothy Kramer had filed for divorce and gone their separate ways. Since Reto has a background in technology, it seems reasonable to assume that Dorothy was serving as the brand's makeup voice, and the collaboration fell apart along with the pair's marriage.
Reappearance
Shortly after Coastal Scents announced their closing in 2021, an additional announcement appeared on the company's website. Under a heading labeled "Liquidation," the new announcement read, "If you are interested in inventory or other assets of the company, including domain name and trademark, please contact reto.kramer@coastalscents.com." It appears that someone (or some business entity) eventually took the founder up on this offer. Today, the Coastal Scents website is once again up and running.
Advertisement
The site appears to be selling the same products, including Coastal Scents' signature Rebel Palette eyeshadow. However, the description of every product appears to include a disclaimer informing customers that products can no longer be shipped to the United States. The identity of Coastal Scents' new owner remains unclear online. There are currently no fewer than a dozen Instagram accounts with "coastal scents" in their usernames, and none of them look particularly official. Since Reto Kramer's LinkedIn page lists him as the founder of a company called Tech with Kramer, it appears that the former owner of Coastal Scents simply sold the company to the highest bidder and moved on.